Blog
REGISTER NOW
LOGIN
SIGN UP FOR OUR NEWSLETTER
5 Things you should not do in Belize
Note: While we no longer have a tour running in Belize, we do have other routes in Central America. Click here to read more.
1.  Don't be a voyeur. The Punta is a sexy sweaty Garifuna dance style practiced in Belize. It sort of involves you and your partner shaking your hips and thighs at each other at a relentless pace. Visit a bar, have a typical Belizean Rum cocktail, get off your butt and ask the barman/lady to teach you the Punta. They are generally happy to oblige. It's a lot of fun, a great work out and it can be your new party trick back home.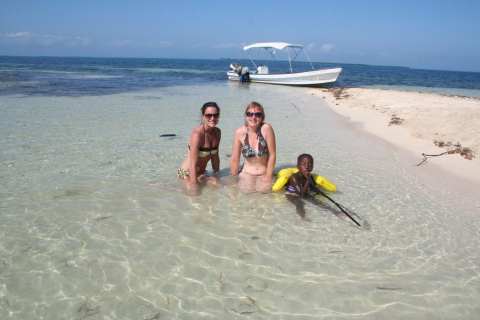 2.  Don't dive the Blue Hole. Ok if you're a commercial junkie, love crowds and you just want to tick it off your braglist. Go for it. Sure you can see it from outer space with the naked eye and it looks pretty gorgeous from the outside. But the water circulation is poor, therefore not much sea life about and at $250 for 3 dives it will take a neat chunk out of your budget. Rather opt for Shark-Ray Alley & Hol Chan Marine Reserve (Northern Cayes and Atolls). Also great for snorkeling: guaranteed to see schools of large stingrays and nurse sharks. Or Caye Caulker (Northern Cayes and Atolls): Easy accessible snorkeling, very laid back and much less crowded than its popular neighbor, Ambergris Caye. After a hectic cycle on the La Ruta Maya: The Doomsday Ride, I needed to get away from the crowds. I found great snorkeling all along the islands next to the village of Hopkins, deep in the south of Belize. Affordable and few crowds. Book your SCUBA or snorkeling trip with Hamanasi Adventures for the best support and great crew.
3.  Don't go abseiling down waterfalls – if you have just cycled over 2700km. Rather opt for cave tubing. "Butts up!" is a national slogan in Belize. It comes from the screech of your tour guide as you are gliding along, butt hanging down in icy water, through a dark cave on an inflated tyre and there's a shallow rocky area approaching. After all the cycling your butt needs a rest, this is a non-strenuous way to learn about the Mayan culture.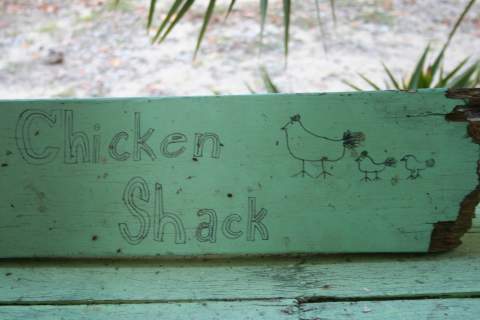 4.  Don't stay in Belize City for long. A day should be enough. It's busy, a bit pricey, dirty and I did not feel all too safe roaming through the streets. Generally the city is used as the centre from where all adventures depart. Rather head out and visit the temples, or a jaguar retreat. There are luxury spas aplenty if that's your scene. Generally the further you go away from the city, the more authentic your experience.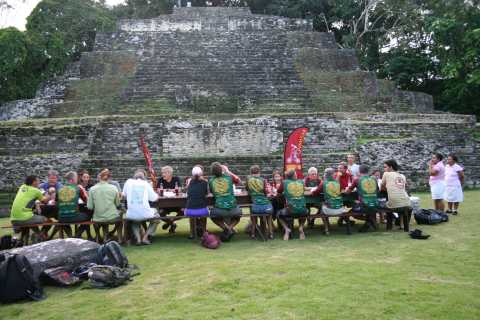 5. Don't think you will have lunch in a tropical forest, next to an ancient Mayan temple, surrounded by the sounds of howler monkeys and parrots. Unless you are on the 2013 La Ruta Maya: The Doomsday Ride of course. They know people who know people. On the last day of the tour cyclists ambled through the ruins, blessed the site with rum and enjoyed an impromptu meal next to the Lamanai temple.
You better Belize it!
More info on this incredible adventure here.