Blog
REGISTER NOW
LOGIN
SIGN UP FOR OUR NEWSLETTER
Creepy Cool Army for the Afterlife
If you are planning a journey to uncharted territory, such as the afterlife for example, it would be helpful to have a few good men at your side in case of troubles along the way.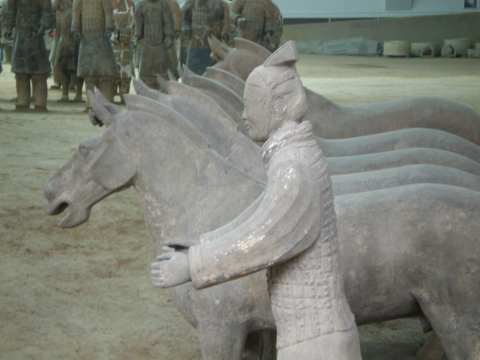 Qin Shi Huang, the first Emperor of China, clearly thought this was a great idea. Except he wanted to go big. And he did. In making sure that Qin Shi Huang's journey to the netherworlds was a safe one, he was buried along with 8000, life-sized, terracotta soldiers, 130 chariots with 520 horses and 150 cavalry horses. The terracotta figures were placed in pits in precise military formation according to rank and duty. They vary in height, uniform and hairstyle in accordance with rank. Most originally held real weapons such as spears, swords, or crossbows, but sadly most of these have been looted.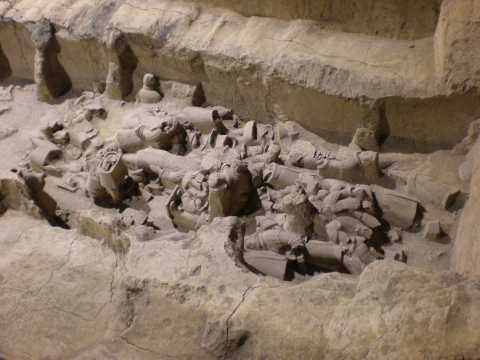 There are four main pits associated with the terracotta army. One pit alone is 230 metres long and 62 metres wide. Even the grim reaper and his posse of death collectors would think twice before messing with Qin Shi Huang's army. Farmers who were digging a well found the army in 1974. In addition to the warriors, a reconstructed microcosm of his grounds lives next to the warriors – offices, halls, stables and such – in case the good Emperor got homesick.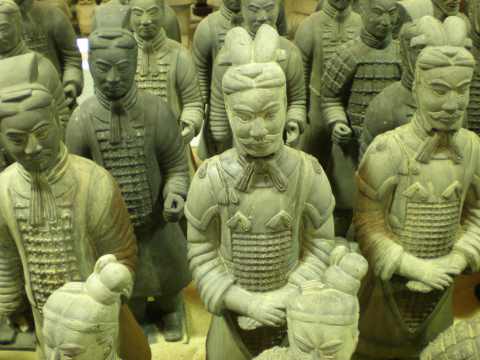 The warriors were made in workshops. Their arms, legs, heads and torsos were manufactured en masse. Once they were assembled, clay was used to give each and everyone individual facial features. I wonder if they had names too and if the manufacturers had their favorites. The Terracotta Warriors is just one of those eerie, but fascinating, exhibits that you must see. The traveling, "First Emperor: China's Terracotta Army", exhibit in 2008 in the British Museum made it one of the museum's most successful years in its history. Ditto at the Forum de Barcelona in 2004.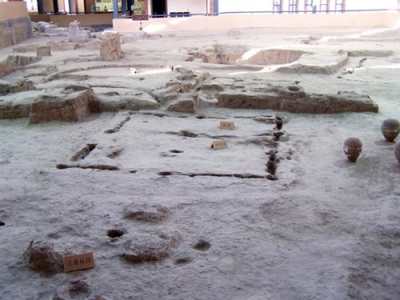 TDA's Silk Route Bicycle Expedition will travel through Xi'an where these warriors are on display. Significantly for our journey, Xi'an was the traditional starting point of Silk Traders heading west along the ancient Silk Road.  Give yourself a day to explore the sites and include a visit to the nearby Banpo ruins which date back to about 6,000 years. Banpo was a typical Neolithic matriarchal community. These ruins were discovered in 1953, when 45 houses, six pottery kilns, 200 storage pits, 250 adult's tombs and children's burial jars, and 10,000 tools and utensils were unearthed.
The 2014 Silk Route Bicycle Expedition starts in Shanghai on 17 May 2014. You can visit Xi'an and the Terracotta warriors by cycling the entire expedition or by pedaling either the The Jade Road or The Corridorsections of the journey. Click here for registration or more information.