Blog
REGISTER NOW
LOGIN
SIGN UP FOR OUR NEWSLETTER
Going for the Century
The oldest participant on the inaugural Bamboo Road Bicycle Expedition, Walburga Pagniello, gave herself one major goal before the tour and that was to cycle a century – a ride of 100 miles or 160km. Wally is a veteran of the Orient Express and North American Epic Cycling Expeditions and on those tours she would often hear her friends talk about cycling a century. I will not reveal Walli's age – suffice to say that she is young at heart and, as we found out yesterday, young in spirit.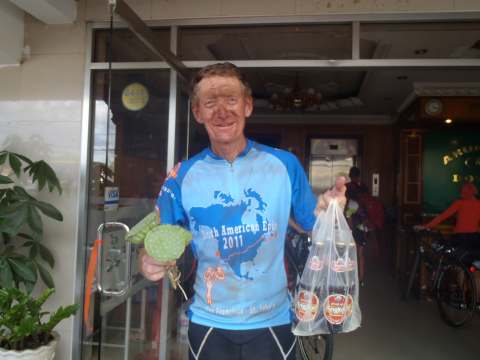 Yesterday was not a good day for Walli to choose to do her first century. The cycling began in the center of Phnom Penh – one of the most chaotic places – at least for traffic – I have ever seen. As we arrived on the outskirts of the city we encountered road construction. Generally, road construction might mean an organized detour for a few km or so before returning traffic to the normal route. This, however, was not the case. The construction went on for about 50km with obstacles, dirt roads and cars racing in every direction creating an immense amount of dust. Once the construction ended, the road alternated between good pavement and endless pot holes with traffic zooming by. When I finally arrived at lunch – 80km out of the planned 170km day – Walli was already there – covered with dust but as exuberant as ever.
Personally, between the heat, the head wind and the dust, I was done for the day. So were another nine riders already sitting and waiting for the van that would pick us up. I looked at Walli – certain that she would get in the van as well. Instead she said; "I am feeling good, all the stars are aligned and I am doing the whole thing". And off she went.
At 17.45, Tour Leader Sharita was giving the next day's cycling instructions. There were a lot of tired and disgruntled individuals after a tough day. While the meeting was still going on, in walked Walli, celebrating her first ever century and lifting all of our spirits. Thanks Walli, for once again reminding us that difficulties are just another way to get most out of our days.