Blog
REGISTER NOW
LOGIN
SIGN UP FOR OUR NEWSLETTER
Meet Klaus & Ruth: 'The Stoic Dane' & 'The Expeditionist'
This is the third and final part of a three part series that will introduce some of the riders who rode the 2022 North American Epic. Sarah Fonger, our Content Creator, will look at how they got into cycling, their past and who they are as people.
Klaus Michael Jensen (Tuktoyaktuk – Panama City) – 'The Stoic Dane'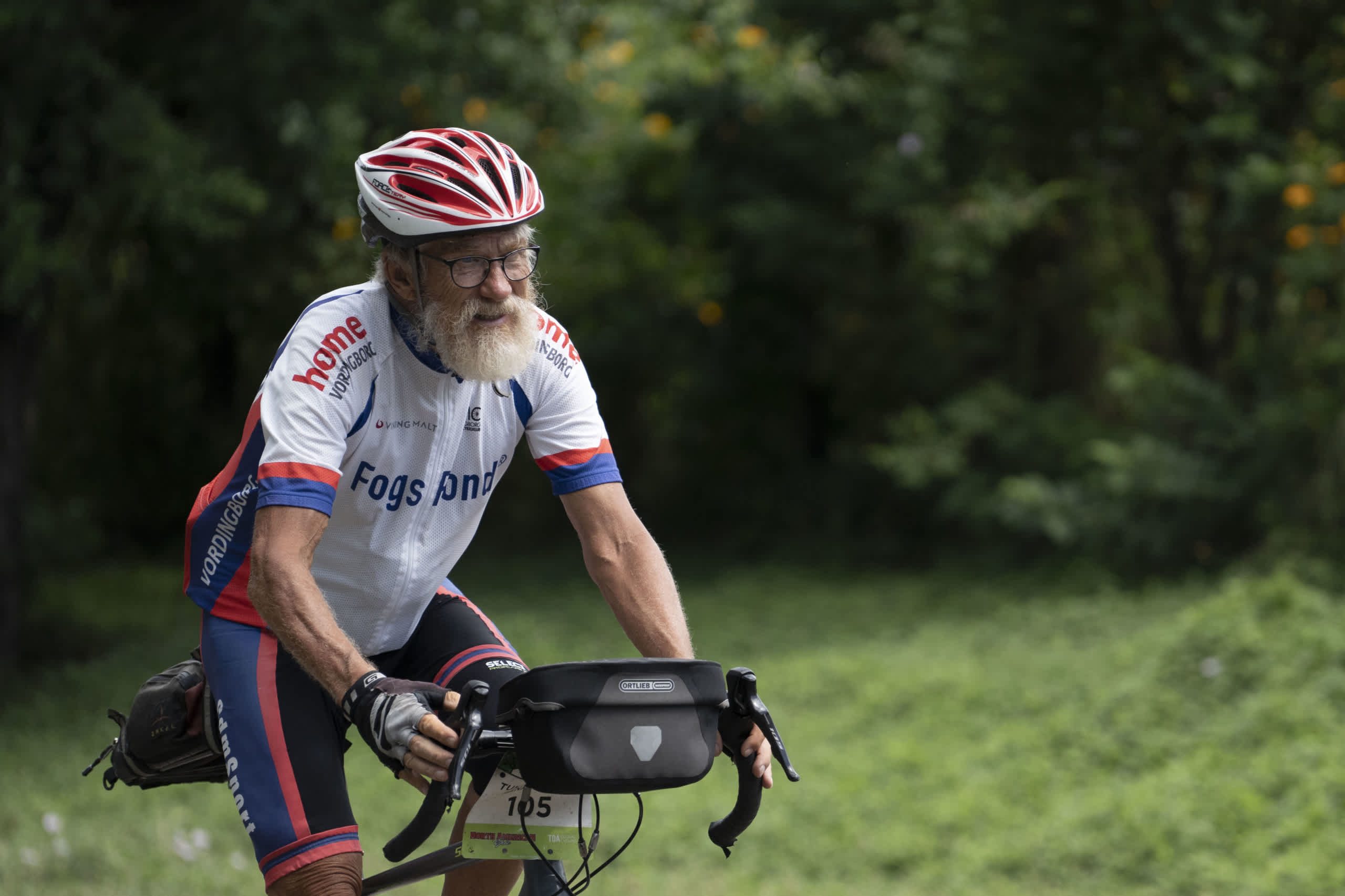 Klaus is the strong silent type. When he talks, he has something important to say. He's always smiling when he sees you and says, " hi hi," in his Danish accent. Klaus cycled when he was quite young but then stopped and didn't pick it up again until he was much older. Since then he has completed the Tour d'Afrique (2014) the South American Epic (2015), and now the North American Epic (2022). If you talk to Klaus for any amount of time you will come to the conclusion that he is an exceptional human being. It took Klaus 3 years to complete the Tour d'Afrique due to injuries. The first time that he attempted it, he ended up crashing and breaking his hip in Northern Kenya. He had to be flown to Nairobi where he was given a hip replacement and then flown home.
The second time he attempted the tour, he started in Addis Ababa and made it to Botswana where he was hit by a truck and broke his pelvis. After the Tour d'Afrique and South American Epic he was training for the Bamboo Road when he slipped on some leaves and crashed. He ended up breaking his collarbone, a rib and his other hip. At the time Klaus did not know this so he kept cycling until he came to a hill. He recalls that he got off his bike and wasn't sure that he would be able to make it. While he was thinking someone stopped him and told him he didn't look very good and needed to go to a hospital.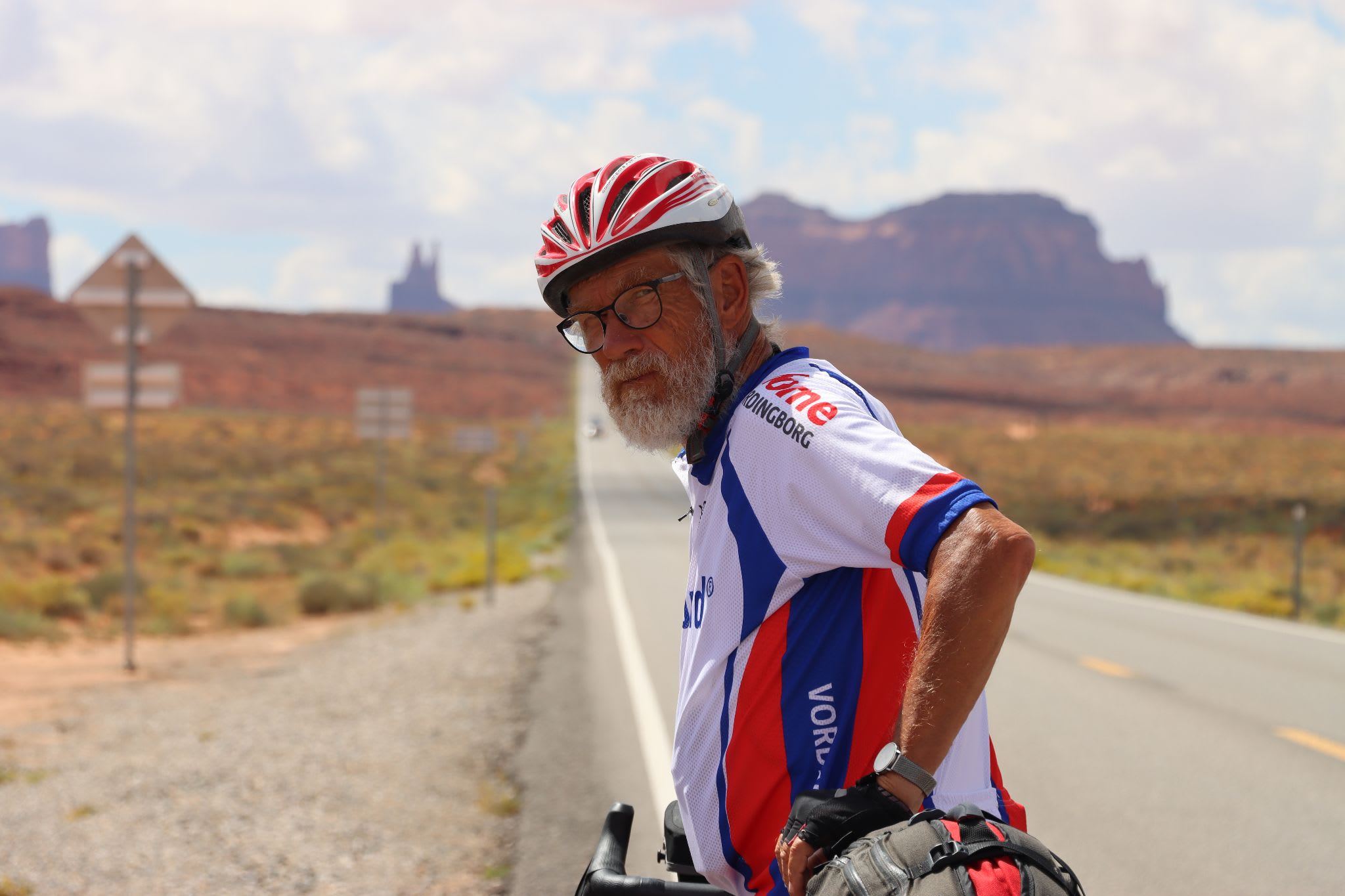 Klaus's favourite part of the tour was the Cervantino Festival in Mexico. It's a two and a half week celebration with theatre, opera and shows. He was only able to spend 1 day there on his rest day in Guanajuato so he wants to go back and spend the full 2.5 weeks at the festival. In Denmark, Klaus' last job was the Director of Culture in his county and would go to many performances and events. When he was at the Cervantino Festival he saw a performer there that he had seen before in Denmark. The man was from the same town as him in Denmark. Klaus just thought that this was so cool!
>>Related Post: Meet Tom & Isla: The Observer & The Chatterbox
Near the end of the tour staff passed around a sheet for riders to fill out that included questions related to their favourite memories, proudest moment or greatest challenge overcome, things like that. On Klaus's sheet under 'Why did you come on the tour' Klaus put "By mistake. I should have been east (Silk Route) but I happened to go west (Canada)." Honestly, his answer seemed to raise more questions than it answered. It turns out that Klaus had been wanting to ride the Silk Route but it hasn't run for a few years and it looked like it would go in 2022. It didn't end up happening so Klaus decided that he would do the North American Epic instead. When you talk to him you can easily tell how excited he is about the Silk Route. He knows exactly where it is going and what sort of things he can expect to see along the way. He was ready to ride it in 2022 and since he is 75, he doesn't think that he will be able to do it if it keeps getting pushed back.
After every tour Klaus says to himself, very seriously, that it is his last one. He did this after he finished the Tour d'Afrique and the South American Epic. When I asked him if he is doing another ride after this one, he looked me straight in the face and said, "No." But I bet you if the Silk Route runs in 2023 or 2025, there is an excellent chance they will have a rider named Klaus from Denmark.
Ruth Storm (Yuma – Panama City) – 'The Expeditionist'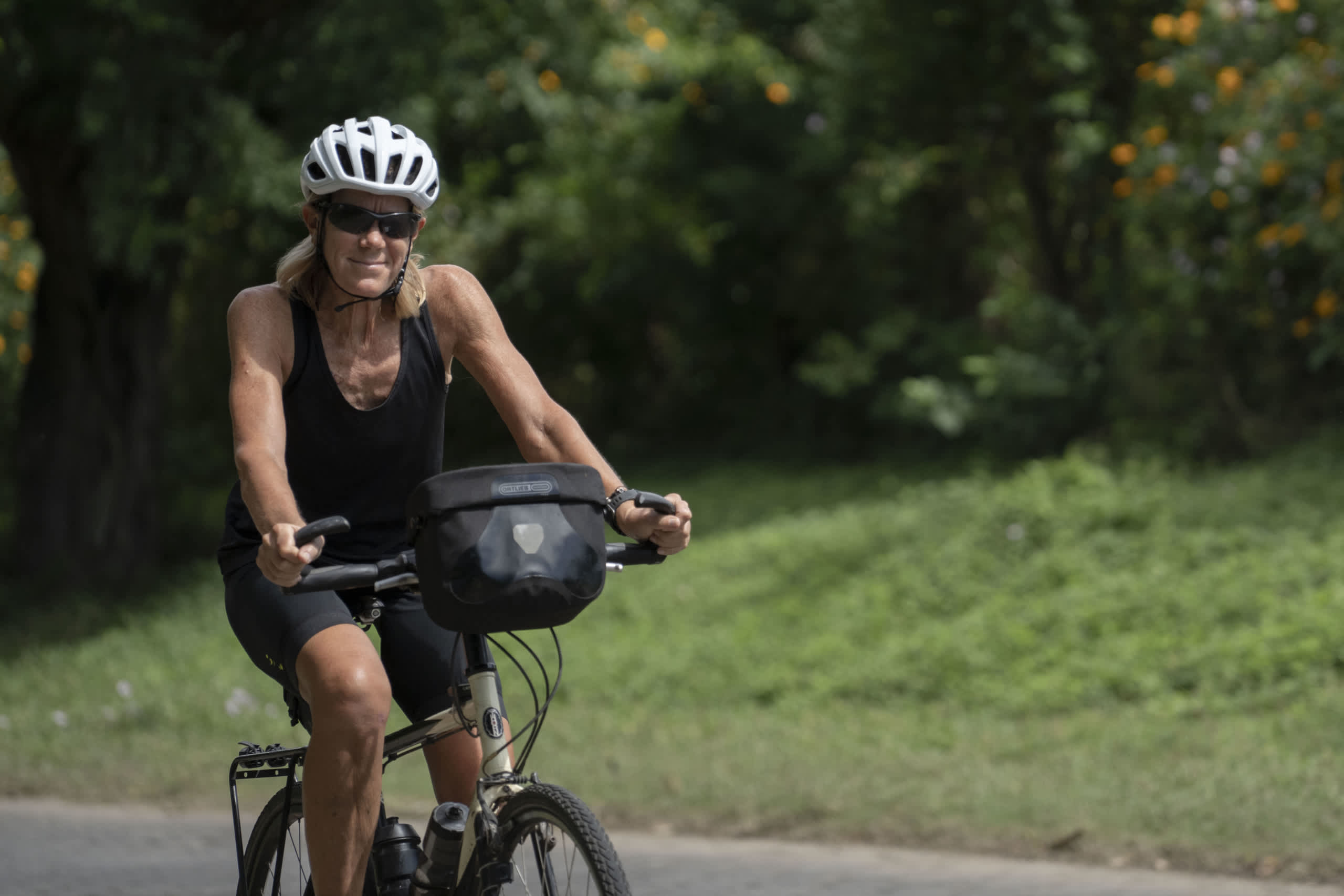 This is Ruth's fifth tour with TDA, having previously done the Tour d'Afrique (2007), Silk Route (2016), Magical Madagascar (2019) and the Trans-Himalaya (2019). She did back to back tours in 2019 to celebrate her 60th birthday as she really wanted to make it a special year. The Tour d'Afrique was the start of her love for cycle touring. She had done some small self supported trips before but nothing close to the long days and distances cycling from Cairo to Cape Town. Ruth likes doing TDA tours because she gets to meet people that she wouldn't normally cross paths with. She has met people on the trips that she has created long term friendships with. She is part of a group of TDA riders that meet up to do their own group tours to different places around the world.
Ruth has done a lot of self supported bike trips on her own. Before coming on tour she bike-packed through Spain and Portugal. For her next trip, she is thinking about going to either Japan or Norway. When doing trips on her own she brings camping gear but typically stays with Warm Showers hosts, in hotels or plans her routes around where her friends live. Typically she uses TDA to go places she wouldn't feel comfortable going by herself.
>>Related Post: Meet Jan & Grace: The Extreme Cyclist & The Documenter
Ruth is not only interested in bike touring, she is also very interested in doing long and difficult expeditions of many different types including skiing, sailing and trekking. She has done skiing expeditions on both the North and South poles. The latter was the most difficult because she skied 900 km with an elevation gain of 10,000 ft. in 3 weeks. On her longest days, she would ski around 40 km and pull about 60-70 kilos behind her. When travelling to the North and South poles one has to be very aware of the risk of getting Arctic Shock, which is a common condition that can occur due to the remoteness of the areas and the harsh environments. Ruth was scared but she was able to keep it together and keep her wits about her.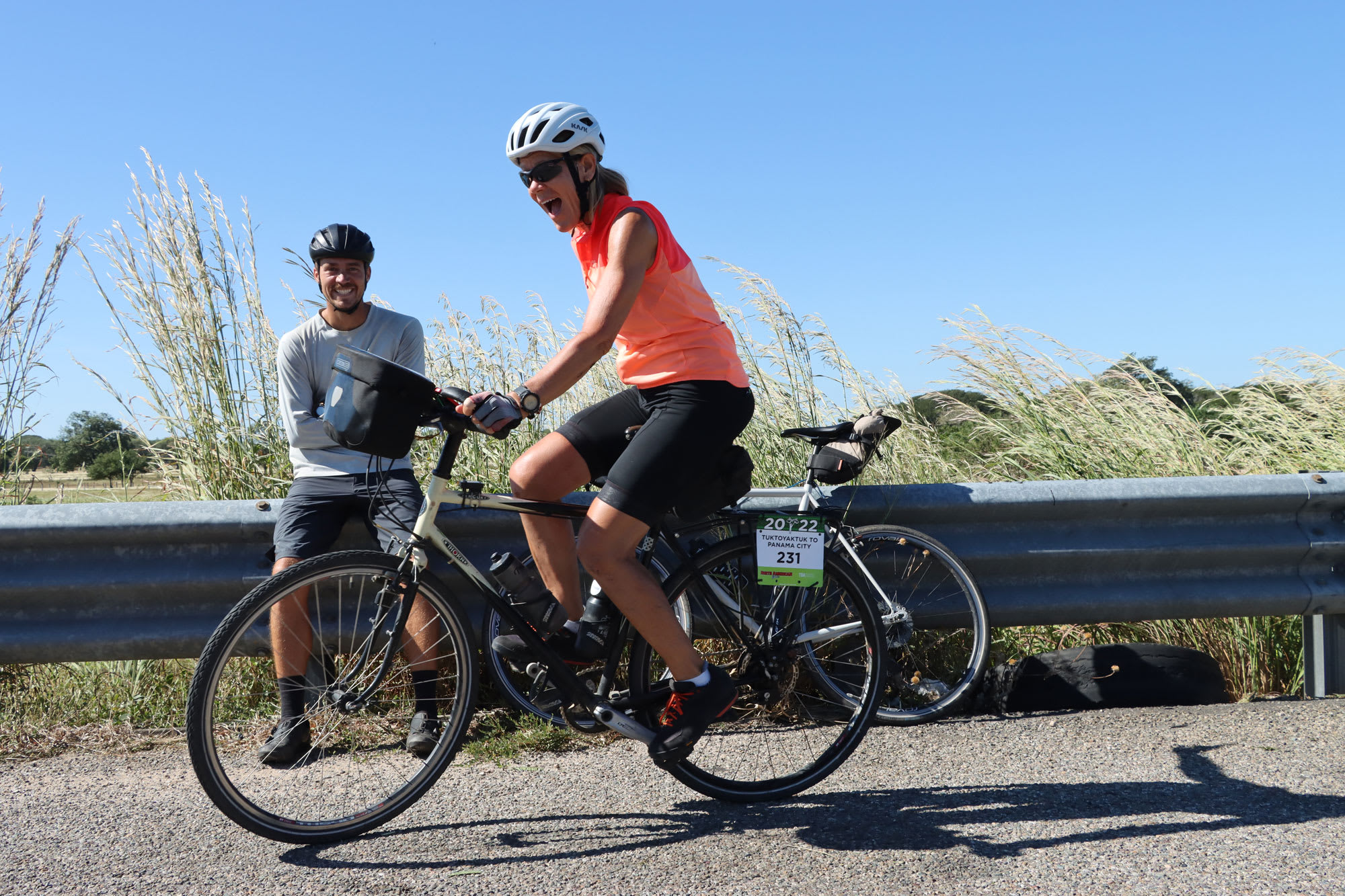 Ruth has two sons and will visit one son in the U.S. directly after the trip is over for Christmas before going to visit her other son in England for New Years. After that, she is planning on returning to her house in Switzerland before going on a sailing trip and a skiing expedition in Greenland with one of her sons. While on tour Ruth has been working when she has rest days. She is a coach and consultant for companies in the finance and investing sector. She teaches companies and employees about leadership and helps work out issues that arise.
Ruth is very friendly and takes an interest in her fellow riders. You can tell she uses her expeditions and her interactions with others to learn more about herself and the world around her. Before she goes on a new trip, she writes out what she is looking to get out of it and what her expectations are. One night after dinner, Ruth gathered some of the riders and staff together and gave a talk about her expeditions on the poles. She talked about leadership styles, mindset and getting through difficult situations. Ruth is a wealth of knowledge and loves to share her experiences with others.
RELATED
TOUR
North American Epic
Cycling from the Arctic Ocean to Panama City will take you through 9 countries and countless variations in landscape, culture, language, cuisine and...