Blog
REGISTER NOW
LOGIN
SIGN UP FOR OUR NEWSLETTER
Riding a bike is like life
From the looks of it, Dien Thanh, a small resort on the South China Sea about 250km south of Hanoi, is well past its 'best before' date. On the map it doesn't look like there is an airport nearby, but I imagine if there was one, some people would be using it. Of course, there are other ways of getting here. There is a major road that connects to Hanoi and you can come here either by public transport, by car or, as many Vietnamese like to travel, by scooters. We, of course, chose to come here by bicycle. Let me tell you, was it ever fun! And as I was cycling and having a grand old time it crossed my mind that cycling to get to a place can, in many ways, illustrate how one lives one's life.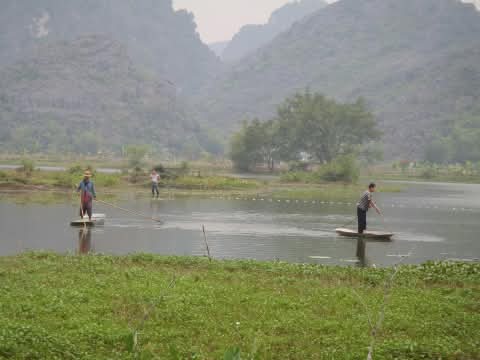 Planning a journey, most of the time, means that you will attempt to get there as efficiently as you can, in order to maximize the time you have at your destination. Doing it this way means that your journey is not much fun, in fact, it is an almost necessary evil. Thus speed is essential. Of course, there are alternatives. You can give yourself an unstructured goal instead so that you somehow get to a place such as Dien Thanh. The journey is really the important thing and every second of it is a celebration of life.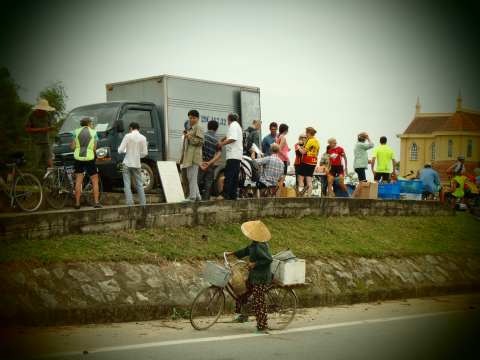 And so, in our case, it was a celebration that lasted three days. It meant that instead of covering 250km, we cycled more like 400km but instead of seeing cars, trucks and motorcycles all full of sound and fury, I saw beautiful greenery, tons of smiling children waving, a church or more like a cathedral being built or reconstructed, experienced the opportunity to chat with locals, was told by a pretty eight or nine year on a bike practicing her English that I am a beautiful boy (not bad a for a man of sixty plus) and even got to smoke a bamboo pipe (if you intend of trying this, you better have strong lungs).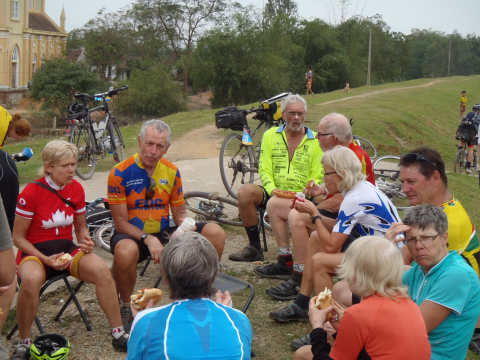 It was, I believe, Albert Einstein who famously advised his son that "life is like riding a bicycle, if you stop you will fall off". Today, while being greeted for the 100th time, I thought that maybe I could paraphrase the mad physics professor and state that "riding a bike is like life, if you try to get to your goal any faster that the speed of a bike you will get to your destination but you will miss the great, small moments that make life worth living".