Blog
REGISTER NOW
LOGIN
SIGN UP FOR OUR NEWSLETTER
Cycling into Penang
We respect each other and try not to pay too much attention to the politicians
Yesterday, after cycling an easy 40km into Penang, or I should say into Georgetown, on Penang Island, I went for a walk. I thought I might try to grab some food in this former trading centre, a city the locals like to describe as the "Pearl of the Orient. It is one of four fascinating former colonial island outposts (Hong Kong, Macau and Singapore being the others) that cyclists on the Bamboo Road Expedition can explore on their rest days.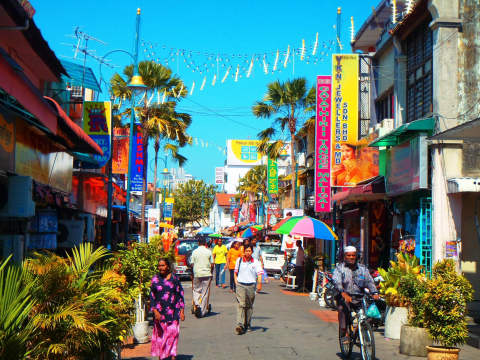 Georgetown is known as a place where the people that make up Malaysia; the Malay, Chinese, Indians, Tamils, expats and others, live, rub against each other and create a wonderful local mélange of culture and food. It was not long into my walk in Chinatown when I saw a packed restaurant. In front was a man making some kind of double-layered pancakes, mixed with what appeared to be pieces of meat. I also noticed that, though I was in Chinatown and the restaurant appeared to be Indian, it had a Halal sign – in other words good for Muslim diners – but no beer for me.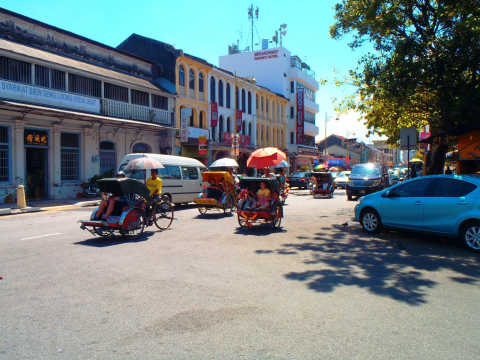 I decided to have a go at it and tried to find a place to sit. The only available place was in front where a man sat with his wife, whose head was covered by a scarf, and their young daughter. I pointed to the chair and he gracefully invited me to sit down. It turned out that he was a math teacher in elementary school and spoke fluent English.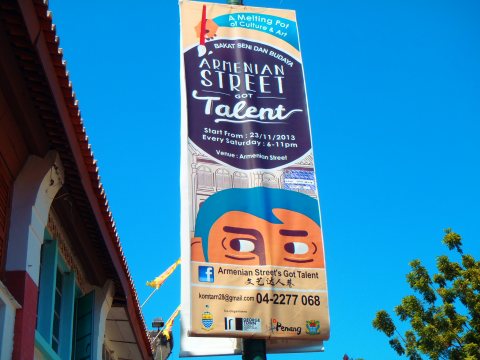 "Penang is a place where we all get along" he said after some small chit chat. "We respect each other and try not to pay too much attention to the politicians. The centre of Georgetown – and proudly pointed out that it is now a UNESCO World Heritage Site – is suffering from the emergence of large shopping malls that have been built in recent past in the area. Also an influx of foreign workers who can make more money here than in their home countries: Myanmar, Philippines, Vietnam even Thailand".  And so, while outside it started to rain, we ate and chatted about his grown-up sons who are finishing college and how he worries about their two teenagers "who all they do is play computer games and chat on their smart phones".
And, yes, we chatted about the group cycling through South East Asia from Shanghai to Singapore and how wonderful and how healthy (while he pulled out a cigarette and smiled) it is to do all this cycling. When it came time to pay, my waiter told me that my bill had been already covered by the math teacher.
See this wonderful spot for yourself on the 2015 Bamboo Road Expedition.