Blog
REGISTER NOW
LOGIN
SIGN UP FOR OUR NEWSLETTER
TDA 2014 Transit Underway: Khartoum, Here We Come!
The TdA Transit Dream Team has hit the road from Cape Town to Khartoum to prepare for the  2014 Tour d'Afrique Bike Expedition and Race. It will take the drivers, two of whom double up as chef and bike mechanic, about one month to cover the 10,000km.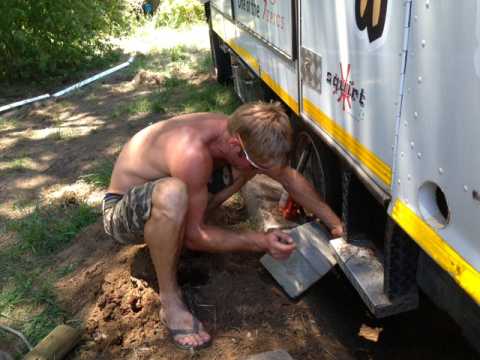 The Team got to practice their digging skills before they even left Cape Town. Heavy rains in South Africa's Western Cape had turned the camping ground into a muddy swamp and our heavy gal, the dinner truck, got well and truly stuck. The guys spent a good few hours digging her out. The aim of the transit is to get the trucks and staff safely to Khartoum before the cyclists arrive. In order to cover the entire distance they will need to drive for about 10 hours per day, about 500km. And the roads, especially in Northern Kenya, can get a bit rough. The borders crossing are usually not much fun either.
Here's a glance at some of the Tour Director's transit notes
South Africa to Botswana Border
Easy border
Stamp passport, show carnet and equipment list
Customs stamp the list and the rest is smooth sailing
BP120 for 4×4 at customs – insurance road toll and everything else
BP190 for lunch truck and trailer
BP310 for dinner truck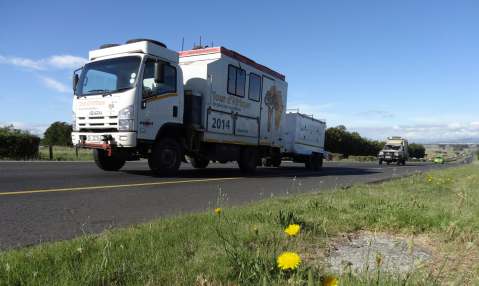 Botswana to Zambia Border
Fxxxxxx Shit show – Lots of money changers and skellums (opportunists) everywhere, beware
Use a fixer if you want or tell them you're fine if you think you are (and if you can shake them. I used Dennis, he was pretty decent… paid him ZK150, at the end of it all, he wanted more for Christmas…"
Their initial food shopping list sounds like fun as well. Here are just some of the items they carry for the tour.
Coffee – ground filter    50kg
Coffee – Instant             30kg
Milk – Powdered           50 kg
Muesli                          180 kg
Oats                              180 kg
Pap – Mielie/corn meal  50 kg
Pro Nutro                       60 kg
Weetbix                        100 kg
And so on it goes!
We expect our transit team to arrive in Khartoum around January 1, 2014. Bon Voyage!
Join in the fun. Space still available for the full tour and individual sections.