Blog
REGISTER NOW
LOGIN
SIGN UP FOR OUR NEWSLETTER
Day 2: Abu Dolooa to Dead Camel Camp 148km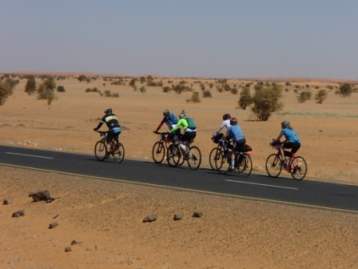 I thought yesterday was tough, but today was double the distance.  The only relief from the relentless head wind was the when the road bent slightly allowing the rivulets to drift the sand across the blacktop.  My shins have never been exfoliated before.  The desert is a strange place. Although the sun is intense the heat only overrules the wind at midday.  It's barren and desolate, yet tranquil and serene.  There are moments when I find myself captivated by its natural beauty, only to have that moment interrupted by a tour bus as it rockets past me.  The wind whistling in my ears is so loud you can't hear the approaching traffic. My bike feels like it wants to go faster but my legs have a contradictory point of view.  As I battle to traverse the sandy abyss along this ribbon of asphalt, camels plod along effortlessly through the deep sand on their cushioned feet.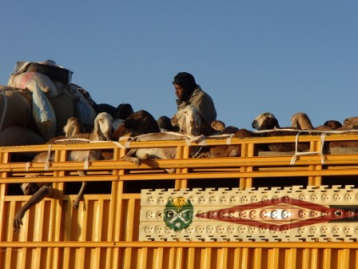 A stark contrast is heard between the tormented squeals and honks of the donkeys and the clown horns of the over burdened lorries. One truck passed carrying a load of goats and there were at least 10 people hitching a ride sitting on top of the livestock.  Five days ago the cyclists were all complete strangers, but the group is beginning to gel already, cycling in packs to combat our blustery and invisible adversary.  The racers seem to still maintain a decent pace but half the crew lost their EFI status today.
This is the 12th running of the Tour d'Afrique and not only is the group pioneering a new route through the Sudan and Ethiopia, but this is the first time in the history of the tour that we have ever travelled North.  Perhaps that's why people look at us cockeyed when we say we are heading to Cape Town?