Blog
REGISTER NOW
LOGIN
SIGN UP FOR OUR NEWSLETTER
Biblical Ethiopia Comes to a Close
"If it was easy, it wouldn't be worth it" -Pier Spinazze
Not only does today mark the end of the second section of the tour, we will also be saying farewell to several riders. Phil, Sandy, JT, Brian, Jos, and Gabriele – you will all be missed
"Biblical Ethiopia" is coming to a close and there are plenty of emotions to go around. Ethiopia has been quite challenging for the riders (and staff) in many ways. Our first night in Ethiopia was great because the beer showed up after several weeks in dry Sudan. The second night we camped in one of the most picturesque spots I'd ever seen. Things were looking good. But after that, all hell broke loose. The riding was tougher than any of the Sudanese stages, the food wreaked havoc on most gastrointestinal systems and the children tried our patience, morals and sanity. Several riders took up the practice of cycling with a large stick on their handlebars as the children seemed to understand that language. Before you judge them for waving sticks at children, we have had several cracked sunglasses, many bruises and cuts, and multiple falls from the rocks thrown both from high up and at close range. Other items thrown included a dead bird and cow poop. Although we kept the scarf and basket that was tossed at us early on in Ethiopia, we decided to leave the bird and the poop for someone else to claim.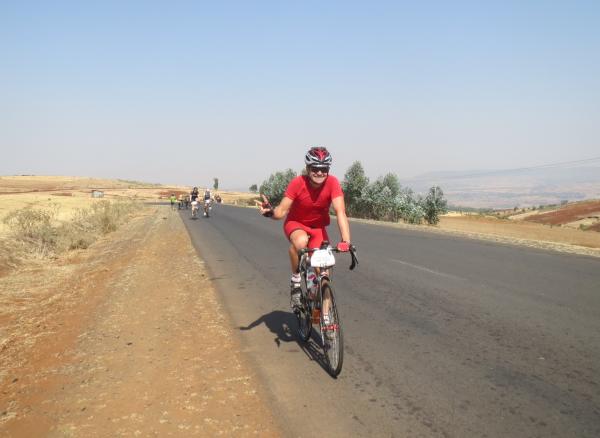 Despite all the craziness that Ethiopia has brought to our TDA experience, the riders keep coming back to the beauty of the landscape. The scenery has varied greatly but all has been stunning. We experienced mountains, valleys, rivers and plateaus. Most of the animals observed were livestock, but Ethiopia is also home to monkeys! Vervet monkeys were observed early on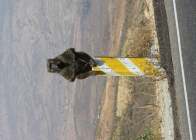 in our route and as we got closer to the Blue Nile Gorge, troops of baboons were seen. Sigrid Mogard had the most memorable rock throwing experience; as she climbed up the gorge several baboons that were above her on a cliff tossed rocks over the edge at her. Cheeky monkeys! Ethiopia was also a treat for bird watchers as there are many species and it was amusing to hear everyone trying to identify them in their respective languages.
The roadside coffee breaks in the villages will definitely be missed as many of us traded the traditional coke stop to experience the top notch Ethiopian java. With the new route this year the riders were given the opportunity to explore the rock churches of Axum and Lalibela and some seriously uncharted cycling territory. Ian Wright mentioned to me that he had been waiting to see Lalibela since he read about it as a child in National Geographic. There have been some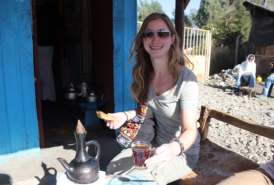 unforgettable experiences including time trialing up the Blue Nile Gorge, piling 23 riders into an 8 passenger taxi, having an audience every time you use the "toilet", hundreds of kilometers of steep and winding dirt roads, amazing vistas, and who can forget the constant ringing of "you, you, you  you, you" wherever you go.
Not only does today mark the end of the second section of the tour, we will also be saying farewell to several riders. Phil, Sandy, JT, Brian, Jos, and Gabriele – you will all be missed and we are so glad we were able to experience a portion of the Tour d'Afrique with you! We still have several riding stages in Ethiopia before we cross into Kenya and apparently we will be trading rock throwing children for gun wielding bandits. Thanks for the memories, Ethiopia.
Further reading on Ethiopia…
https://tdaglobalcycling.com/2008/02/thoughts-on-ethiopia/
https://tdaglobalcycling.com/2013/03/so-long-ethiopia/
https://tdaglobalcycling.com/2012/03/sticks-stones-an-ethiopian-fable/