Blog
REGISTER NOW
LOGIN
SIGN UP FOR OUR NEWSLETTER
Ethiopian Challenges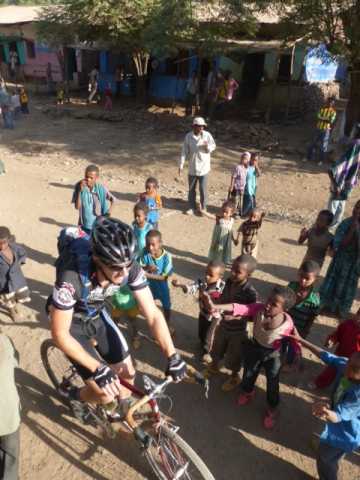 "We're meant to struggle" has been Sharita's mantra since the beginning of the tour. Sharita is one of our fearless leaders/tour directors and her saying is especially fitting for this section. The stomach issues and dehydration have not let up and the flatulence that has been occurring at night has been described by our chef as Ethiopia's call to prayer. The "calls" start off far away and get closer while sounding like they are answering each other. In addition to the health issues, the three days from Gondar to Axum were the most challenging of all the riding stages so far. The road consisted of steep switchbacks with surfaces ranging from sand to large rocks and loose gravel. The rough road isn't over yet as we still have several days of hills and dirt en route to Lalibela. Fortunately, the scenery is spectacular enough to make up for the difficult riding.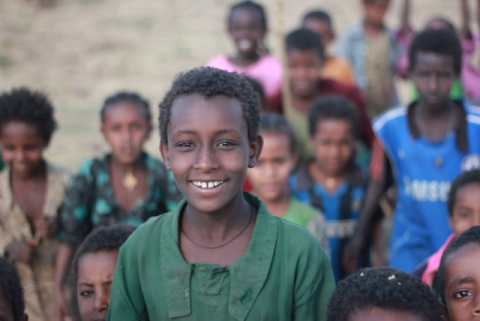 The children of Ethiopia are mischievous and very persistent. (Mischievous is putting it very lightly but we will leave it at that.) The verdict is still out whether the scenery makes up for the kids. Aside from their stone throwing skills, they also have the talent of appearing out of thin air. There can be not a soul in sight but the moment you walk into the bush to do your business 10 kids show up behind you. Interactions with the children go like this: "You, you, you, you, you, you", followed by "you, money", "you, pen",  "you, Pepsi" or whatever else they currently want you to give them. Everyone handles the demands differently, but replying "you, money" back seems to be a good strategy. We have also become the proud owners of a new scarf and woven basket as we are now keeping the items that are thrown at us while we ride.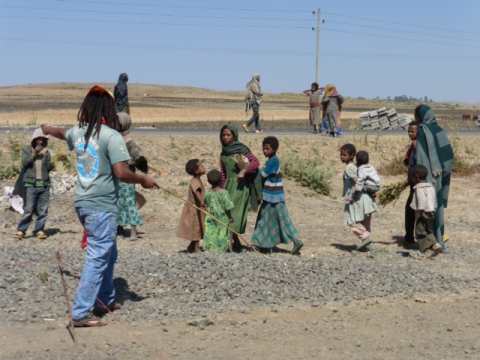 We did have a nice group of kids for our lunch audience earlier last week. The cows and goats that visited us that day kept trampling our perimeter rope and the young boys would put it back up. The boys happily chatted with us about our route through Ethiopia and proudly displayed their knowledge of soccer teams and geography.
Sharita will be leaving us when we get to Lalibela to head off on some scouting missions and then to lead the Silk Route tour. We will definitely miss her and as the "struggle" continues I'm sure her mantra will help us get through it.
Join us for a section this year or sign up now for the 2015 Tour d'Afrique.