Blog
REGISTER NOW
LOGIN
SIGN UP FOR OUR NEWSLETTER
Navigation And The Tour d'Afrique: On A Wing & A Prayer
Can you imagine heading out across Africa on a bike…with no GPS tracks? Sounds crazy, right? Hard to even imagine in today's connected world. Yet, that is what Henry Gold and his group of like-minded adventurers did in January of 2003. They pedalled out of Cairo, literally on a wing and a prayer…
On that first tour, there were no real directions except the ones given to the riders by Henry each day. The riders had to listen and then copy them  down on some paper, hopefully correctly. Unsure about a turn? Ask the locals, Henry advised. Of course, many of the people that the riders met along the way didn't speak English and certainly didn't understand why these oddly dressed strangers were cycling through the area. I'm sure it made for some interesting conversations.
The route had not even been thoroughly scouted. Henry had flown to Nairobi before the tour and driven up to Egypt but as he remembers, "I took a few notes but I was just looking for major things." At the Egyptian border, Customs would not let the vehicles in so he had to fly to Cairo, meaning the Egyptian section was not scouted. The route south of Nairobi was a mystery. While his overland support company had some ideas on it, they knew nothing about a long section from Arusha to Mbeya in Tanzania. The answer? Henry recalls, "I hired a Tanzanian on the internet who I never met, and I have no recollection how I got to him and asked him to get on a local bus and send me a report what it looks like, which he did. I was only interested to hear if local bus manages to get through. If he did, I assumed we would to."
This 'by the seat of your pants' approach came to epitomize the Tour d'Afrique ethos in terms of navigation and, indeed, all other aspects of the tour. Riders were given some limited support, like daily directions, but were expected to combine those with their own personal experiences in order to complete each stage.
Changes, however, were on the horizon. In 2005, the route was now marked with flagging tape and the daily directions were posted on a whiteboard, giving the riders a little more structure to their day…a little more meaning just that. 2005 Rider David Houghton explains, "Randy (Tour Leader) would write the next day's route down on a chalkboard and all the riders would dutifully copy it into tiny notebooks (no smartphones at that time). There was flagging tape along the way (I remember red and white stripes, but I may have been delirious) and a big yellow arrow that pointed to camp. Of course, Ethiopian kids love to collect flagging tape, so some days we saw little or none of it. I think it's safe to say every rider got off course at some point – it comes down to how well you can find your way back on track! A combination of intuition, intelligence and pure luck." In addition, according to Henry Gold, "Flagging in general was limited as with two vehicles and bad roads you couldn't get ahead of the racers often particularly on dirt roads."
This system, whiteboards and flagging tape, served as the backbone for navigation on the Tour d'Afrique for many years. Our Cairo to Cape Town ride requires riders to sometimes step out of their comfort zones and deal with a variety of challenges. This philosophy not only allows us to keep our tour cost reasonable, but, more importantly, it also adds an element of freedom and adventure that is often missing on other guided cycling trips. And one element of this is flagging tape.
The amount we use on a particular day or expedition varies greatly with the route. Some days in Africa riders might be instructed to turn left out of camp and go straight for 115 km until they see the next night's camp on their right. Not much flagging tape there. On the other hand, cycling through bustling towns in southern Africa with roundabouts and one-way streets and unexpected festivals might call for a number of rolls each day.
Of course, it wasn't perfect. There were hazards – cows eat it, kids play with it, up-tight neighbourhood committee members remove it, pranksters move it from one side of the street to the other and then watch the confusion. The possibilities are endless. As 2014 staffer, Bina Belinky Trahan wrote, "After chatting about the various ways our flagging tape had been recycled, Justin rehashed his experience of seeing a child on a donkey who had repurposed our flagging tape into a bridle."
And sometimes flagging tape was ineffective. Belinky Trahan again, "The navigation was tricky as the "road" didn't often resemble anything you would drive a vehicle through. The first day we had power lines to use as a guide but after that we had to rely on our own navigational skills. There were many spots that had several "roads" intersecting with tire tracks in all directions and you just hoped you picked the right sandy area that looked the most traveled. We used flagging tape and arrows to help mark the route which is all well and good until villagers move the flagging tape because they think the flags are a sign that we are coming to kill all their women. Yep, that happened. The arrows proved to be tricky as well since we made them out of energy drink powder and the goat herds decided to take advantage of the sweet treat."
Our many Tour d'Afrique riders got used to the sight of our tape hanging from trees, poles, bike racks, cacti, signs, light poles, bus shelters, etc. Whatever worked!
But we got tired of seeing our old tape still hanging onto these things as the years went by. How long would it stay there? 100 years? As a company concerned about the environment, it struck us as odd that we would leave plastic littered all through the African countries we cycled through. After some research we were happy to find an alternative in time for the 2013 Tour d'Afrique – Biodegradable Flagging Tape – Made of all organic, non-toxic recycled cellulosic materials, this biodegradable flagging tape would not harm livestock or wildlife if eaten. Completely degraded in 6-24 months. Now we could flag our routes with a clear conscience…but they still needed to watch out for those mischievous kids.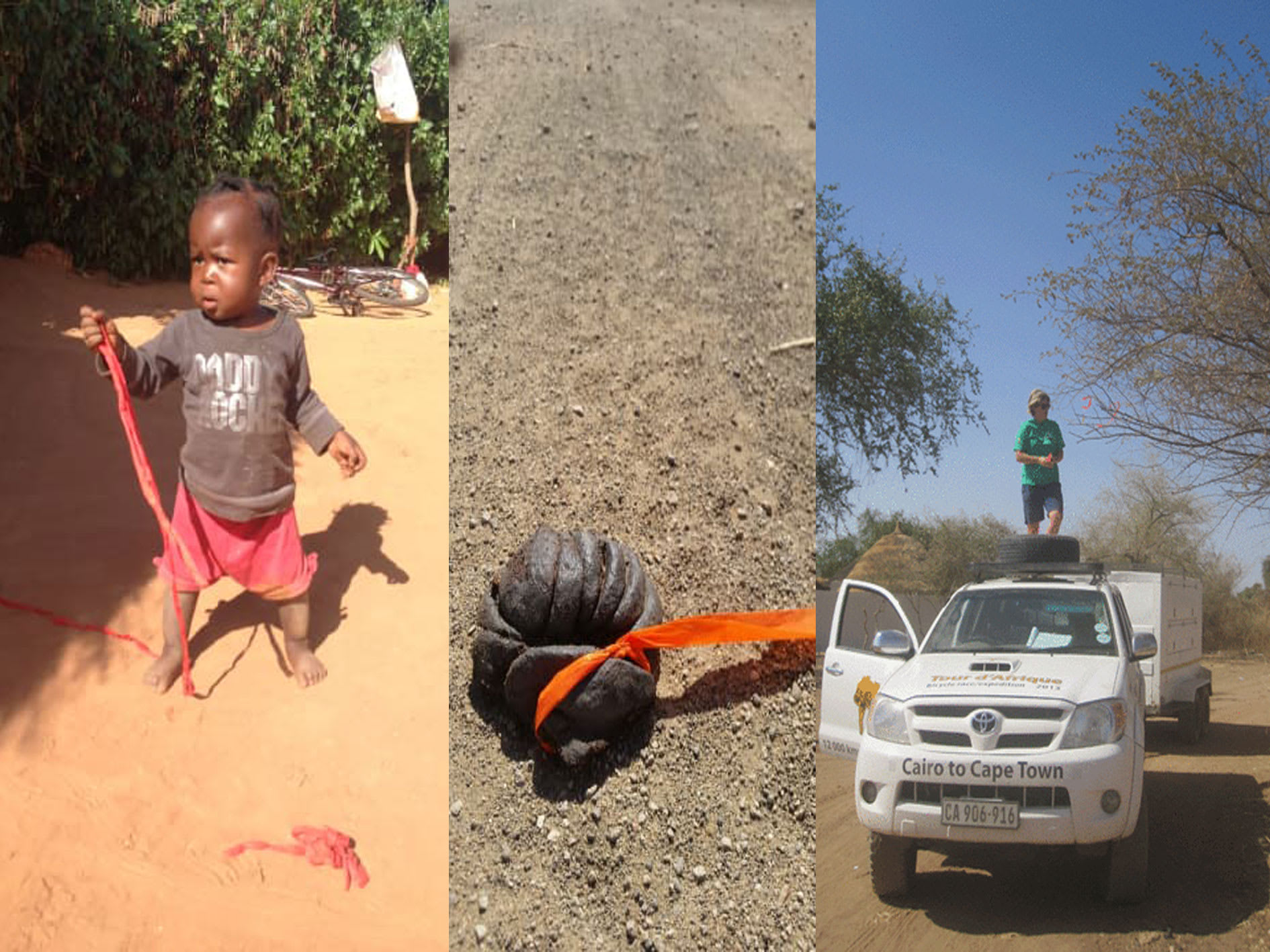 >>Related Blog: Finding Your Way Home – A Photo Essay
However, by 2015, smartphones and Google Maps were starting to infiltrate the Tour d'Afrique but the cell/data issues made them very expensive to use and coverage was limited. In 2017, Garmins were starting to become more popular and more useful for navigation in Africa. Rider expectations continued to demand more and more accurate technology and in 2019, GPS tracks were finally created for the riders cycling from Cairo to Cape Town.
As with all types of progress, something is gained and something is lost. The tracks largely eliminate mistakes in navigation. In the past, riders have gotten lost, ridden in the wrong direction and missed campsites. In 2006, completely in the zone, I raced past a South African campsite and continued for over 20 km before one of the fastest riders, who just happened to see me fly by the camp, managed to catch up to me. I have no idea how far I would have gone… But, on the other hand, as 2008 rider Deb Corbeil wrote, "Getting lost in the desert can turn from a terrifying experience to an incredible feeling of hospitality when you stumble into a remote village and a family invites you into their home for a drink."