Blog
REGISTER NOW
LOGIN
SIGN UP FOR OUR NEWSLETTER
TDA Foundation Donation Ceremony in Gondar, Ethiopia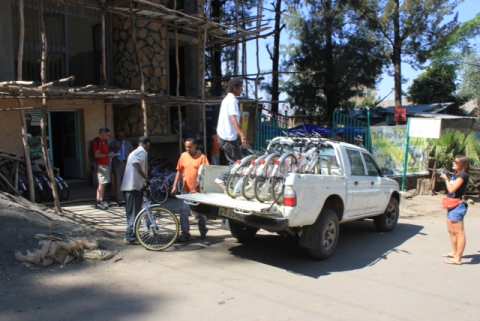 Birgit Hermann explains what motivated her to fundraise for the Tour d'Afrique Foundation – "I wanted to race for a purpose and giving bikes to communities that we cycle through is a really good cause."  On January 31st the first Tour d'Afrique bike donation ceremony of the 2014 expedition was held in Gondar, Ethiopia. Tour d'Afrique partnered with Link Ethiopia, an organization that supports education in Ethiopia and promotes cultural awareness by connecting local students to schools in the UK. We had some confusion with the time of the ceremony. Ethiopia starts counting the hours at sunrise instead of midnight. For example, what we consider 7am would be 1am to Ethiopians. After a few emails back and forth we all arrived at the same time (give or take a half hour for the locals since no matter what time system you are going by, "Africa time" still prevails).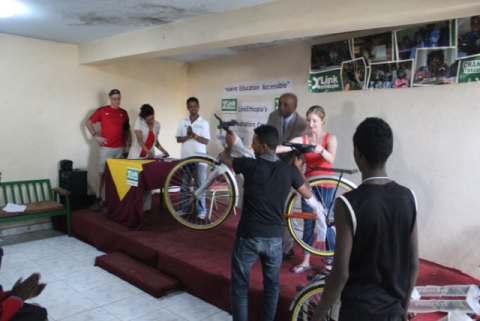 The fund-raising efforts of tour riders Catherine Daly and Birgit Hermann resulted in twenty-one bikes being donated through the TDA Foundation. The bikes went to several schools, education offices and local NGO's. After we gave a brief introduction to the Foundation, representatives from Link Ethiopia and the Gondar Sports Commission got up and spoke. Following that, one of the recipients of the bicycles stood up to express his gratitude to the TDA. Although he wasn't fluent in English it was unmistakable how thrilled he was with the gift of sustainable transportation that would make his teaching more accessible.
The ceremony was followed by a traditional Ethiopian lunch of injera (flat bread/pancake type of thing that you use to scoop up your meal). There were "fasting foods" to top it with which consisted of all vegetarian dishes since Orthodox Christian Ethiopians don't eat meat on Wednesdays and Fridays. Even without meat (fine with me!) there were plenty of options including lentils, spinach, red beets, rice, plantains, potatoes and the list goes on. Delicious!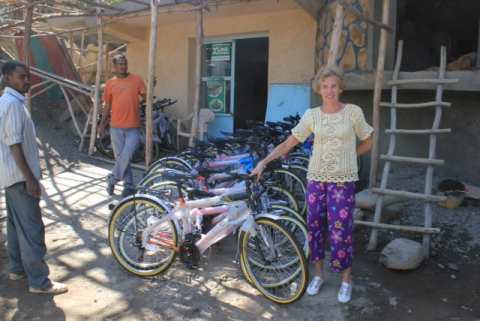 I sat down with Catherine to find out what inspired her to fundraise for the Foundation. Catherine usually doesn't like asking people for money but after one day of training on her new bike she felt differently. "I thought to myself how fortunate I am to have this brand new bike and I wanted to make others as fortunate." One of the first women who donated to her fundraising campaign started doing Ironman competitions at age 60 –  as had Catherine. This woman dedicated the bike donation to her late mother, who had polio and was never able to ride a bike. Catherine's goal was to donate 1 bike for every 1,000km of the tour and she met her goal before departing for Africa.
As a special offer during the running of the 2014 Tour d'Afrique, every donation of US$150 or more to our TDA Foundation will recieve a comlimentary copy of our beautiful hard-cover book : 10: Celebrating Ten Years of the Tour d'Afrique Bicycle Race and Expedition.