Blog
REGISTER NOW
LOGIN
SIGN UP FOR OUR NEWSLETTER
First Week in Kenya
Now that we are passed getting to know each other and the really hard obstacles we are able to relax and annoy the hell out of each other.
We have been in Kenya over a week now and as Shanny (TDA marketing guru) said, it is wild and wonderful. The Meltdown Madness section is in full swing with quite a few days of corrugated, rocky and sandy roads with bits of glorious pavement thrown in just to tease us. Despite the rough road conditions, everyone is thrilled to be here and really enjoying the different scenery and wildlife. In our first few days many of us saw monkeys, baboons, dik-diks, and ostriches. We camped a night in the lava rock landscape that is the Dida Galgalu Desert and felt like we had just set foot on Mars. The tribes people of Northern Kenya are adorned in colorful fabrics, beads, and feathers and have been very friendly.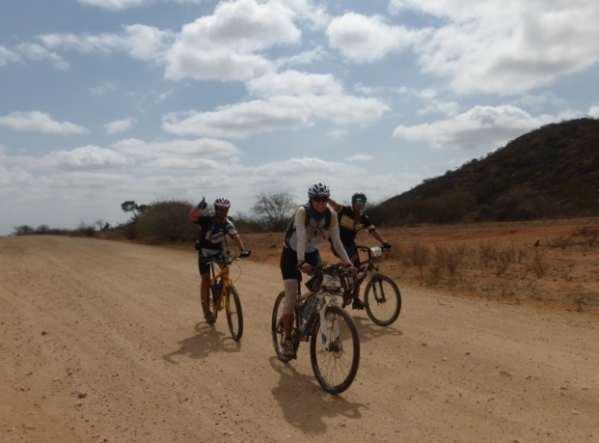 Gillian, our race director decided to torture the racers with a 45km independent time trial on the rough roads. Throw in some unexpected 40kph winds and you have one hell of a tough ride. Gillian ended up having to ride afternoon sweep following the time trial and she referred to it as "karma at its finest" for making the racers compete in those conditions. Alex placed first, Chris Wille came in second and 3rd place went to David Wolfendale. All of the racers get my respect as I can't seem to get over 10kph with that type of weather and terrain.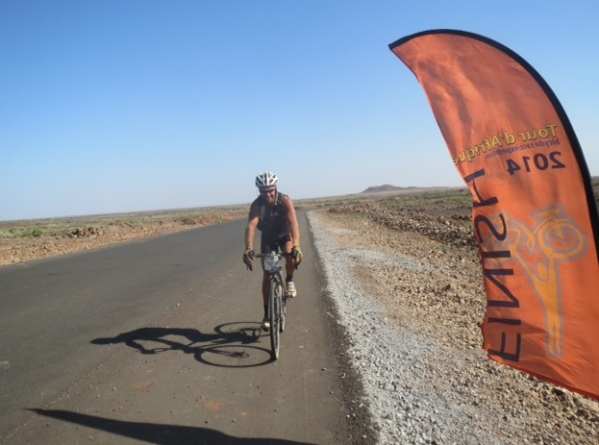 We had a rest day in Marsabit where we slept at a convent, which was quite nice but totally different from the bush camps and abandoned amusement parks we typically frequent. Jennilea was generous enough to let us use her computer to set up a wireless network in one of the spare rooms. Now I know why they call it a hotspot – it was where everyone spent most of the rest day and a great place for chatting and hearing some epic quotes. "The goat farted on Alessandro after chewing on David's tent". That one was courtesy of Ross Mallinson.
The riding stages following Isiolo have been paved and gorgeous with views of Mt. Kenya and tons of wildlife (even some giraffes!) We seem to be sailing right into Nairobi and our time in Kenya is flying by. There are only positive thoughts going around and everyone is loving the more comfortable campsites with showers, wifi and restaurants. David Wolfendale sat with Gillian and I in the lunch truck and told us how much he is enjoying Kenya's landscape, wildlife and people as well as spending time with the group. "Now that we are passed getting to know each other and the really hard obstacles we are able to relax and annoy the hell out of each other."