Blog
REGISTER NOW
LOGIN
SIGN UP FOR OUR NEWSLETTER
Malawi Gin Summary
We had a 20km race climbing up from Lake Malawi. It was raining, foggy and we had a cheerleader in the form of a goat
The Malawi Gin section can't be over yet – I haven't even tried the Malawi gin yet! Although I did try the local vodka so I guess that counts. It feels like we just arrived in Malawi yesterday and we are already preparing our passports and cash for crossing the border into Zambia. Malawi felt like an extension to Tanzania since the landscape was similar and the people were equally as friendly. The language however, was completely different and the few words of Swahili I know didn't get me very far in Malawi where they speak Chichewa.
What's a section without an epic time trial? We had a 20km race climbing up from Lake Malawi. It was raining, foggy and the switchbacks were narrow and steep. The views of the lake were breathtaking and we had a cheerleader in the form of a goat who bleated every time another racer set off. He didn't play favorites and rooted for all the riders as well as kept Gillian company while she marked the starting times.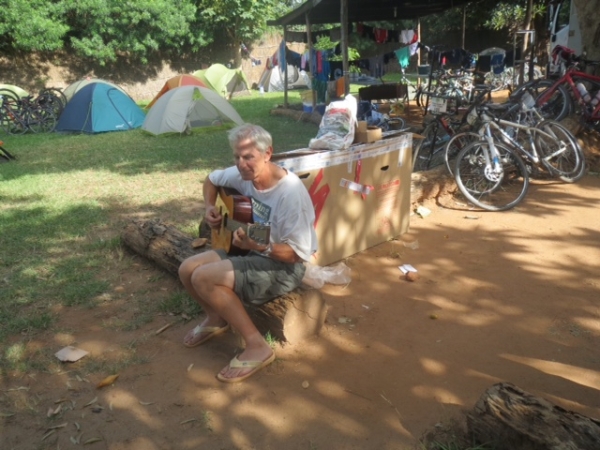 Martyn Wells
I asked Martyn Wells about his most memorable moment of Malawi. He was a little stumped and said he'd get back to me. Later he told me that it was hard to pinpoint one moment as Malawi is such a nice place to be. One highlight for him (and many others including myself) was the riding stage out of Mzuzu where we climbed into the Viphya Mountains and the hardwood forest. We had a couple other momentous occasions including our dinner truck driver, Noah, cycling a riding stage (and loving it) and a pig roast and pot luck at Chitimba Beach. My favorite moment: goats as bicycle cargo. And they made it known they weren't thrilled by their mode of transportation.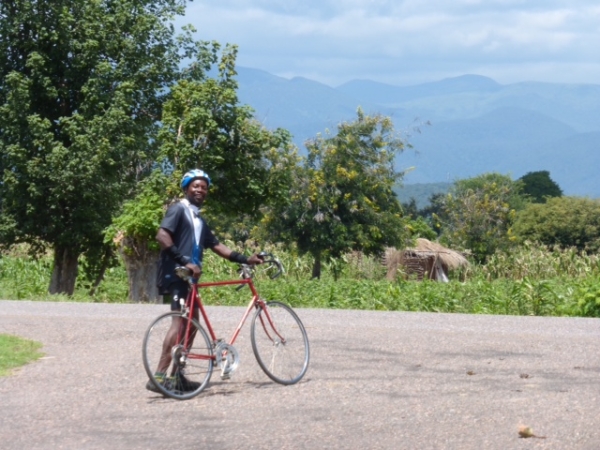 Noah on the bike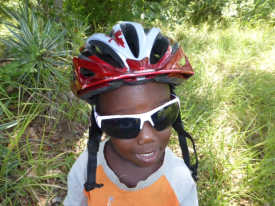 We will all miss the gorgeous and serene Lake Malawi although some of us didn't go in the water for fear of bilharzia. Bilharzia is a disease one can pick up from stagnant or slow moving water. Since the waves were crashing it was probably safe. Famous last words. Sally-Anne Dunn told me how she kept the disease at bay. "I really enjoyed drinking the Malawi gin to wash away the bilharzia." I'm not sure our nurse would agree with her remedy but I think she deserves an 'A' for effort!
As we leave Malawi we also bid farewell to Mateo, our comic relief. We had a lovely dinner in Lilongwe last night to send him out in style and he made a typical Mateo speech; most of which can't be repeated on the blog. However, he did say what a wonderful adventure it has been for him and how grateful he is to have shared it with us. We will miss his early morning jokes, cartoons (like the lead photo of this blog), elusiveness during photos and his all-around inappropriateness.