Blog
REGISTER NOW
LOGIN
SIGN UP FOR OUR NEWSLETTER
Tour d'Afrique Race and EFI Update
With 5200 km to go we wish all the riders happy cycling and good luck as their goal of reaching Cape Town draws a little closer every day
The 2014 TdA is now approaching the two-thirds point of our annual trans-African odyssey on two wheels. After the riders, racers, and tour staff enjoyed a rest day at beautiful Chitimba Beach, Malawi, it's time to recognize some of their accomplishments so far.
After 58 of 96 stages the tour has covered 6585 km, cycling all but an insecure 177 km stretch in Kenya. A total of 5376 km have been officially raced to date, including an offroad open desert crossing in Sudan, the big climbs and descents of the Ethiopia's Simien Mountains, the Meltdown Madness gauntlet that is northern Kenya, and the rainy muddy and verdant Tanzanian highlands.
Averaging 21.25 km/h German David Grosshans, who now resides in Australia, has been the man to beat, almost since the tour departed Khartoum some 10 ½ weeks ago. Perhaps not the fastest overall, David and his Moots Psyclo X cross bike are proving that it is the most consistent rider who usually prevails. Maintaining his EFI status, he has parlayed 13 stage wins together with victories on the first 3 sections into a lead of more than 42 hours, the largest lead ever on the TDA race.
Joining David G in the top 3 are the only 2 other riders to still have their EFI status, German-Italian Alessandro Mauri (3 stage wins) and 19 year old New Jersey-ian David Crane (0 stage wins). Close on their heels are Seattle's Dave Wolfendale whose 17 stage wins are the most to date. Were it not for his diabetes, which forces him to slow down at times and to even take an occasional day off, David would be much closer to the race leader. Toronto's Diederick Heisey, with 5 stage wins, rounds out the top 5.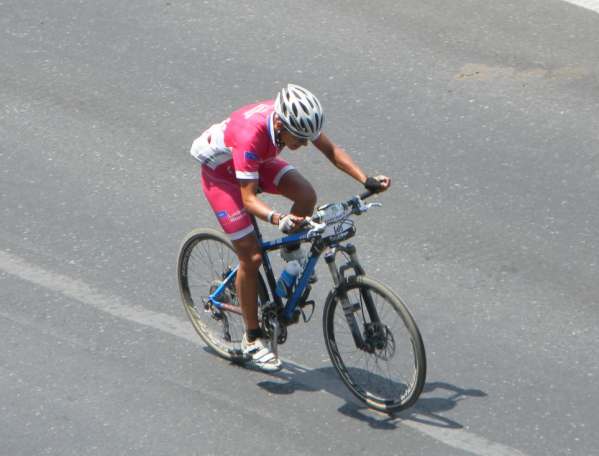 Also meriting mention are the strongest sectional riders to date – Brit Phil Robins, Canuck Chris Wille, and American John JT Taki each of whom won 4 stages. Tour Mechanic Alex Percival is also a threat whenever he rides a full stage, he won the infamous Blue Nile Gorge Time Trial by a whopping 16 minutes.
But it is the performance of effervescent Flying Dutchwoman Ina de Visser that has been the number 1 "tale of the tape" to date. Having won 47 of the 50 stages raced so far, including beating all the men on several days, Ina is in all likelihood the strongest female racer the TDA has ever seen. Currently she trails David G by 6 ½ hours in the overall standings, however when each racer's 5 grace days are factored in, her deficit is only 45 minutes. Most of this difference is from 1 day in the Sudanese desert when a fall cost her 9 stitches and her EFI status – the only 39 km she has missed. While Ina has received more time bonuses on the mando days than David G, anyone who has witnessed Ina and her Trek 8000 MTB leave them in the dust on a climb can vouch for her skill and determination. Aussie sectional rider Helen Salvestrin is the only other lady to have won a stage so far, while Canucks Jennilea Horton and 65 year old tri-athlete Catharine Daly are currently in 2nd and 3rd place among the women.
All told 12 of the 31 full tour-ists are still classified as racers and being timed. You can always find the latest stage results and overall standings here.
With 5200 km to go we wish all the riders happy cycling and good luck as their goal of reaching Cape Town draws a little closer every day.