Blog
REGISTER NOW
LOGIN
SIGN UP FOR OUR NEWSLETTER
The Elephant Highway lives up to its name.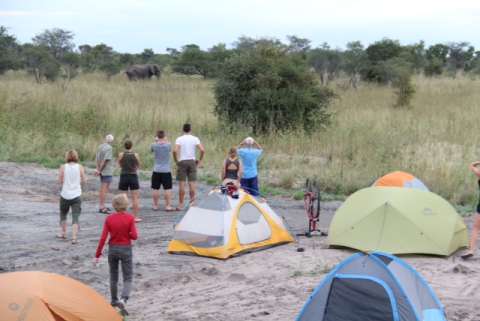 The "Elephant Highway" section is underway and it is as wonderful as it sounds. Miles of beautiful open roads with many opportunities to see elephants. On the very first day we crossed into Botswana, Chris Dick saw several elephants on the road just a few hundred meters from our campsite. But it gets better! The next evening we had a personal visit from an elephant. He strolled through our campsite giving us all a pretty good show and a great photo opportunity. Just about every day since we've been in Botswana there have been multiple wildlife sightings. Aside from elephants we have seen giraffes, baboons, warthogs and kudu. There is nothing like a safari from your bicycle seat.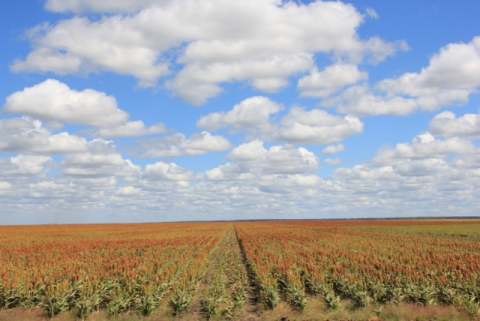 Although the terrain has been super flat and cuts into my coasting time, the roads are absolutely beautiful. There landscape consists of savannah-like plains, golden farmland and the bluest skies I've ever seen. Botswana is less populated than any country so far and most have welcomed the quiet and serenity of the cycling stages. We had the longest cycling distance of the tour so far this week – 182km from Nata to the middle of nowhere, Botswana. Randy had the great idea to break up the mileage monotony with a pit stop at an oasis called Planet Baobab. We ate, drank, surfed the web and enjoyed the pool before hopping back on our bikes and seeing more elephants along the road.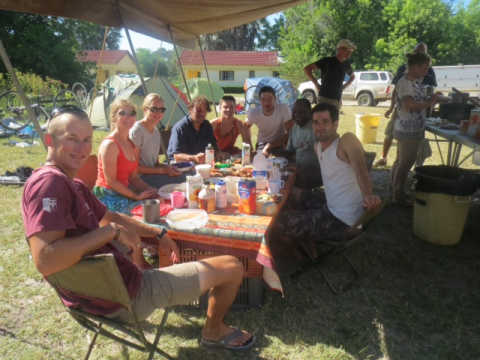 Another highlight of the week was a super sweet plan orchestrated by David Crane and Alessandro Mauri. On our rest day in Maun, David, Alessandro and several other fantastic people cooked the entire staff breakfast. There was bacon, eggs (3 ways), pancakes (with real maple syrup!), yogurt, granola, fruit and pastries. The presentation and service was top notch and there was even an African themed table cloth! The icing on the amazing breakfast cake was the mimosas. It was the best breakfast we've had in Africa and on behalf of all the staff, we are very grateful for the generous and delicious gesture. Yup, we have some pretty thoughtful clients on the 2014 Tour d'Afrique. And some pretty awesome chefs!