Blog
REGISTER NOW
LOGIN
SIGN UP FOR OUR NEWSLETTER
Bike Film Screening in London
To our friends and followers in London, we would love to have you join us Friday October 3 for a special screening of our documentary film about the Tour d'Afrique – Where Are You Go. Why not join fellow cyclists and Tour d'Afrique (TDA) alumni for some great cycling cinema in a wonderful cycle-themed venue.
Where and When: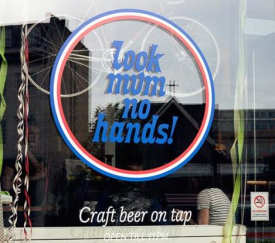 Look Mum No Hands
**NEW MARE ST. LOCATION**
125–127 Mare St (map)
07985 200 472
Friday October 3, 2014
7:30pm local time
The film is 1 hour 14 min and will be followed by a Q & A session with long time TDA staff Shanny Hill.
Look Mum No Hands is a cafe, bar, theatre and all around great place to hang out if you are cyclist in London. Thanks to Matt, Alex, and the team for sharing their fantastic venue with us.
Who should attend:
The event is FREE and ALL ARE WELCOME and encouraged to come. If you are interested in Africa, or cycle touring, or any social cycling evening, you will enjoy this event.
(If you are a TDA alumni, your drinks are free too – find Shanny and he will make sure you don't pay.. that's just a small thanks for being part of the family.)
And those looking to learn more about our tours, its a fantastic opportunity to meet former cyclists and staff and to hear their stories.
There will be a few prize give aways (like our book) and Shanny will be on hand to answer questions after the movie for those who want to stick around.
RSVP:
Please let us know you are coming. Indicate you are attending from the event page on Facebook.
Any questions? Please let Shanny know shanny@tourdafrique.com
The film:
The film showcases four months on a bicycle between Cairo, Egypt and Cape Town, South Africa. Capturing the 7,000 mile expedition as a constant adventure full of playfulness and mysterious beauty, and is a testament to the endurance of human curiosity.
En route with the Tour d' Afrique, the world's longest bicycle race and expedition, the Zenga Bros. (CAN) and Brian Vernor (USA) make light of this physically daunting trip by sharing a universal love of the bicycle with Africa's roadside mechanics, sporting racers, and innumerable curious strangers.