Blog
REGISTER NOW
LOGIN
SIGN UP FOR OUR NEWSLETTER
A Town Called Alice
A whole street's belief in Sunday's roast beef
Gets dashed against the Co-op
To either cut down on beer or the kid's new gear
It's a big decision in a town called Malice
A Town Called Malice by the Jam
The 2014 Trans-Oceania pulled into Alice Springs for a 3 day break from their 4 month cycling adventure. Most cyclists used the time to book tours to the regions justifiably famous sights – Uluru, Kata Tjuta & King's Canyon. The staff, however, stayed in town to stock up for the next Outback section following the Stuart Highway to the opal mining town of Coober Pedy.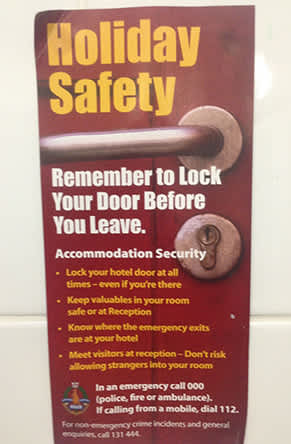 I wandered this dusty, desert town, one I had visited almost 40 years ago, and found its remoteness, charm and hard-scrabble existence now lay hidden under a glittering layer of affluent adventure tourism. But stroll down a side street and out towards the unforgiving red desert and the underlying foundation of this town begins to emerge – struggle, despair, dashed hopes and dreams.
Most visitors are drawn in to the beauty of aboriginal art, to the elegance of their historical legends, even to the chitter-chatter sounds of the 6 unique aboriginal languages you are likely to hear in the town. But again once you begin to scratch the surface of this layer of marketable native culture, the reality reveals itself.
The sing-song voices you hear come from groups of aboriginals sitting listlessly under the shady gum trees that line the streets. The parks and rivers in the city reflect the real power structure – Anzac Hill, Billy Goat Hill, Jim McConville Park, Todd River and the cringeworthy, Chinaman's Creek. Along a strip of blunted development running south along Todd St (and right next to a gleaming 'drive-through' bottle shop), amongst the endless For Lease, For Sale and Beware of Dog signs, I found a bleak, litter-filled lot fenced off with rusted barbed wire.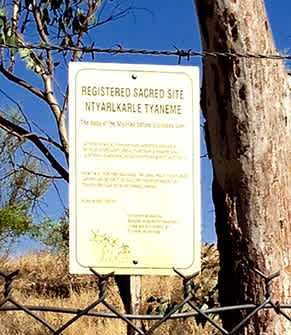 I peered through and was shocked to find a sign indicated that this space was sacred land to the Aboriginal peoples. It was the location of the body of the mystic caterpillar, Ntyarlkarle Tyaneme – one of 3 such ancestral beings whose journeys across the area from the MacDonnell Range resulted in the town's striking topographical features. This is how the town has treated an important part of the local Aboriginal people, the Arrente's, history. As Lonely Planet politely puts it, "…for many…Alice Springs is their first encounter with contemporary indigenous Australia – with its enchanting art, mesmerizing culture and present day challenges."
The ghost of a steam train echoes down my track,
It's at the moment bound for nowhere,
Just going 'round and 'round,
Playground kids and creaking swings,
Lost laughter in the breeze,
I could go on for hours and probably will,
But I'd sooner put some joy back in this town called Malice