Blog
REGISTER NOW
LOGIN
SIGN UP FOR OUR NEWSLETTER
The 2014 Trans-Oceania Cycling Expedition arrives in Sydney
After cycling over 10,00kms through the rainforests of Sumatra, up and over the volcanoes of Java, amongst the Spice Islands of Indonesia, across the endless Australian Outback and along the stunning Great Ocean Road of Australia's southern coast, the cyclists of the 2014 Trans-Oceania have arrived at the Opera House in beautiful downtown Sydney.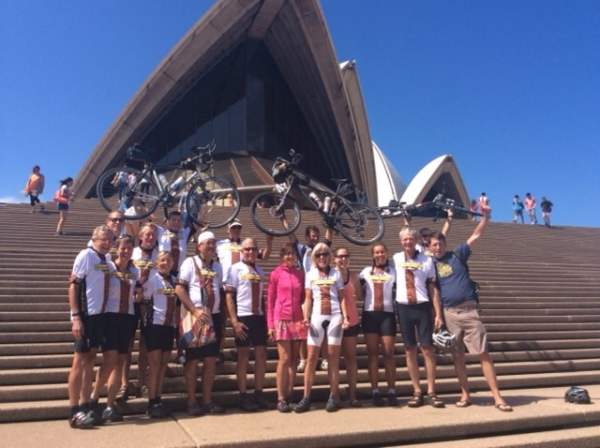 Fourteen riders completed the entire trip that began August 18th in Medan. Congratulations to the cyclists: Joachim Loffel, Annegrete Warrer, Chris Wille, Eric Beurton, John Waterhouse, Brett Lanham, Bob Tessier, Paul Clarke, Dara Delamore, Dan & Shirley Frye, Nellie Gold-Pastor, Catherine Ainsworth and Hanns Felenz.
Along the way they were joined by 36 other riders for various distances. Cheers to: Erik & Jenny Loy, Stirling Lee, Jacqueline Goodall, Jos Balk, Rosi Winn, Gerald Coniel, Berne Broudy, Mike Donohue, Daryl Allen, Ruth Ferlow, Per Sorner, Jodi Barnett, Jacqueline Nel, Kristen Jorgensen, Bob Edwards, David Freeman, Matthew Clark, Nola Reynolds, Paul Tomlinson, Rae & Ursula Simpson, Dana Sweet, Charles Juge, Paul Davison, David Jones, Fred Promoli, Mary Kelly, Bernice Aebly, Bryan Edwards, Daniela Hohme, Terrie Riley, Shirley Davey, Linda Wille, Rick Flynn and Lydia Rickard.
And, of course, a huge 'Thank You" to the staff: Andreas Pakenham, Henry Gold, Cristiano Werneck, Chelsea Larock, Mark Lutz, Jon Shepheard & Doug Percival.
We could not have done it without all of you.