Blog
REGISTER NOW
LOGIN
SIGN UP FOR OUR NEWSLETTER
2015 Tour d'Afrique is ready to go
Tomorrow is the start of the 13th annual Tour d'Afrique cycling expedition. Riders and staff are scurrying around Cairo making their final preparations. For media intending on joining us at the official start line next to pyramids, please get in touch with Miles MacDonald to coordinate your arrival there. He can be reached at 012 122 80031. The group photo and official start line ceremony should begin at 7am Friday morning. We look forward to seeing you there.
Here are medic Jodi's impressions and observations from Cairo.
As the start of the 2015 Tour d'Afrique rolls very near, riders are arriving from near and far (mostly far) and staff are hard at work cleaning, fixing, sorting, buying and organizing.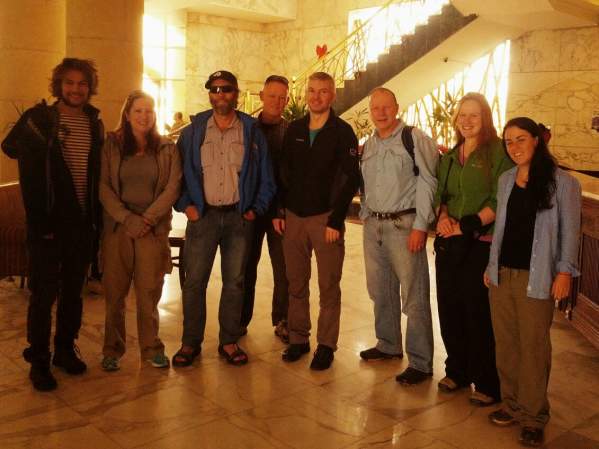 Riders are cautiously meeting and greeting, forming plans for building bikes, sightseeing, eating, shopping and riding. Some saw pyramids and museums while others agonized over visas, embassies and lost baggage. Pretty much everyone could bond over their harrowing Cairo taxi experiences though.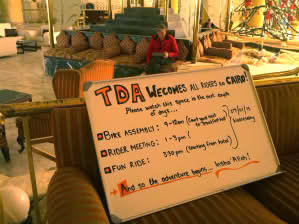 The whiteboard, which riders will soon be extremely familiar with, made its first appearance in the hotel lobby advertising the day's events. Bike building, rider meeting, and an intro ride were all on the agenda. Riders and staff bundled up in all their warmest clothes (have I mentioned it's freezing here!) to build and test out their bikes, then moved inside (where it wasn't much warmer!!) for the rider meeting. Next up was the fun ride.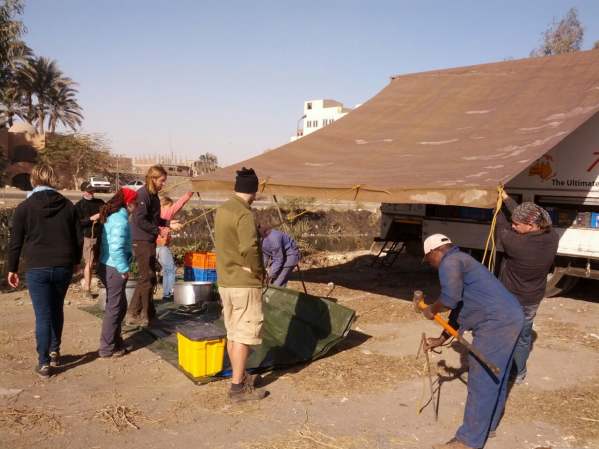 The colourful bunch of riders clad in their warm tights and rain jackets (yes there was even a smattering of rain to go along with the cool temperatures!!!) headed to the street for a 20km ride to test the bikes and the local hazards. The riders shared the street with taxis, donkeys, horses, carts and tuk-tuks, and were cheered on by a myriad of very interesting vehicle horns.
Only one more sleep until everyone is back on their bikes for the official start of the 2015 Tour d'Afrique.