Blog
REGISTER NOW
LOGIN
SIGN UP FOR OUR NEWSLETTER
TDA 2015 – EFI Club Members & Race Synopsis
On Saturday May 9, the 13th annual Tour d'Afrique bicycle race and expedition crossed the finish line at the V & A Waterfront in beautiful Cape Town, South Africa. Starting at the Pyramids in Giza Egypt, this year's tour was 12,063 km long, and took 121 days to complete. 32 full tour riders, 8 of this year's 20 sectional participants, and 11 staff members, altogether representing 11 different countries, celebrated in the shadows of Table Mountain before dancing into the wee hours.
Among the full tourists, 5 tough and masochistic souls managed to deal with everything Africa could throw at them, cycling Every F*cking Inch of the way, to become the latest inductees into the elusive EFI Club. They are: Mike Lantz (USA) , Eric Beurton (France), Ivan Zimmerman (South Africa), David Snell (UK) and Nate Freeman (South Africa).
The 94 total tour stages included 65 full race days, 9 half day races, and 4 Individual Time Trials covering a total of 9,265 km. And while the 2015 Tour d'Afrique did not feature the largest or deepest field of competitors, it still held plenty of drama while witnessing some remarkable individual performances.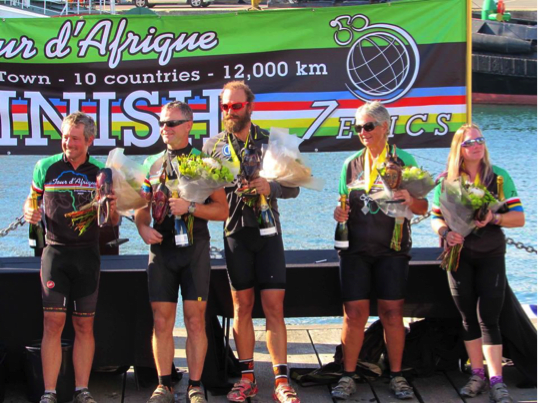 Race Winner Mike Lantz, hailing from Columbus, Indiana, led from start to finish and became the 1st male racer to sweep all 8 sections. Moreover Mike became the first participant ever to complete the Tour d'Afrique twice, having also ridden from Cairo to Cape Town in 2013.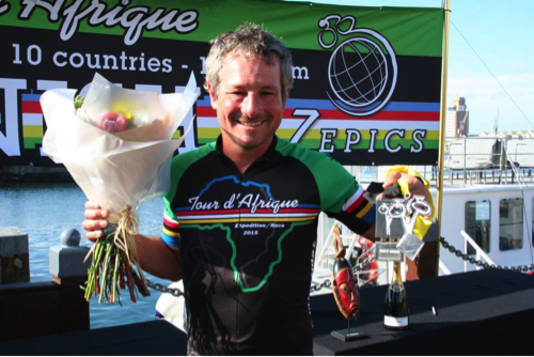 Finishing 2nd was quiet spoken Eric Beurton who survived a nasty crash way back in Upper Egypt. Eric is also attempting the 7 Epics Challenge having ridden the 2014 Trans Oceania. After a few weeks back home in St Nom La Breteche, France, the 2015 South American Epic is next on Eric's agenda.
In 3rd place MTBer Ivan Zimmermann was always focused primarily on achieving EFI, which he did, propelled in part by periodic injections of Vitamin B12. He must have been ecstatic to pass through his home town of Melkbosstrand only 40 km from the finish line.
Among the ladies, Laura Harris of Somerset UK was the class of the field for much of the way before her long sectional ride ended in Victoria Falls. Laura's departure left Tour Trooper and ever steady Sue Shuttleworth from Lancashire UK with a big lead. Sue also found the time to write an amazing blog with tons of photos en route but, even more remarkably, this woman was EFI for the 6400 km stretch from Nairobi almost to Cape Town and only failed to complete 5 stages. Sue also won 3 sections and was the only racer other than Mike to win a stage on each of the 8 sections.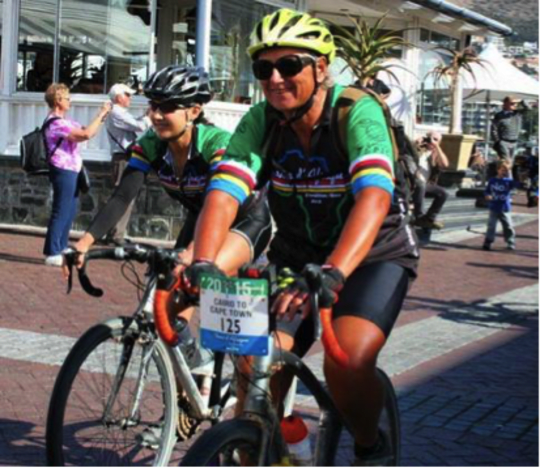 Paige Webb, from Ontario, Canada, won the Elephant Highway section; she was the only other full tour female racer this year. South African sectional rider Franci Joubert won the Diamond Coast.
Another of the highlights this year was the performance of Team Egypt whose 6 road racers made for the competition's biggest and fastest peletons. Omar Adel almost came away with the Pharaoh's Delight section win but Mike was truly on a mission.
Next year our plans are to attract more competitors from the African countries we pass through, and others such as Rwanda and Lesotho where cycle racing is really starting to take off. Meantime, in a couple of months the South American Epic Bicycle Tour and Race will start in Cartagena. Colombia. Look for TDA veterans Chris Wille and Eric Beurton to be among the contenders.
Until then, we salute all of the 2015 TDA participants and staff, and congratulate them on completing their trans-Africa odyssey, and the adventure of their lifetimes.