Blog
REGISTER NOW
LOGIN
SIGN UP FOR OUR NEWSLETTER
Hierarchy on the Highway
Jacob reports from the North American Epic cycling tour:
In Steven Spielberg's debut feature film 'Duel' a terrified motorist is stalked by a mysterious tanker truck along remote and isolated roads. The truck driver is never seen, and the vehicle seems almost a sentient being – a predator of the asphalt. Its engine roars, and horn blares, it is a living breathing monster. Without being too melodramatic, this week's journey on the Alaska Highway has made us feel a little bit like this. With one difference, we are on bicycles, not in a car! These 18 wheeler trucks are an imposing, impersonal and intimidating sight. That is, before they even start moving! When one rolls past at 80km an hour, it is like a crack of thunder combined with an earthquake. For the most part the anonymous drivers of these mammoth vehicles give us enough space on our bicycles, but nevertheless, it is a scary experience at times. However, like the elusive bears, that everyone is so eager, but apprehensive to see, these big trucks are a rare sight.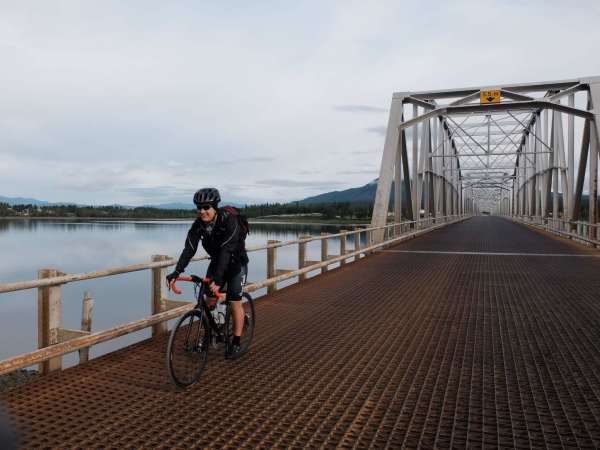 The more common, but less threatening, species of vehicle we encounter on the road daily are RVs travelling in herds to and from Alaska. These come in all colours and shapes, but have one thing in common – they are humongous. Each one is the size of a bus, and is usually towing a large 4×4 vehicle behind, like some kind of army troop transport. Furthermore, when these things park, the sides expand outwards to increase the internal area – much like loosening your waistband after a big meal. It is an interesting contrast between our two modest support vans for 20 or so people, and these huge beasts providing home comforts for a couple of passengers. Especially when we pitch up camp alongside them at night. At lunch on riding days, it isn't uncommon for a few to pull up, half a dozen people to get out, stand and gawp at us, then quickly hop back on and return to the highway. A peculiar encounter they can tell to their friends back home.
Perhaps the most relatable companions we have on the roads are motorcyclists. Like us, these two wheeled riders are mostly out here for leisure, and often give a thumbs up and a wave as they go past. On a number of occasions when I have been stopped at the side of the road on my bicycle, a motorcyclist has slowed down to check if everything is ok. A nice, simple, human act of kindness that is greatly appreciated on these sometimes anonymous roads.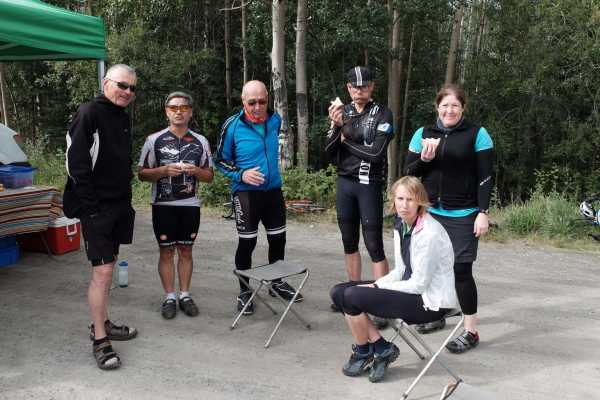 This week has been busy for the North American Epic riders, with a 140, 120, and 160km triple whammy to kick things up a notch. The latter being a miserable cold and rainy day, with many long steep climbs. It was a big test of perseverance for many – arriving at camp wet, tired, hungry, but satisfied with their achievements. Many riders have clung to EFI status and will be glad of the rest day that awaits them on the beautiful Muncho Lake. We have entered a very remote area of Canada, with coke stops being few, far between, and often – closed. Regularly a gas station will materialise out of the infinite line of trees, with the fleeting promise of coffee and cakes, until on closer inspection, it is boarded up and closed down. This has been a familiar sight in recent days, and is perhaps due to newer and more efficient vehicles on the highway. More miles to the gallon is good for drivers, but bad for gas station owners. On a more positive note, there have been huge herds of Bison flanking the roadside. Creating a new challenge to riders when they decide to wander onto the highway itself!
We are now in British Columbia, self proclaimed 'best place on earth'. So far, like it's former colonial namesake it has been cold and wet, but there is plenty of time for the North American Epic riders to be shown otherwise!