Blog
REGISTER NOW
LOGIN
SIGN UP FOR OUR NEWSLETTER
'North to the Future' – Anchorage to Tok – on the North American Epic
It has been a good week on our way to Tok, the first rest day of the North American Epic. Stage 2 provided fantastic views of the Matanuska Glacier, as well as great weather. The further we ride from Anchorage, the fewer settlements, people, and vehicles we see. A few patches of rain have failed to dampen the spirits of the small group of riders from a handful of nations across the world. Riders new to the Tour d'Afrique lifestyle have become accustomed to the day to day routine. Whilst returning alumni pick up where they left off on previous tours. The one overwhelming consistency for everyone so far has been trees. Trees as far as the eye can see. They form a wall on both sides of the road, denoting the boundary between the slither of asphalt that is the road, and the uncharted forest beyond. There have been a few reported Moose sightings, but so far (and probably for the best) no Bears!
Alaska seems to be a transient place for its population. Almost all of the people we have met in here have moved here from the lower United States or elsewhere. Many come for either work, relationships, or some other reason. One guy, Dale, moved here to help run his sister's gas station, which has now closed down due to competition. 'These towns are small, there's not much need for four gas stations', he said dishearteningly. I spoke to him whilst sheltering in said gas station from a torrential downpour. He was uncertain, but optimistic, when I asked what would happen after they sold the property. Perhaps they will move to a new town, or back to the lower U.S. Wherever the road takes them. Likewise, the majority of vehicles we see are either RVs or Trucks passing through on the long haul, eating up the miles towards somewhere far away. Probably wondering what a small group of cyclists are doing on these long and remote roads.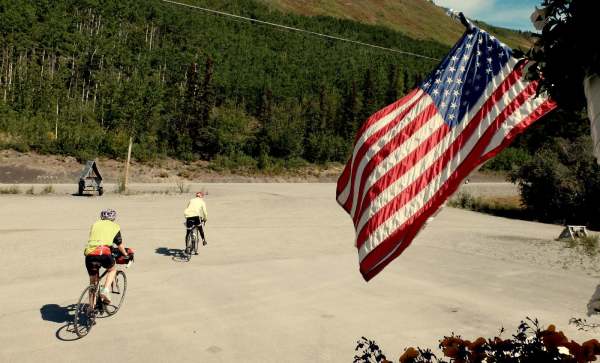 However, this is not to cast Alaska in a negative light! Those who live here, even if they aren't from here, are proud of their Alaskan identity, and knowledgeable of the wildlife and landscape that surrounds them. Fishing and hunting are the most frequently discussed past times. People at gas stations and campsites are very friendly, helpful, and curious about who we are, and where we are going, and always have advice or stories about the local area. Perhaps the lower density of people, and the larger distances between them, evokes a more welcoming and warmhearted approach to one another. Something that can't be said for many highly populated cities! After all, Richard Peter, the man who coined Alaska's motto 'North to the Future' addressed this directly, stating: 'there is a Great Land beneath our flag that can provide a new tomorrow for the huddled masses yearning to be free'.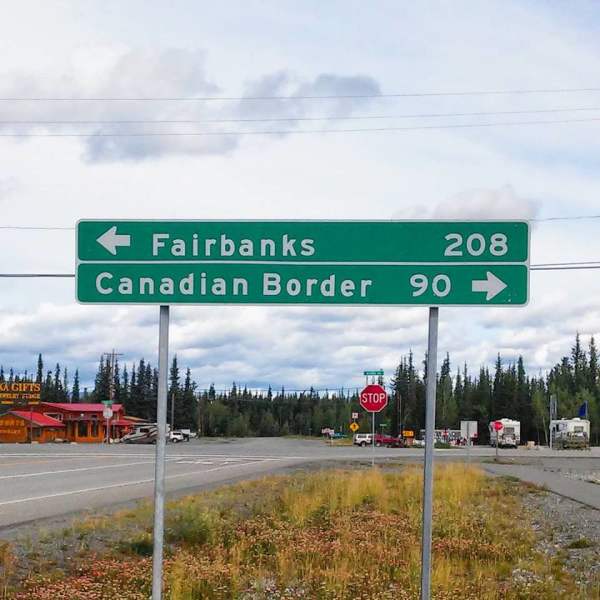 When we reach Tok, we will take a right hand turn and begin heading towards the border for Canada, the second country on our journey, which is home to many of our riders. However there will be surprises even for these native Canadians. As residents of the second largest country on earth, they still have much to experience in their homeland. It will be a shame to leave Alaska, which has delighted everyone with its character and scenery. It's a place I never thought I would visit, but would be happy to come back to again.