Blog
REGISTER NOW
LOGIN
SIGN UP FOR OUR NEWSLETTER
On the road to 'The Wilderness City'
Jacob reports from the North American Epic cycling expedition:
'It started like heaven, then there was a section of hell!' exclaims sectional rider, June, after the first 160km day of the North American Epic. We are currently in Canada riding south along a tough stretch of the infamous Alaska Highway. Full tour rider, Tom, described it as 'truly a challenging ride' that was 'rewarding to be done with.' A rough section of gravel gave the riders a difficult early morning start to an already long day. 'I struggled', said full tour rider from Germany, Beate, 'it took forever!' Despite a strong afternoon headwind through the aptly named Destruction Bay, many of the riders were upbeat on arriving into camp on the beautiful Kluane Lake, for some well needed rest. These roads are known both for their beauty and adversity – a double edged sword that generations of travellers have experienced on these routes.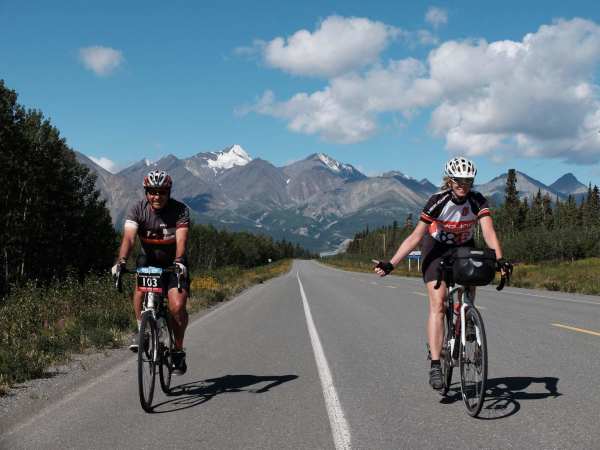 If you do an image search online, for 'Alaska Highway Construction' you will find old photographs of men with bulldozers amongst trees, ploughing through a muddy quagmire. This is how, in 1942, the 'lower 48' states were connected to their mysterious sibling to the north. For hundreds and thousands of miles, this process of bulldozing through endless forest was used to build the road that now tethers the United States together. It is easy to forget how impenetrable and unforgiving this landscape would have been for those who built the road all those years ago. Fortunately for us, the asphalt provides a front row seat to some of the most beautiful natural landscapes on this continent.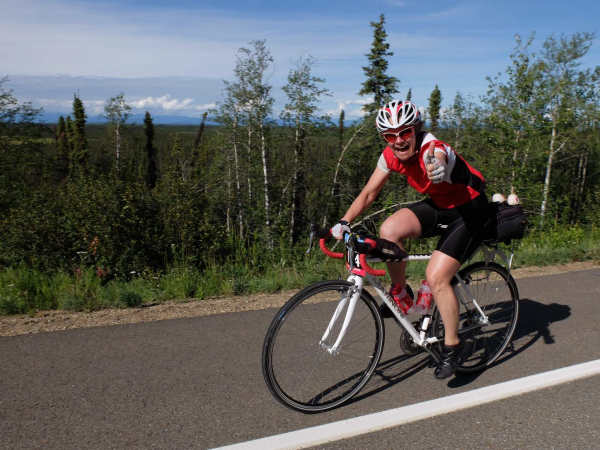 An early advert for construction jobs on the road carried a stark, but almost poetic warning: 'Temperatures will range from 90 degrees above zero to 70 degrees below zero. Men will have to fight swamps, rivers, ice and cold. Mosquitoes, flies and gnats will not only be annoying but will cause bodily harm. If you are not prepared to work under these and similar conditions, do not apply'. North American Epic riders should take heed of this warning, (especially in regards to mosquitoes!) although hopefully they won't have to endure such extreme challenges. This is, however, a reminder of the risks undertaken in the construction of the road we are now so leisurely riding upon.
We have arrived in Whitehorse – 'the wilderness city' and capital of Yukon territory, a fitting finale to the 'Land of the Midnight Sun' section. We will sadly be waving goodbye to sectional riders June, Anne-Marie, and Lynley, and welcoming newcomer, Chris. There has been universal praise for the scenery, riding, and experience so far. Edmontonian, Wayne described the cycling as 'exciting' and conditions 'better than I'd hoped for'.'It was as big as I expected', remarked Francine about the landscapes and wilderness we passed through. Whilst Marie-Christine summarised the riding as 'a dream come true', after preparing for nearly a year to ride here. Fiona from Australia wanted to take a photo every minute, as the scenery was 'just beautiful, really wild!' Packed with stunning sights, and a few challenges along the way, the riders will look back with fond memories from this first section on the road from Anchorage to Mexico City.