Blog
REGISTER NOW
LOGIN
SIGN UP FOR OUR NEWSLETTER
Riding in Baja California
Read the latest blog post from the North American Epic cycling tour:
It has all been a little 'Mad Max' on the North American Epic this week. Both water and diesel have been scarce and important resources, a challenge framed with the backdrop of a hot and inhospitable landscape.That is not to suggest that we have devolved into a post-apocalyptic band of travelling warriors raiding each town for supplies! Whilst being very remote, the Baja California peninsula in Mexico has been a revelation in many ways. The scenery has been superb, rivalling and many times surpassing the desert landscapes of Utah and Arizona. We have ridden past forest – yes forests – of huge Saguaro cacti, spent days rolling alongside the sea of Cortez, with mountains on our side, and camped on beaches with colourful and welcoming communities.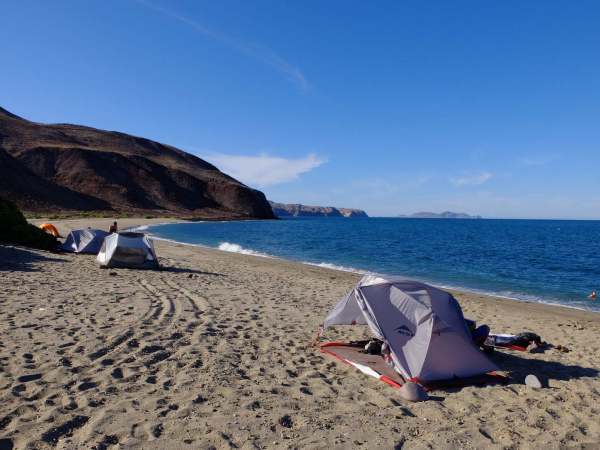 New Canadian sectional rider, Morris, described Baja as 'fantastic superlative riding, the best i've ever done in my life' with 'scenery bar none!'. The roads have been very impressive, far beyond expectations. Many of the highways are newly built, and despite being narrow at some points, the very infrequent traffic make Baja a pleasure to ride in. 'Sometimes I could bless the highway department, I can really hammer down and get 40 km/h speeds – you're flying', said new sectional rider, Stuart. The people of Baja are very friendly, welcoming, and hospitable. Almost every driver waves or toots their horn musically in support when they drive past. Cyclists appearing en masse in small towns seems to be and interesting and welcome occurrence to the locals. 'Baja has grown on me enormously' said full tour rider, Viv, speaking of her first time in Mexico. The peninsula is clearly exceeding people's expectations in more ways than one.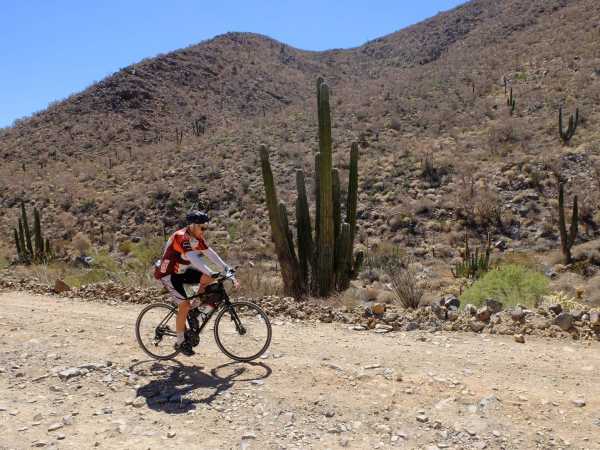 The real centre-piece of the Baja stretch was the 32 kilometre dirt 'gauntlet' which took us from the eastern coast of the sea of Cortez, towards the Pacific side. It is an old track through the hills, which is currently being upgraded to a newly paved highway. Fortunately the day went off without a hitch with many of the rider who were nervous beforehand finding that they enjoyed themselves. 'The dirt road was good, I was prepared for it' said full tour rider, Marie, 'I was proud because we all did it with a smile' she added. Her thoughts were echoed by Karine 'we had good preparation for the dirt, it was not as bad as expected, but still great'. This stretch of dirt reinforced Baja's cycling credentials, providing great rides for both road and mountain bike riders alike. For the North American Epic riders even when the road turns rough, it is still an adventure and a pleasure to be riding on.
Heat has been the most constant challenge since we have entered Mexico. Returning sectional rider, Isabelle, who previously left the tour in the much cooler Fort St John, said simply 'in the beginning the heat was tough, but the landscape is beautiful'. Sentiments echoed by new sectional Pasquale – 'I take it one step at a time – the heat was hardest for me at first, but it is just wonderful here.' It is good to see both full tour riders and new sectionals adapting well to the heat, and also enjoying this far flung and exotic corner of Mexico.