Blog
REGISTER NOW
LOGIN
SIGN UP FOR OUR NEWSLETTER
Slow Burning
Each of his fingers is like an uprooted tuber from years of working on his farm. His beard rivals that of Santa Claus and his general disposition just as cheery. His name is Santos, or Tito, as locals call him, and he is a character not to be forgotten – especially since he slaughtered and slow-roasted multiple lambs for us on short notice.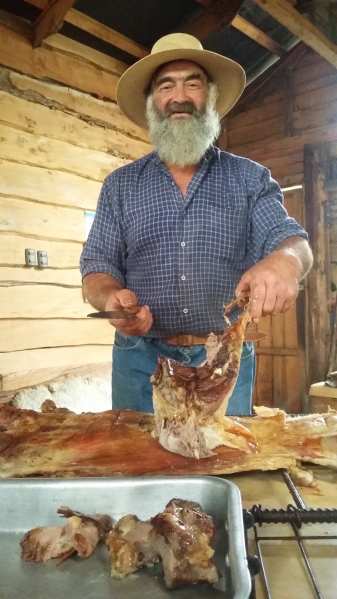 Having gone ahead the day before to scout the route, Cris discovered that the original campsite we planned on using had been completely abandoned and unusable. In desperation, he started asking everyone in the area if they knew of a place that could host about 45 crazy cyclists on a whim. With no sign at the entrance off the main road, he managed to sniff out a restaurant set on a beautiful piece of property, ripe for a TDA experience.
Huge, unpolished slabs of wood formed the benches and tables we sat at while lamb and cow hides decorated the wall. The pulsing heart of it all was a wide-open fire pit where Tito does his grilling, sometimes serving groups of up to 100+ people at once. The interior of the restaurant, spartan and rustic, contrasted with the sing-song energy that filled it later that evening.
After preparing the meat earlier that morning, Tito splayed two lambs out on the table in front of us in a Chilean-style grill cage. Instead of roasting the lamb horizontally over the fire as you might see elsewhere, here they do it vertically, allowing the natural oils to run down and essentially baste itself. Over the course of 3 hours, the tender meat slowly cooked, turning from red and raw to a delicious amber color. Combined with Mark's tasty fixings, it was a highlight meal for everyone.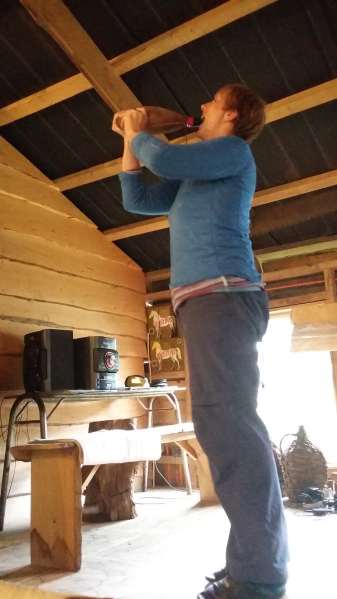 To make the whole impromptu experience that much better, we had the pleasure of listening to Tito's own lyrics as he sang them over the sound of his guitar. Not to mention the white fur chaps he swayed in as he performed. After that it was time for wine. And at Tito's restaurant you don't just drink wine from a glass, you drink it from a classic leather wine pouch, squirting every drop into your mouth. "Take one down, pass it around" quickly became the routine as everybody took a turn, including TDA founder Henry, who missed the target and landed about half of the wine on his face.
Sometimes when plans change unexpectedly, you end up in the front lawn of a discoteca in Colombia (yeah, that was an unfortunately upbeat night). Other times, you get to slow down and simmer in the moment, meeting colossal Chilean men who cook you mouth-watering meat over an open fire after a long day on the bike.