Blog
REGISTER NOW
LOGIN
SIGN UP FOR OUR NEWSLETTER
10 Side Effects of Long Distance Cycling Tours
Cycling is a serious activity and if you listen to all the aficionados and health experts, they will trumpet the benefits: health, coordination, reduction of stress and so on.
However, like any good thing, there are liabilities – especially if one takes it to the extreme and decides to undertake a long bicycle expedition. So before you embark on one of these demanding tours, here are 10 potential side effects that you should be aware of before you make the final decision and saddle up.
>>Find a long distance cycling adventure using our Tour Finder
Weight Loss
You will be expending a lot of energy and will be hungry and eating more often. What is more serious however is that in spite of eating twice or three times as much as you are used to, despite consuming more sugar calories than you can calculate, you will most likely lose weight. On our tours, individuals have reported losing as much as 60 pounds (27Kg) on a 4 month trip.
Disconnect from Reality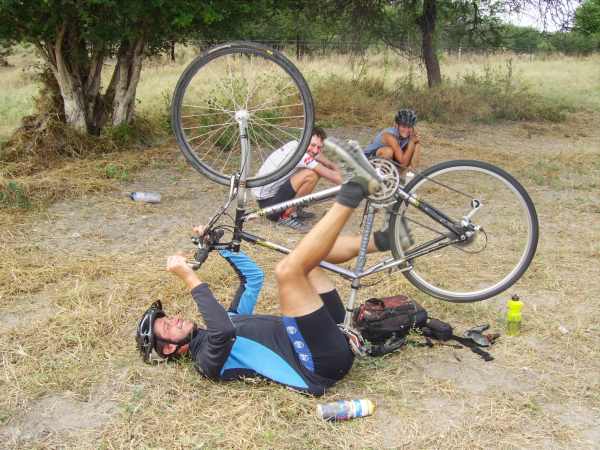 About 15 days into your ride you will start disconnecting from your known reality. You will no longer care about politics, politicians, elections, Hollywood, rumours and all the other noise of modern society – maybe even sports in extreme cases. The longer you go without daily news, not to mention social networks, the faster your perception of "reality" in the rest of the world will disappear. You will gain peace and tranquillity.
Change in Life Perspective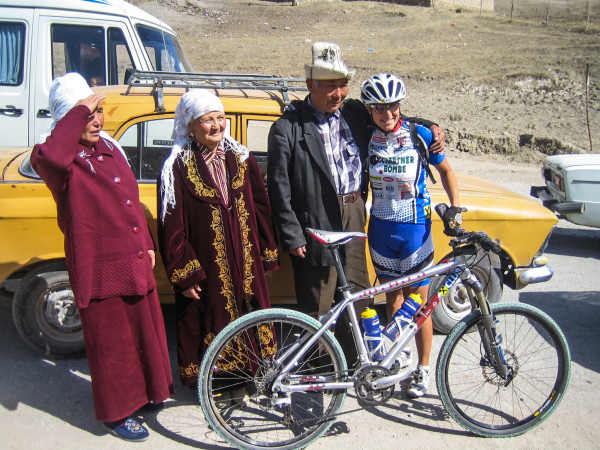 The longer you are on a tour, the more your perspective begins to change and there is no knowing where this could lead. I've written before about this topic, arguing that cycling can be transformative. In one extreme case, a successful Cape Town real estate broker, after cycling the Tour d'Afrique from Cairo to Cape Town, came home, sold her business and got back on her bike this time cycling the reverse route Cape Town to Cairo. That was 10 years ago. She is still at it and just wrote a book about cycling in Myanmar. Serious change of perspective, indeed!
>>Find a life-changing adventure using our map search
Drastic Change in Expectations
It is a reasonable expectation that average human beings, after cycling 100 km or more, will expect and even demand a nice warm shower with a clean bathroom. Yet, case after case of well-adjusted cyclists from around the world who participate in long distance cycling tours have shown that the mere presence of a simple cold shower, not to mention a clean sitting toilet, can induce an ecstatic state of joy and excitement comparable to someone winning a lottery.
Dangerous Change in Priorities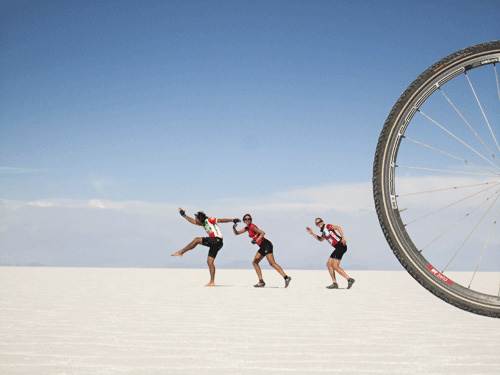 Long tours are known to induce a change in one's priorities. In one such case, a teacher from Quebec promised his wife that after he returned from his cycling tour, he would renovate and update the bathroom in their house. Upon his return, he took a look at his present, functional bathroom and declared: "the bathroom is good as is. No reason to renovate." As cyclists, are we ahead of the curve as I suggested previously?
Danger of Addiction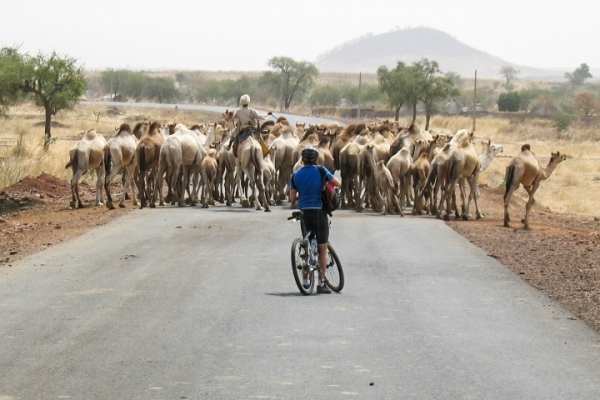 If you read my blog last year about Adventuritis, you know that, not unlike other narcotics, the long distance cyclist will develop a continuing need for new adventures and experiences. You might think that crossing a continent on a bicycle is a once in a lifetime experience. However, we know for a fact that some people who have crossed one continent are not completely satisfied and move on to even more multi-month, trans-continental cycling trips, much to the chagrin and suffering of their loved ones.
Boomers Beware – An irrational perception of one's age and abilities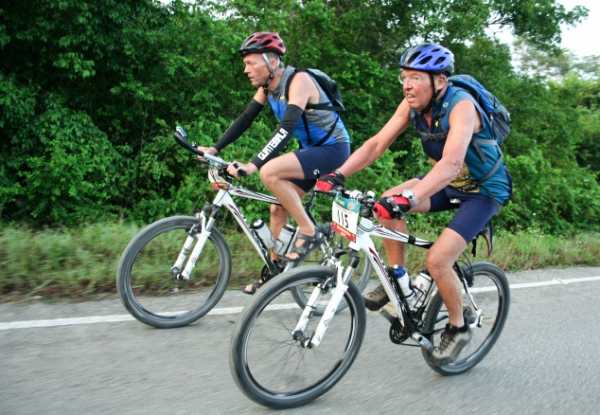 As would be expected, older individuals undertaking such arduous undertakings such as cycling across continents do so with a lot of apprehension. However, after managing to cycle over 110 km day after day, they begin to believe that they are invincible, lose a healthy perception of their actual age and refuse to get into support vehicles even when the day's distance is 150 km with 2,000 metres of climbing.
Loss of Fear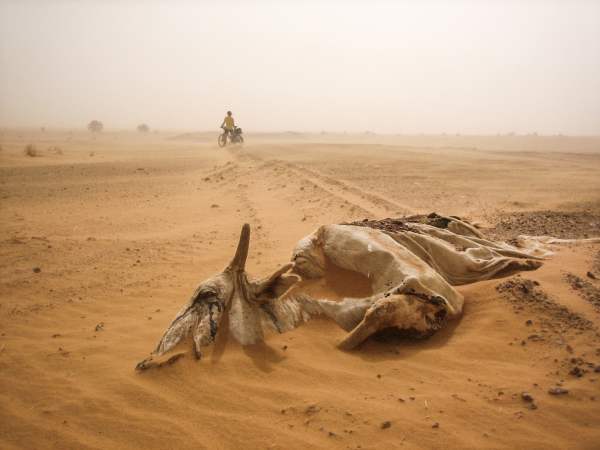 Fear of the unknown keeps most people safe at home minding the fire and not confronting all sorts of dangers. After all, who knows what kind of dragons and monsters live in foreign lands? Anthropologists, psychologists, psychiatrists and other experts will tell you the fear is an evolutionary element necessary for survival. Loss of fear thus may have serious consequences and may eventually contribute to the demise of civilization as we know it.
Change in Taste Buds and Food Habits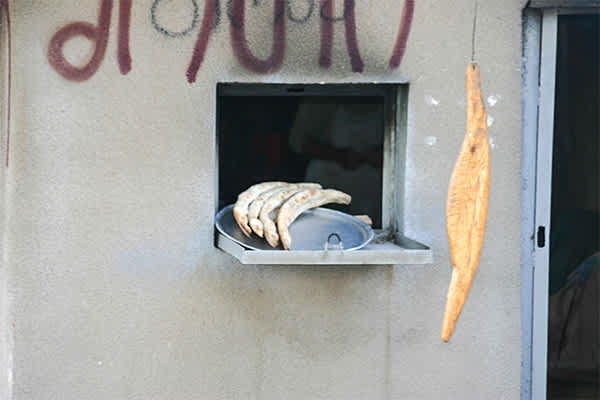 Most healthy individuals in developed countries have a normal diet of bacon, bread, cereals, steaks, chicken, pasta and so on. As a long distance cycling experience extends from days to weeks to months, one inevitably becomes despondent over the lack of basic traditional home foods and is thus forced to eat local cuisine. This may result in a complete change in food habits that could not only endanger one's belly, but also cause the desire for further experimentation causing additional dangers to one's health.
Loss of Tribal Identity
Belonging to a tribe gives one support, pride, identity and most of all safety. Tribes vary in size, religion, nationalism, etc. Embarking on a long distance cycling tour, one establishes links and sympathies with other participants from other tribes and as well as with tribes along the way. This inevitably loosens the strength of loyalty to one's own tribe and may cause a traumatic cataclysm.
>>Learn more about the many tours offered by TDA Global Cycling