Blog
REGISTER NOW
LOGIN
SIGN UP FOR OUR NEWSLETTER
The Beers of Africa
Sure, of course the riders of the Tour d'Afrique will cover almost 12,000 km, pass through 10 African countries, see the Pyramids, the Nile, Mt Kilimanjaro, the Serengeti, Victoria Falls, the dunes at Sossusvlei & Cape Town's Table Mountain and most likely have the most incredible experience of their lives. But, more importantly, they will have the unique opportunity to taste some incredible beers. These may not be craft beers brewed in small batches. Their taste may not knock your socks off. But at the end of a day's cycling (an average of 120 km on the Tour d'Afrique), sitting in your bush camp overlooking some of the world's most stunning scenery, they are going to remain in your memories for a long, long time.
Egypt's Own 'Stella'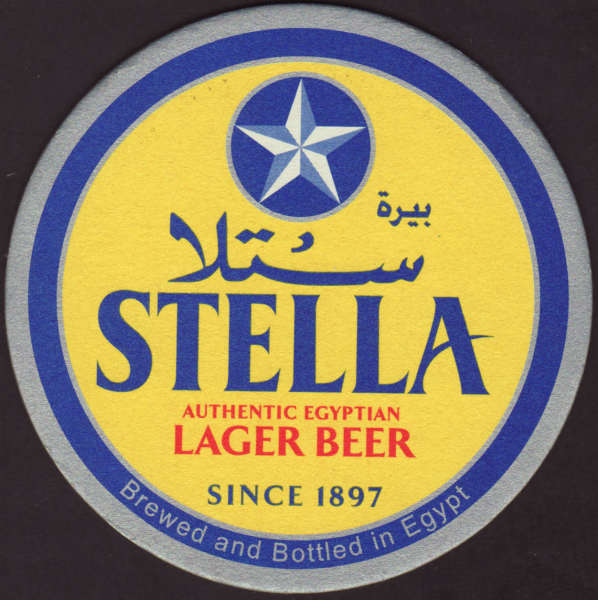 Not to be confused with its Belgian cousin and one of the world's most over-rated beers, Stella Artois, Egypt's Stella tastes best served at a cramped, dusty campground squeezed in behind a ramshackle local police station. Well, it did to me anyways. The light lager that we know today was created using a Dutch brewmaster courtesy of Heineken back in the mid- 30's. In the 1960's, as part of Nasser's Arab Socialism, the company was nationalized and led eventually to the 1980's and 1990's when, as one beer historian noted, it became more famous for the detritus found in its bottles than its taste. Fortunately for today's Tour d'Afrique cyclists, if not for the country at large, the detritus has been removed from the beer and placed back where it belongs…at the side of the road.
'On The Wagon' in Sudan
Images of ice cold bottles of Egyptian Stella beer will be just a fond memory as the Tour d'Afrique cyclists endure 15 days 'on the wagon' in the Sudan. Sharia law ensures that there will be no post ride beers, just warm cokes and dreams of Ethiopia. There is, however, an interesting brewing history in the country. In 1983, Belgium's SYBETRA built the White Nile Brewery in Wau but the Sudanese government refused to license it. There is even a brewery in Juba (now in South Sudan) that was built while the city was still under Khartoum's control, reflecting the country's social divide; Arab and Muslim in the north and Christian and African in the South. Southern Sudan Beverages Limited's flagship brand , White Bull, is apparently available on the black market in Khartoum.
Ethiopia's Oldest Brewery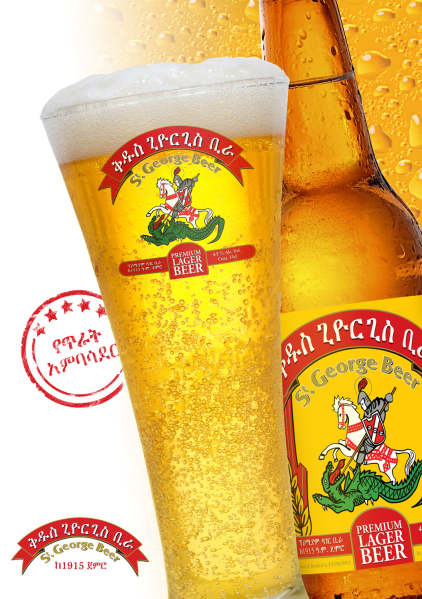 St George Beer is a light lager that actually pairs well with the spicy local cuisine. The brewery in Addis, which riders can visit on one (or both) of their rest days in the city, was founded in 1922 and is the country's oldest. While now a modern operation, the current owners point out that  in the 1960's "there were no boilers that were heated by electrical or fuel energy. Timberwood was used to make fire and the flame was too big to get near. In those days everything was done by human labor, and it was tough and difficult. Workers were obliged to carry a sack full of barley up the stairs." The  Tour d'Afrique cyclists may be able to identify with this feeling after tackling the Blue Nile Gorge ascent – 1360m up over 20.05 km. At least they can look forward to a (relatively) cold bottle of St George at the end of their climb.
The Real Story of Kenya's Tusker Beer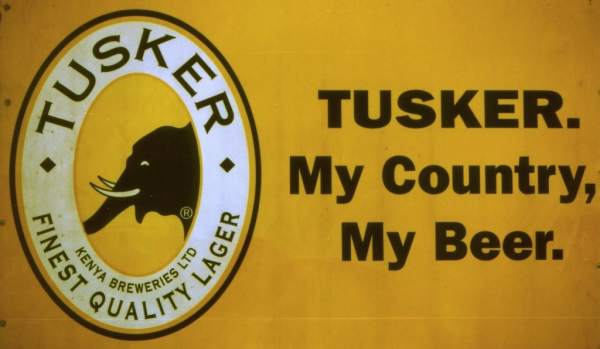 What's in a name? Well, in this case, a truly amazing story. In essence, one of the brewery's 2 founding brothers, Charles and George Hurst, was killed a year after they started production in 1925 while on a hunting safari. George Hurst was trampled by a rogue male elephant, commonly known at the time as Tuskers (strangely similar to TDA Founder Henry Gold's experience in India). Charles decided to honour his brother by naming their first lager 'Tusker'. The beer and its iconic branding soon became the most popular beer, both in Kenya and in East Africa. It is widely available around the world and the riders of the Tour d'Afrique can enjoy their first sip of this tasty brew at the highly recommended Prison Bar in Moyale, Kenya as soon as they cross the Ethiopian border. Yes, it really is part of the prison and the 'in' place to drink and socialize in town.
Tanzania's Two Kilimanjaro's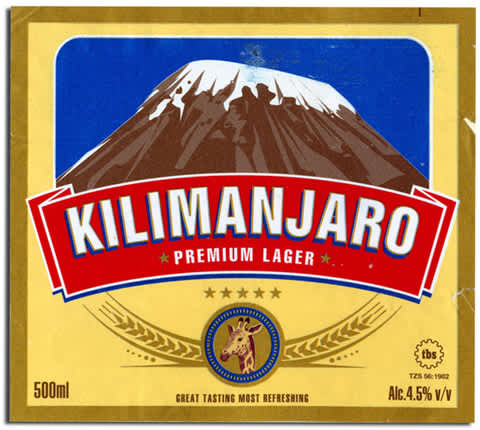 'Can't climb the mountain? Drink the beer.' This should be the official slogan of Tanzania's most popular beer, a light, fizzy lager that some have labelled the 'Budweiser' of East Africa…and not in a good way. All I know is that when I climbed Kili (yes, the mountain) in 2009, I was very happy indeed each evening to find a large 650ml bottle of the other Kili waiting for me in our hut each night. I feel confident that this was the only reason I was able to pull my sorry ass up to the summit. Well, that and Monika's shouts of 'encouragement'. Admittedly, it is best served ice-cold and as Tour d'Afrique riders spin through the country's isolated villages, they will probably find the available bottles somewhat tepid. The secret, which was discovered by 2006 rider Urs "Hunter's Gold' Hausermann, is to mix the beer together with a bottle of the ever-present Fanta Grapefruit soda. The result is a truly refreshing drink to be enjoyed at any time during the day's ride.
Green & Brown Beers in Malawi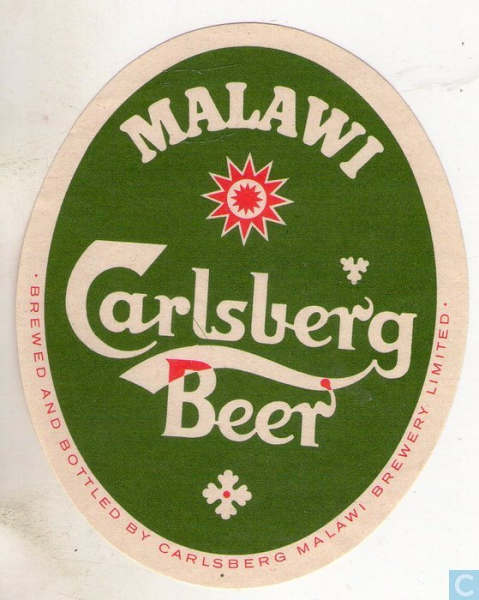 According to Lonely Planet it was all "thanks to a Danish Foreign Minister who visited Malawi during the independence celebrations in 1966 and wasn't too impressed by the beers available, that a Carlsberg brewery was established here; and thus began the story of the country's favourite drink, the 'Green'." There is also a 'Brown' available, a mix of a bitter and a stout. These colourful designations make it easy to order beers at the bar, even after having had perhaps one too many. Given the incredibly humid conditions that characterize the country known as 'the Warm Heart of Africa', the riders of the Tour d'Afrique will enjoy chilling out with a cold 'Green', especially during the 2 rest days at Chitimba Beach on Lake Malawi. They might want to hold off on the "Brown'. One reviewer called it "an assault on his mouth."
Zambia's Great Taste?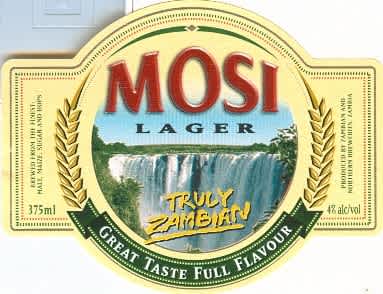 Yet another lager in a continent full of them, Mosi's slogan – "A great taste… As mighty as Zambia's Mosi-oa-tunya (Victoria Falls)" – might be a wee bit optimistic. On the other hand, the Zambezi Zone section of the Tour d'Afrique features 8 days of cycling averaging 151 km/day including one stinker at 181 km. And humidity. And hills. Endless rolling hills. Given those conditions, sipping on a cold bottle of Mosi while sitting on the deck at the heavenly Luangwa Bridge Camp while looking over the Luangwa River into Mozambique is likely to influence your opinion. For those riders intent on a scavenger beer hunt, there are unconfirmed rumours of a craft brewery in Zambia which makes Dr. Livingstone's Lager, Zikomo Copper Ale, Safari Stout and Baobab White, which is brewed with the fruit from the baobab tree. Let me know if you track it down.
Bonus: Not to be Missed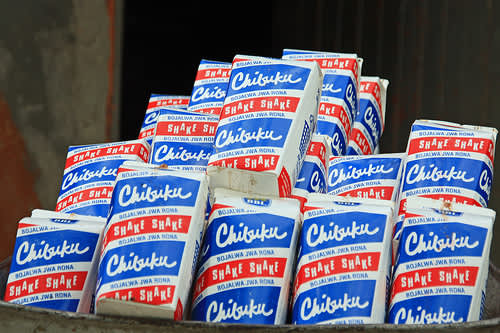 Tour d'Afrique cyclists. Are you getting tired of these light African lagers? Well, I have a cultural experience for you. Try a Shake Shake, preferably in a hot, run down bar in a small town in the middle of nowhere in either Malawi or Zambia. To my mind, Zambian local dive bars offer a much more intense cultural experience than those in Malawi. Oh, and be sure there is a ripped, threadbare pool table outside the bar. Otherwise, the experience doesn't count.
The 'beer' gets its catchy name from the need to shake the contents vigorously before consuming them. It is based on the local African home made beers and it was first brewed during the 1950s in Kitwe, Zambia by Max Heinrich, who trained in brewing in Berlin. According to Wikipedia, "this thick brown millet beer costs less than a dollar and it is shaken vigorously before drinking it because of its thick layer of sediment collected on the bottom of the carton. It has a powerful yeast flavour that is offset by a lemony tang, surprising given the colour. When the liquid has been consumed and you reach the bottom of the carton, standard practice is to slurp up the pile of sludge that remains." I have tried it (everyone should) and while the ritual of shaking the carton was quite fun, drinking what was inside was somewhat less so.
Botswana's Beer Levy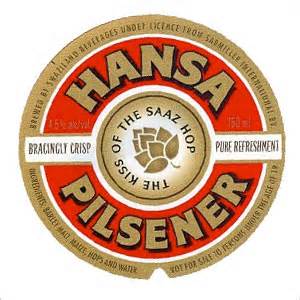 Botswana, Africa's richest country on a per capita basis, has a number of beers (St Louis Lager & Export, Carling Black Label) but Hansa is probably the most satisfying. It has remained popular even after the government, in an attempt to reduce alcoholism in 2008, tacked a 30% levy (down from the initial proposal of 70%!) onto beer sales. This initially resulted in a 35% decrease in beer sales. In 2013 the government increased the levy to 45% and sales fell another 8%. Tour d'Afrique riders will certainly appreciate the light, crisp flavour of this beer after Stage 73 – a 208 km monster of a ride across the edge of the Kalahari Desert, the longest ride of their entire cycling journey from Cairo to Cape Town.
Namibia's German Connection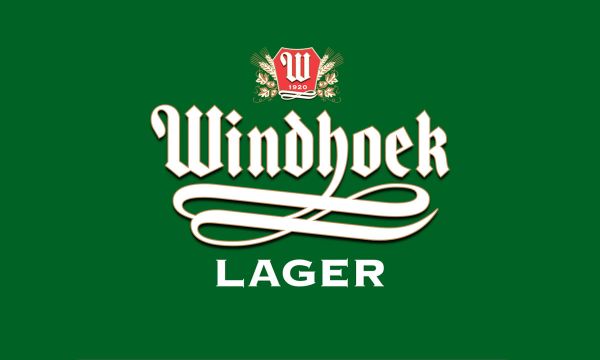 Recently, this delicious lager suddenly appeared on the shelves of my local liquor store. Immediately, I ran out to buy a couple 6 packs to enjoy on my sunny deck. The taste definitely brought back fond memories of my ride through Africa in 2006. It is brewed by Namibia Breweries according to the German Purity law of 1516, a fine Teutonic influence that created an amazing brewing tradition. In fact, in 1940, the brewery, forced by the war to use inferior ingredients, decided to suspend production for the duration of the conflict instead of producing a crappy product. Much other German history in this country is not so positive, however. Tour d'Afrique riders will enjoy the perfect pairing of some of the world's most spectacular scenery and one of the world's most refreshing beers.
South Africa's Rich Brewing History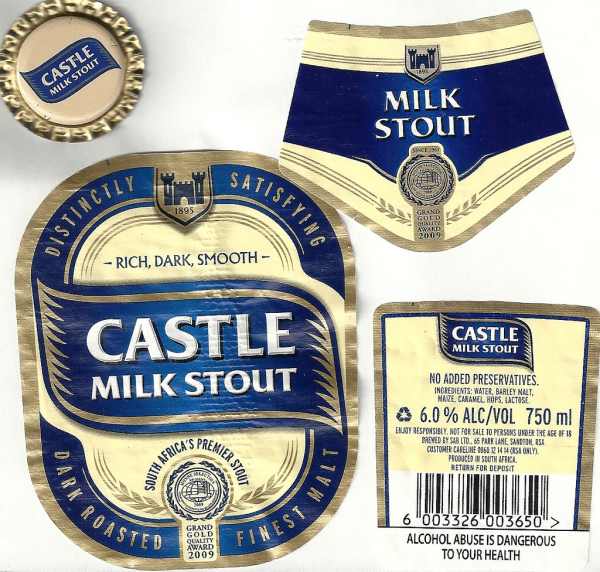 South Africans consume, per capita, the most beer in Africa – about 60 litres per person per year. In comparison the African average is 14L and the world average is 22L. By this point, most Tour d'Afrique cyclists will probably have guzzled a fair bit more than the average South African on their ride from Cairo. Burning over 6,000 calories per day will allow you to do that. Beer has a long and celebrated history in the Rainbow nation, a combination of the indigenous tradition of brewing sorghum beers long before the Europeans arrived and the new expertise and knowledge brought by in the settlers. This 'perfect storm' has led to any number of great beers but my favourite has to be Castle Milk Stout. After a long, hot ride tempered by a continuous parade of lighter lagers, the cooler weather in South Africa as we approached Cape Town and the end of our cycling journey meant this full-flavoured brew, with strong hints of toffee, butterscotch and coffee, its natural bitterness balanced by a rich, sweet taste, was a natural choice. An formidable beer to end a remarkable ride.
Coming soon…Beers of the Bamboo Road.