Blog
REGISTER NOW
LOGIN
SIGN UP FOR OUR NEWSLETTER
Cycling Patagonia: Everything You Need to Know
Mystical Patagonia has stirred the imaginations of travellers for centuries. Its sparsely populated, wild, and beautiful lands extend down the triangle at the southern end of South America from approximately latitude 40°S to Tierra del Fuego, encompassing the Aísen, Magallanes, and part of Los Lagos regions in Chile, together with the Argentinian provinces south of the Rio Negro.
>>Check out our supported cycling tour of Patagonia
The narrow Chilean side and the cross-border frontier areas are dominated by formations carved by the last ice age, including jagged Andean peaks, U-shaped valleys, glacial lakes, ice fields, and crystal clear rivers. In stark contrast the rest of Patagonian Argentina is a vast wind swept emptiness of semi arid scrub plateau.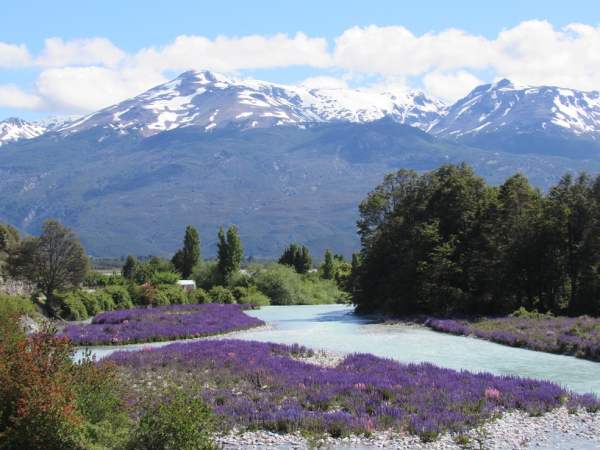 Turquoise River and Purple Lupines
In recent years, Patagonia has become a mecca for long distance cycle tourists. Typically they follow 2 renowned and incredibly scenic routes, Chile's Carretera Austral and Argentina's Ruta 40. Unless you are a glutton for brutal winds, the best itinerary may be a combination of both, crossing over the Andes between Esquel, Argentina and the white water rafting haven of Futaleufu, Chile, or further south after you tire of being buffeted by the punishing westerlies.
Carretera Austral
Many choose to ride the entire 1247 km length of the rugged Carretera Austral, starting in the port city of Puerto Montt, where one can indulge in seafood and pisco sours, and stock up on spare parts and outdoor adventure clothing before hitting the road. The legendary Carretera is about 60% gravel with some rough, corrugated stretches, and 40% paved, with more pavement slowly being added every year. En route you will take 5 ferries and spin through temperate rain forest and national reserves, across icy cold rivers and mountain passes, and past isolated farms, smoking volcanoes and snowy peaks. While there are a few long climbs and descents between watersheds, the physical challenges are not extreme and a small price to pay for pedalling past one magnificent and isolated scene after another.
After restoring your energy and replenishing supplies at the midway point in the small city of Coyhaique, the road traverses la Reserva Nacional Cerro Castillo before hugging the shoreline of Lago General Carrera and the banks of swirling Rio Baker. The settlement of Cochrane provides the last well equipped general store before the gravel stretch to the tiny frontier and glacial lakeside town of Villa O'Higgins where the Carretera officially ends.
credit: Carretera Austral map by B1mbo under CC-BY-SA-2.5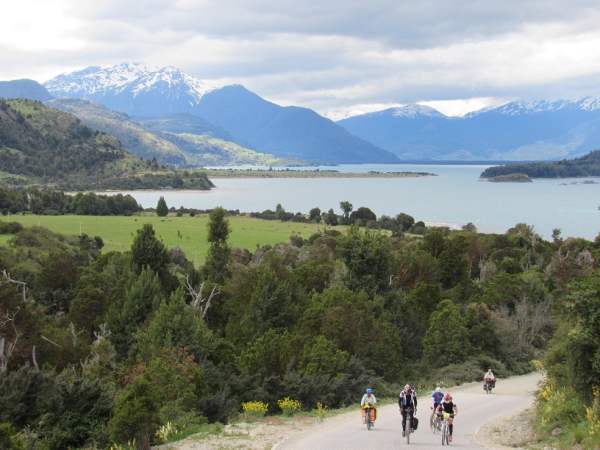 Lago General Carrera
The Gauntlet: Villa O'Higgins to El Chaltén Border Crossing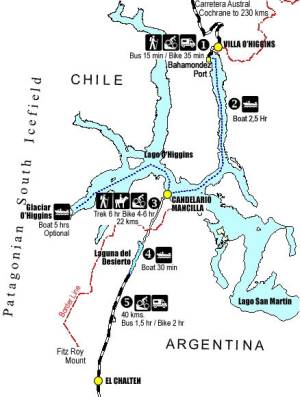 From there the cross border trek through no man's land – involving two ferries, a 22 km slog thru muddy woods, and a final 37 km of off-road to the Argentinian backpacker haven of El Chaltén is one of the most fabled in the world of South American cycle touring. Technically it can be done in one long day, but the ferries are weather dependent so bring plenty of food, warm clothing and a tent, in case of a storm or nasty winds.
The alternative route from Chile to El Chaltén, for support vehicles and less intrepid cyclists, is to turn east just before Cochrane and climb up the stunning Valle de Chacabuco past flocks of guanaco to the Paso Roballos border post, joining up with Ruta 40 at the god forsaken outpost of Baja Caracoles. From there however it's a 500 km battle against the winds to El Chaltén.
Cycling Argentina's Ruta 40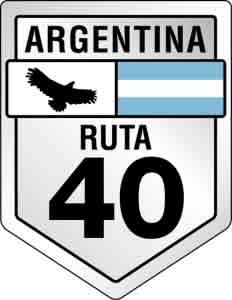 The alpine town of San Carlos de Bariloche, on the shores of immense Nahuel Huapi lake, is a base for trekking, kayaking and mountain biking, and a natural starting point for the ride south along Argentina's Ruta Nacional 40, the long and largely paved highway that runs the length of the country. Bariloche also offers popular side trips including the renowned Seven Lakes route and the trans-Andes ferries and cycling ride into Chile.
South of Bariloche, iconic Ruta 40 skirts Lagos Gutierrez and Mascardi, and offers beautiful views of Cerro Catedral Sur. After passing the town of El Bolsón, cyclists can choose between two routes to Esquel, Most opt for the more scenic and secondary Ruta Provincial 71 via Cholila, meaning "beautiful valley" in Mapuche, where the bandits Butch Cassidy and the Sundance Kid built a ranch and hide out. In Esquel, you can trade your bike for a ride on the Old Patagonian Express, which still has weekly departures but only runs 20 km to Nahuel Pan.
The Notorious Patagonian Winds
Provided you opt to stay in Argentina rather than cross into Chile, south of Esquel the pampas begin and the infamous winds truly take hold, testing your will and skill. This is Patagonia's most empty and desolate stretch where the distances between backwater town are longer, supplies and services are more expensive, and there is little to see along the roadside beyond merino sheep and the occasional guanaco. Just north of Perito Moreno, the junction with Ruta 43 offers one more chance to detour into Chile via Lago Buenos Aires before the desolate run to Baja Caracoles and beyond. For those continuing on Ruta 40 a major highlight is the UNESCO-listed Cueva de las Manos (Cave of Hands), reached by gravel side road, where archaeologists found 9,000-year-old stencilled handprints and galloping guanacos painted by ancient peoples.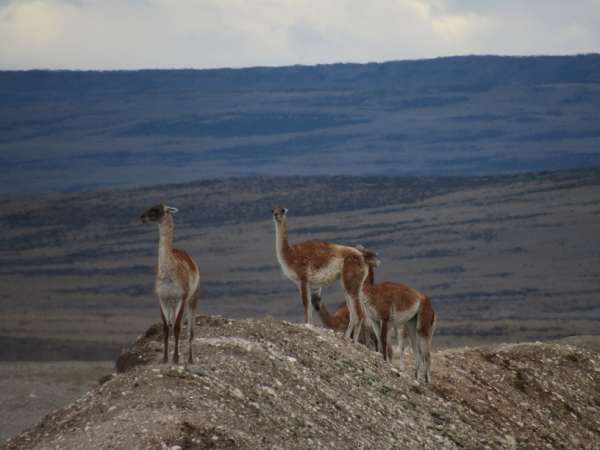 Guanacos alongside Ruta 40 in Santa Cruz province
All told it's over 1,100 km from Esquel to El Chaltén along Ruta 40, including the final 80 km up the shores of Lago Viedma into what will likely be a brutal headwind. But if you are lucky skies will be clear and the views of Mount Fitz Roy, Cerro Torre and the Glaciar Viedma spectacular, and when you finally arrive in El Chaltén, you can indulge in life's comforts, including its many bars and restaurants while revelling in the supernatural scenery.
Southern Patagonia
Los Glaciares national park extends across the huge Southern Patagonian ice field, from the towering Fitz Roy Massif to Lago Argentino, created by the Perito Moreno glacier. Leaving El Chaltén, its 80 km of brisk tailwinds followed by 120 km of head and crosswinds to El Calafate, the upmarket tourist center on the shores of the turquoise-coloured Lago.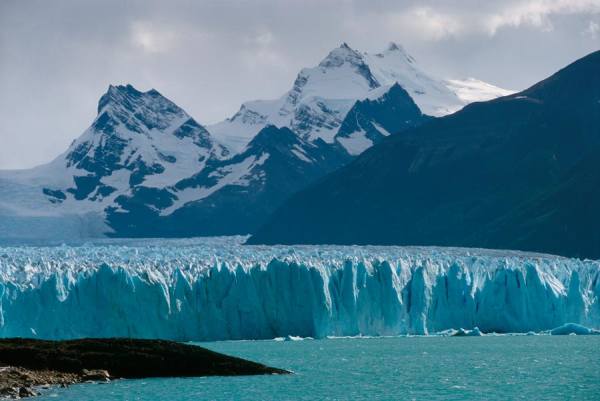 Perito Moreno glacier & Lago Argentino, photo credit: Ladislav Kamarád
From there another 2-3 days of wind blown peddling, some of it on dirt, will take you back into Chile at Cerro Castillo, bound for another of Patagonia's star attractions, Torres del Paine. This world renowned park features trekking, horseback, and mountaineering circuits, great campsites, superlative hotels, and the chance to see guanaco and condor against jaw dropping landscapes.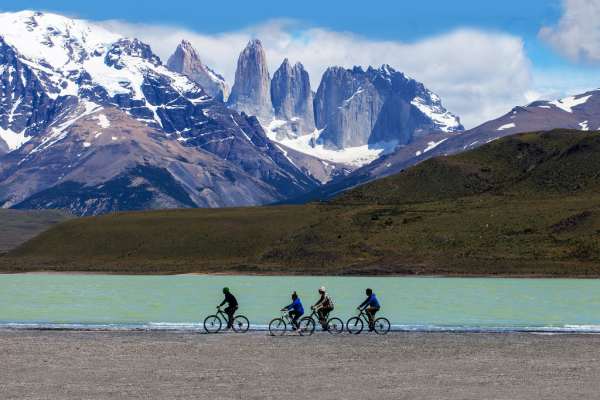 Cycling at Torres del Paine, photo credit: Timothy Dhalleine / Twitter @tdhalleine 
The final stretch takes one first to Puerto Natales, a formerly modest fishing port on Seno Ùltima Esperanza that has become a tourist mecca as the gateway to Torres del Paine and the southern terminus of the ferry trip from Puerto Montt through the Chilean fjords. Artesanal beers, delicious restaurant fare, cozy lodgings, and kickback views along the waterfront are among its many attractions.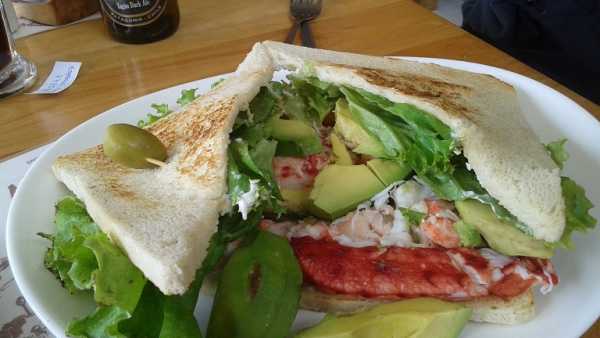 King crab and avocado sandwich for lunch in Puerto Natales
Then it's on to Punta Arenas, an important port before the opening of the Panama Canal, as reflected in its stately mansions and location astride the Magellan Strait. Today it's a seafood paradise and the gateway for Antarctica expeditions. For some, Punta Arenas will mark the end of their Patagonian adventure, but for others the huge Island of Tierra del Fuego, beckoning across the strait, is the ultimate goal. The ferry crossing to Porvenir takes 3-4 hours followed by a final 475 km ride across this windswept archipelago to Ushuaia, the world's southernmost city, perched on the tip of South America, overlooking the Beagle channel.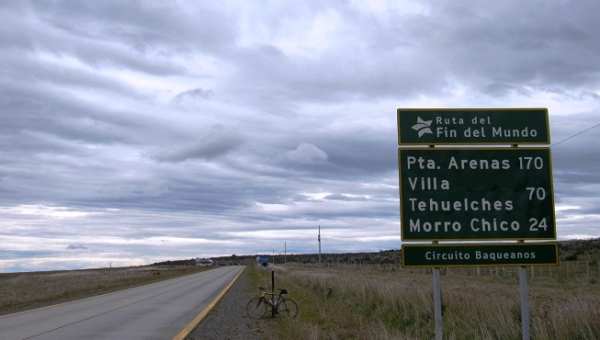 Getting to Patagonia
Getting to Patagonia is straightforward. After flying into Santiago, Chile, or Buenos Aires, Argentina, domestic jets will take you to Puerto Montt, Coyhaique, Bariloche, or El Calafate and homeward bound from Punta Arenas or Ushuaia. Most nationalities do not require a visa to enter Chile. Citizens of some western countries require an easily obtained Argentinian reciprocity visa in advance while others, including Americans, do not.
When to Go
The best months to go are from November to March, when the daytime temperature reaches the low twenties in northern Patagonia and the low-mid teens at Ushuaia and Punta Arenas. Expect all conditions – warm, cold, sun, wind, perfect days, and storms. And that's in the southern summer. Any other time of year would be a bold undertaking, with short days and cold, blustery weather. Note that South Americans holiday in January and February, so November, December and March are ideal.
Where to Stay
Patagonia is wild camping nirvana, unbelievable scenery and isolation at its best. Rarely will you need to camp more than one night in a row as the small towns typically have a handful of cheap, friendly family run hosterias which also offer meals. For those not on a budget, the riverside fly fishing lodges, estancias (ranches), and upmarket accommodations in the tourist centers offer luxury and the opportunity to sample fine wines and dine on local specialities, including Patagonian lamb, Argentinian beef and the ubiquitous seafood.
Type of Bike and Gear to Bring
Hard tail mountain bikes and cyclocross bikes are best suited for a trans-Patagonia cycling expedition. Buy the best rear (and front) racks you can find as they will take a pounding on some of the rougher stretches which can include a fair amount of corrugation. Carry all the essential spare parts you need for your bike, as well as a water filter for when you are in the wilderness and there is no fast flowing mountain stream or river nearby. The better your equipment – including gortex rain gear, warm layers, an all season tent, and extra tent pegs to combat the wind – the less likely you will encounter a setback and the more enjoyable your trip of a lifetime will be.
Torres del Paine & Condor, photo credit: Timothy Dhalleine / Twitter @tdhalleine 
Further Reading
There is a great deal of useful information online for this region. Here are several of my sources and other sites and blogs I came across while putting this piece together.
11 Best Bike Touring Destinations in the World – Cycling About
Patagonia Region, Argentina – Encyclopedia Britanica
Sublime Carretera Austral – Cycling with Serendipity
10 Questions: Cycling Patagonia – TravellingTwo
Carretera Austral and Patagonia – CrazyGuyOnABike
Guide to Patagonia – Guardian Travel
Patagonia Trip of a Lifetime – Telegraph Travel
Patagonia – Lonely Planet
A Single Track Mind – TDA Global Cycling blog
And if you are looking for a supported cycling tour thru Patagonia consider joining us on the South American Epic as it passes thru Patagonia.
Closing Thoughts
Do it now! Patagonia is changing, the Carretera Austral is being paved, the gauntlet between Villa O'Higgins and El Chaltén may soon be replaced by a road and bridges, so … if you want to experience this magnificent region at its wildest you are starting to run out of time.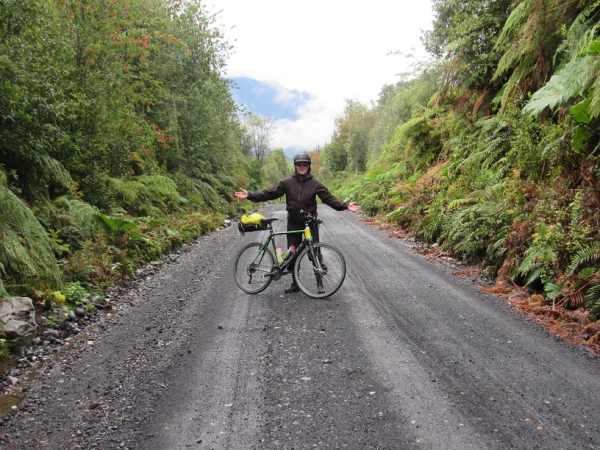 That's me loving Parque Pumalin in Patagonia last year
Lastly. here is some advice from one of my fellow cyclists for those considering this cycling adventure…
"Be prepared to face some of the harshest conditions from weather to the route to the camping.Be prepared to cycle in some of the most scenic and desolate areas on earth. Be prepared for the awe. Expect the unexpected!" – Lorry Schmidt (Canada)
Brian Hoeniger works for TDA Global Cycling and cycled the Carretera Austral segment of the 2015 South American Epic. Registration is now open for the next edition starting in July 2017.