Blog
REGISTER NOW
LOGIN
SIGN UP FOR OUR NEWSLETTER
The Emotional Profile Of A Tour d'Afrique Stage
As cyclists we're used to pouring over the details of elevation and speed profiles of our rides, or for Strava premium member, even your power output and heart rate. With cycling the Tour d'Afrique often cited as much of a mental challenge as it is physical, perhaps it is the emotional profile of a typical stage that is more pertinent.
The start of the day is always tough, legs are heavy from last unknowable number of days in the saddle, it's probably cold (outside of southern Sudan, anyway) and you're worried about that new twinge you can feel in your right knee. At this point you wonder how you could possibly get through the full day, as it seems unfathomably long.
After about 20km or so, however, the hearty breakfast of porridge with golden syrup and Nutella and peanut butter and any other sweet treats available, along with the caffeine hit are nicely kicking in. Jokes are starting to flow, the legs are warming up and the hands are thawing.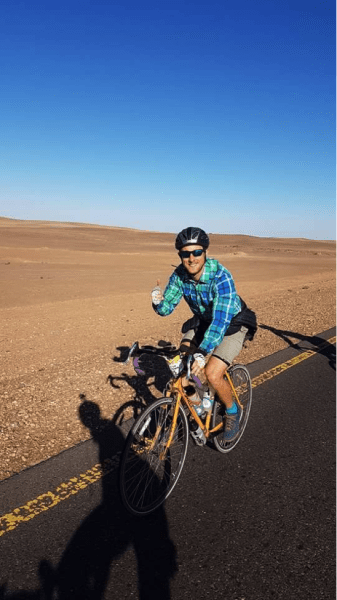 At about 40-50km you hit peak riding. You have good mates for company, the wind is behind you and nicely pushing you along and you're flying through the great Sahara desert, or through the lush east African bush. Through towns, kids and adults both are welcoming with a chorus of hello's and how are you?'s or maybe you see an elephant or zebra off to the side of the road. Cycling doesn't get much better than this, and all of a sudden today's ride seems eminently manageable, regardless of the distance or elevation that lies ahead.
This feeling tapers through to lunch, which if any rider tells you is not the best part of any riding day, they are lying. Period. After lunch follows a similar pattern to the morning, the three rounds of sandwiches you feasted on are weighing heavy on the stomach and legs are lethargic again. But soon enough, and perhaps with a helpful tow from one of your fellow riders you're back to flying along the asphalt.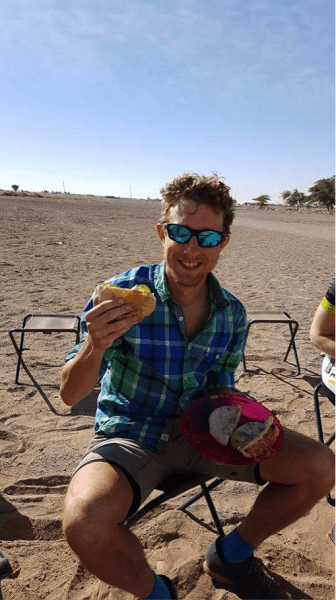 At some point, though, the road will turn or the wind will change and you find yourself headlong into that wind that was so kindly nudging you along earlier in the day. There is nothing more demoralizing than riding into a headwind. You're putting in more effort than you've done all day, but your cycle computer speed reading seems to barely be able to reach double figures and the wind is howling past your ears, stifling any hope of conversation. With gritted teeth, and perhaps a welcome coke stop, you come through it and the sweet relief of the wind dying gives you a new lease of life.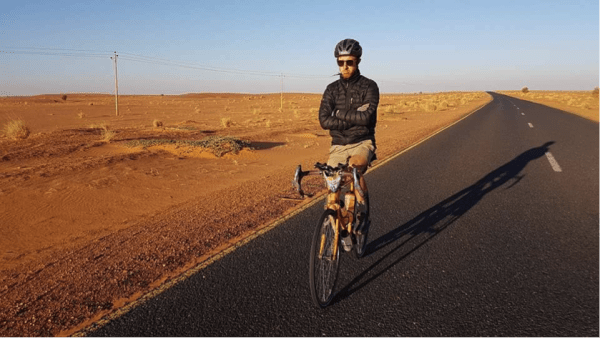 Now you're approaching the latter stages of the day and everything is right with the world again, but although you swear you'll learn from your mistake every day, you make the fateful error at about 30km to go of thinking that the end is in sight. Quickly you realise that 30km is still 30km and over an hour more of riding to do. Now everything begins to hurt, you're convinced your rear brake must be rubbing or your mudguards catching and your helmet strap, that hasn't bothered you for the last 140km is suddenly the most irritating thing in the world.
Finally, with about 5km to go, the end really is in sight and you can taste the soup (or beer!) waiting for you at camp. Then the magnificent sight of the big white TDA dinner truck appears on the horizon and the finish flag comes hurtling towards you. Elated as you cross the line, satisfied with your day's work and with aches and pains (and maybe tears) of the day forgotten, you're excited about doing it all again tomorrow.
– Mark Borsuk 2017 Tour d'Afrique Full Tour rider (UK)