Blog
REGISTER NOW
LOGIN
SIGN UP FOR OUR NEWSLETTER
65 YEAR OLD HENRY GOLD, TDA FOUNDER, RIDES 200K IN ONE DAY FOR CHARITY
June 12, 2017 marked the 200th anniversary of the bicycle and TDA Global Cycling is celebrating all summer long with the #200for200 Summer Cycling Challenge, presented by its TDA Foundation. The idea is to get more people out and about on bikes this summer, challenging themselves and others to ride further and share the experience, fostering a greater sense of community and doing good for people and the planet in the process.
The goal is to raise enough money ($200,000) to get 1000 new bikes into TDA's partner communities in Africa—a gift that will create greater access to education, healthcare, and economic opportunity for the people within those communities, the same people that TDA riders may meet along their route on the annual epic Tour d'Afrique from Cairo to Cape Town. Donated bikes are purchased in Africa and recipient organizations are carefully vetted to be sure they're utilized in the context of what the organization is doing—whether it's an HIV/AIDS outreach program working with a hospital and thus able to increase the range of work or an NGO such as BEN Namibia. Each recipient group has to have a project to which bikes are donated.
The challenge launched June 12 and runs through the summer until September 12, 2017.
On the morning of June 23 #200for200 Project Manager, Lara Marjerrison, sat down with TDA founder, Henry Gold, to chat about his completion of the #200for200 Summer Cycling Challenge on June 21, at 65 years of age.
Lara: So, you did it. You rode the entire 200 kilometres on one day. Congratulations. Can you tell me the route you took?
Henry: The route started at my (Toronto) home early in the morning. We then cycled to Exhibition GO station and took a GO train to the last Southwest GO station—Aldershot. From there we cycled to Hamilton and from Hamilton to Grimsby. At Grimsby we cycled to Lake Ontario trail and then on the Lake Ontario Waterfront trail all the way to Oshawa GO station, the last easterly station on this line. We took a train back to Exhibition GO station and then made our way home.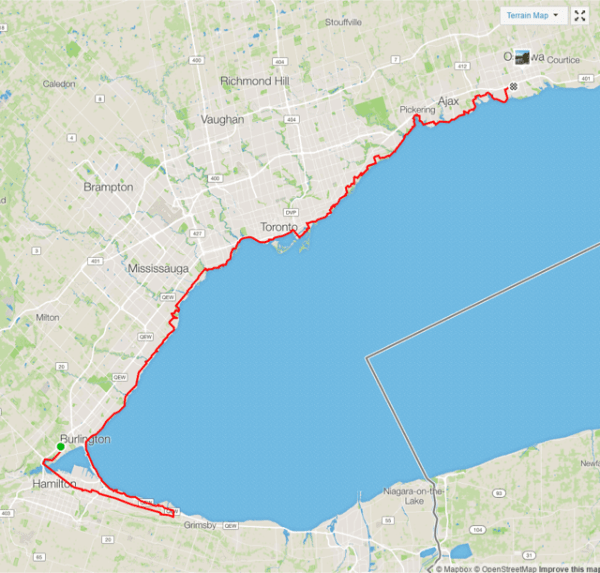 Lara: I know your friend who passed away is who inspired you to get out there and just do it. Is there anything else you'd like to say about him or that moment of clarity you had?
Henry: Dr. Bill Nelem was not a friend. he was a client and I only met him when I joined the 2010 tour for a bit of the time. You can read about how he inspired me in this blog post.
Lara: Can you tell me the last time you rode 200K in one day?
Henry: The last and only time I rode 200km was in 2004. I was 52.
Lara: How much of a challenge was it for you?
Henry: Well as it turned out it was more of a psychological challenge than physical. Don't get me wrong, being on a bike for 13 hours was not easy but it also was not devastatingly hard.
Lara: What did you enjoy most about the day, getting out there and just doing it?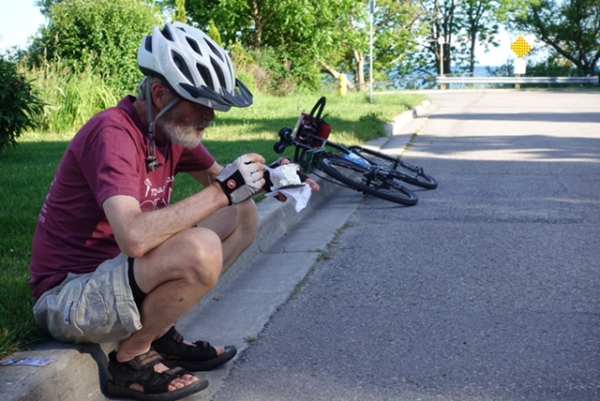 Henry: I enjoyed discovering whole new areas of Ontario nearby that I have never seen and the changes that have happened in other areas since the last time I have been through, especially with all the rain and the high water on the lake. And the realization, when I was about 3/4 of the way, thinking… yeah i am going to do it; it is not as hard as I thought it would be. The usual game we all play that this is going to be one day of torture and in fact it was hard but it was not torture. Last it was great to see the reaction in a pub of young guys and gals when Micah (TDA staffer) and I told them we just cycled from Grimsby and that I am 65. They could not believe it!
Lara: Can you tell me a bit about what ever inspired you to start the TDA Foundation to begin with and why this campaign matters to you? What the overall impact of the foundation means to you?
Henry: I worked in Africa with an NGO which I co-started and it was, to my surprise, frustrating and very challenging but also great fun to do good. So when I decided to start a for-profit company that was going to cycle across Africa, I felt that part of the experience of crossing Africa on a bike would not only be to observe and enjoy Africa but also to remind each participant how well they have it and thus we should all do just something little, call it symbolic, and give something back. So I decided to give one bike for each Tour d'Afrique participant to heath care workers and HIV trainers. And 15 years later we still are doing it, though we also now give bikes to women's cooperatives, to girls to go to school, entrepreneurs who need to get their produce to market, and so on.
Lara: Can you tell me a bit about how you're careful (and have always been careful) not to be that "white saviour" that traipses into Africa to come to the rescue? From my point of view it has been clear from the outset that TDA Foundation is very respectful in its approach and that the work being done has a sustainable impact.
Henry: When I first went to work in Africa, during the 1980's famine, I used to say a bit flippantly, to people who commented that I have a saviour complex, that in fact all I was trying to do it save myself. I come from a background where both my parents were survivors of a Holocaust and I personally registered at the holocaust museum 72 close family members of my parents: siblings, parents, nephews and nieces who perished in the Holocaust, so growing up without any family whatsoever I always felt a certain sadness, heaviness of the world. And for me the best way to deal with this was not therapy but to be actively involved in doing something positive for humanity, for the planet, for the environment we live in, even for the animals. But, in reality I am doing it for myself. It gives me great satisfaction to do something for other's benefit who do not know I even exist.
Lara: Any other comments or remarks?
Henry: There is no better way of feeling good about yourself than doing something fun like cycling that is so enjoyable and at the same time an act benefiting others. My advice: go cycle and raise money for a bike and remember the day you got your own bike and then think I can make someone else feel the same way today. Its the best therapy for all sorts of things.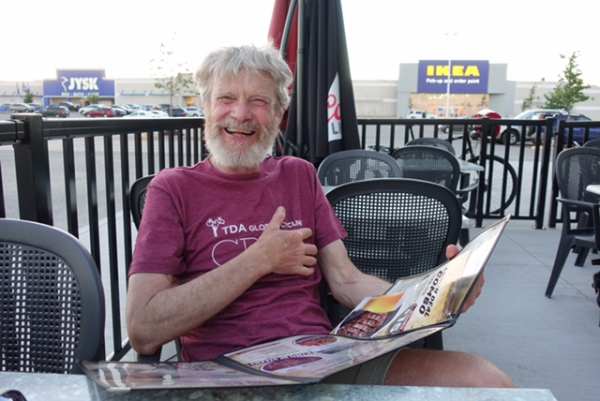 Henry completed all the challenge by:
1. riding 200 kilometres
2. raising $200
3. challenging two friends when posting his accomplishment to social media and tagging them.
He then went above and beyond by issuing an additional challenge, stating that for anyone willing to donate $2,000, enough to purchase 10 more bikes, not only will he do another 200 kilometre ride, he'll tack on an extra 50K! Remember: he's 65 years old! He's up for it. Are you?
There are draw prizes to be won from Specialized Bikes and Lonely Planet, as well as a grand prize of one full section of the 2018 Tour d'Afrique (flight included) from TDA Global Cycling, which will be given to the #200for200 challenger with the most funds raised.
You can learn more and join the challenge at www.200for200.bike.
Contact Project Manager, Lara Marjerrison with questions and comments at lara@tdaglobalcycling.com