Blog
REGISTER NOW
LOGIN
SIGN UP FOR OUR NEWSLETTER
Oh, Canada Kicks Off In Nature & Culture Rich Haida Gwaii
The Oh, Canada Tour commenced on Haida Gwaii, British Columbia on June 3 and is heading East through all ten of Canada's Provinces to its final destination St John's, Newfoundland on September 8. A group of 18 intrepid cyclists set off from the town of Old Masset in northern Haida Gwaii in wet, windy and cold conditions. To mark the occasion a number of the riders took the opportunity to ceremoniously dip their rear wheel in the Pacific Ocean at mile O of the TransCanada Highway, something they will repeat at the end of the road in St John's!
While there have been a few TDA tours that have passed through Canada in previous years, none have been a purely Canadian West coast to East coast cross continental adventure. The Oh, Canada ride will therefore be the first of its kind, and coinciding with the 150th year since Canadian Confederation it promises to be one big birthday party.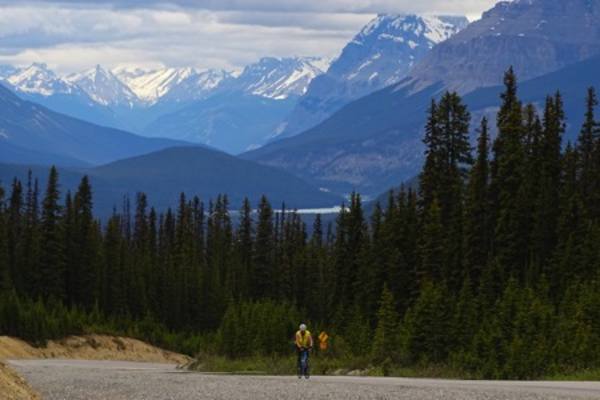 Canada is a country of endless natural beauty from stunning Coastal scenery, Mountains, lakes, underrated Prairie landscapes and abundant wildlife. Canada is the second largest country in the world and its low population density exudes an eerie feeling of being insignificant and at mercy to the forces of nature. These feelings make you feel somewhat humble and I find myself wondering if this has in some way helped shape the overly friendly, accommodating and quietly spoken nature of the Canadian people. It comes as no surprise to me that Canada is Lonely Planets #1 Country to visit in 2017.
Canada has been home to The First Nations long before Europeans arrived in the 16th century. It is estimated that the First nations can be traced back to 15,000 years ago, maybe more, many of who's traditional homelands we will pass through on our three-month adventure. With the tour beginning in Haida Gwaii, we have had the chance to learn about and appreciate the Haida Nations culture.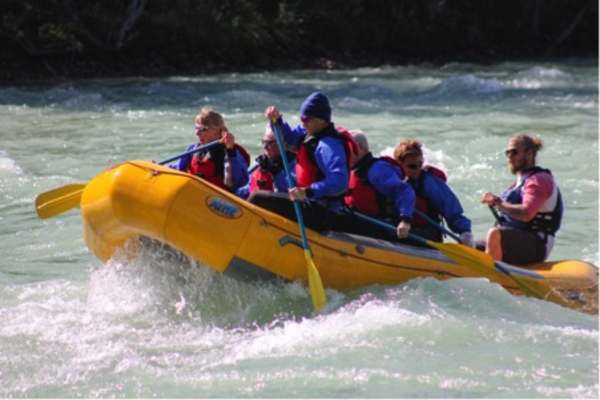 Haida Gwaii is a group of islands that sits 80km off the north west coast of British Columbia. Along this tooth shaped Archipelago, the islands feature a diverse array of pristine beaches, sand dunes, lowlands, hot springs, temperate rainforests and snow capped mountains. As a result of the varied environments and the mild and wet climate, these islands are home to a multitude of unique flora and fauna that has resulted in it being termed the Galapagos of the North. An example of this diversity is that the subspecies of black bear found here is the largest species of black bear in North America and having spotted many bears from the comfort and safety of the tour vehicle I admit I did feel extremely vulnerable when sighting not one but 4 bears in the space 10 kilometres of riding!!! Some riders have been lucky enough to spot a whale or a Bald Eagle but according to the locals this is common and nothing to get excited about!
The Haida Nation have been living on Haida Gwaii for many thousands of years before the arrival of Europeans. Haida Gwaii translates to "People of the Islands" and this association with the ocean aptly described their traditional way of life that involves fishing for local Salmon and Halibut (flatfish) both of which I have had the opportunity to enjoy! As one of the Canadian Heritage Meals riders will enjoy throughout the tour, TDA staff made a largely successful attempt at cooking Salmon in one of the traditional Haida techniques. After discussions with the local information centre and a number of local Haida people, we obtained planks of Cedar wood from a local artist and Totem Pole Carver. The cedar was then soaked in water overnight and locally sourced Chinook salmon was cooked on the plank over the fire the following day. The scent of cedar and smoke resulted in delicious melt-in- your mouth salmon that was enjoyed by all after a unexpectedly tough first day riding from Masset to Tlell in rain and strong winds.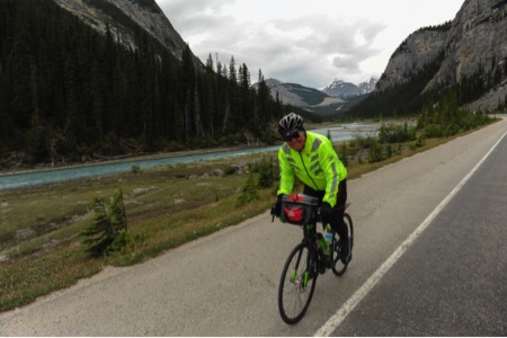 The Haida people are well known for their elaborate wood carving that forms a large part of the Haida culture both in day to day life and artistic expression. In early times Haida people would travel between islands and the mainland in canoes carved from large Western Red Cedar Trees. These trees are also used for building the traditional longhouses that utilize massive cedar beams and vertical planks to form imposing yet beautiful structures that were hard to miss. They would also carve impressive Haida Totem Poles that are visible all over the island. Their sheer size and weight makes you wonder how they managed to erect them in the past. Some of the riders were lucky enough to visit an art gallery where a Pole is currently being carved which will be erected this year on Aboriginal day this year.
As part of the first day of the tour, the group visited the Haida Heritage Centre for a private tour. Our knowledgeable Haida Guide Alex shared with us a number of different Haida Poles and explained the meaning of each Crest and how they commonly share a story about family history that forms an important symbol of heritage and prestige for Haida people.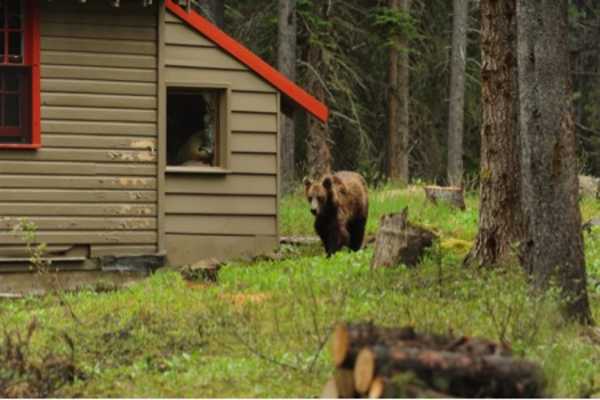 Following the Tour we had time to explore the museum at our leisure. Upon setting foot into the museum we soon realized that the visible signs of a thriving Haida culture in some ways conceals a troubled past.
There were estimated to be up to 10,000 Haida people living on the islands prior to the arrival of Europeans. Trade in sea otter pelts introduced many infectious diseases, conflict and alcohol all of which has catastrophic effects on the Haida whose population reduced to an estimated 800 people in 1885. During the 20th century pressure from Missionaries and the Indian Act placed a ban on Potlatches (essential Haida social events), Totem poles were destroyed and Haida songs, stories and dances were silenced. During this period many children were removed from their families to the mainland. Growing up in Australia and having a spent two years working in Alice Springs in central Australia with Aboriginal Australians, I can see many parallels between the treatment of Haida people and that of Aboriginal Australians.
Thankfully the Haida have recovered and a resurgence of their culture is visible throughout the island. A large contributor to this was the Lyell Island Forestry Protests in 1985. Forestry has long been an important industry for Haida Gwaii, employing many local Haida people however it was being conducted in an unsustainable way with widespread clear felling of Old Growth Cedar, Hemlock and Spruce. The Haida together with environmentalists had concerns about sustainability and the effects this was having to the surrounding ecosystem and following 10 years of failed land use planning negotiations the island was still being logged.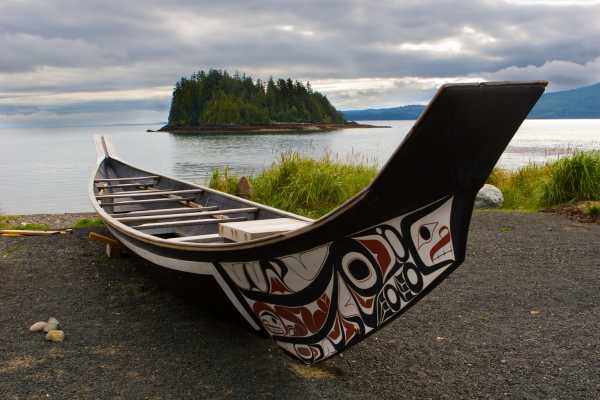 The protests at Lyell Island 1985 resulted in 72 Haida being arrested, many in traditional dress. These protests eventually saved the forests of Lyell island but were even more significant in that they started a movement towards more sustainable logging practices and increased recognition of aboriginal rights. In the following years Gwaii Haanas National Park (Islands of Wonder) was created soon after that includes almost half of Haida Gwaii. Sgang Gwaay, an ancient Haida Village on remote Anthony island within the National Park was designated a UNESCO World Heritage site in 1981.
During our brief stay on Haida Gwaii it was incredible to see and hear about many young people who are passionately involved in their culture through artwork, tourism, programs to revive the traditional Haida language and to protect the Gwaii Haanas National Park.
As we depart Haida Gwaii on the ferry to Prince Rupert and continue our 8,800km journey to St John's, I think it is important to acknowledge that Canada's history goes back a lot longer than 150 years. The remarkable Haida are one of many First Nations people whose traditional lands we will pass through on trip. As with all TDA expeditions it is the journey that makes the experience unforgettable and if these first few days on Haida Gwaii are anything to go by this cycling adventure will be the trip of a lifetime!