Blog
REGISTER NOW
LOGIN
SIGN UP FOR OUR NEWSLETTER
The Bicycle's Birthday Is Less Than One Week Away!
Are you ready to celebrate the birthday of the bicycle and make wishes come true for people in the TDA Foundation's partner communities in Africa? The #200for200 Summer Cycling Challenge launches less than ONE WEEK from today and we're already making headlines!
New York Post
On June 12, 1817, German inventor Karl Drais set off from the town of Mannheim, Germany, straddling what he called a laufmaschine, or running machine. Two centuries later, we call his contraption the bicycle. Read more.
Gran Fondo Guide
In celebration of the bicentennial of the bike, TDA Global Cycling's TDA Foundation is launching the #200for200 Summer Cycling Challenge with a goal to raise $200,000 and give the gift of 1,000 new bicycles in Africa. Read more.
May My Ride
Whether you're already biking up a storm or planning to the second summer hits, you'll want to keep track of all your miles on MapMyRide starting June 12. That day marks the 200th anniversary of the bicycle — apparently the two-wheeled invention was first ridden in Mannheim, Germany, in 1817 — as well as the launch of a new, summer-long, global initiative challenging people to ride 200km (125 miles) and raise $200 Canadian dollars (~$150 U.S.) to donate bikes in Africa. Read more.
A Note about #200for200 from Henry Gold
Some things may appear as pure coincidence but such is life. Last week we sent a newsletter to our cycling alumni in which the top story was our new #200for200 Summer Cycling Challenge. Cycle 200 km and donate $200 for a new bike to deserving individuals in Africa. Read more.
Great Prizes
We have some great prizes to be won throughout the challenge. Specialized has generously donated three Airnet helmets and Lonely Planet has contributed ten copies of Epic Rides of the World. Will you be one of the 13 lucky winners?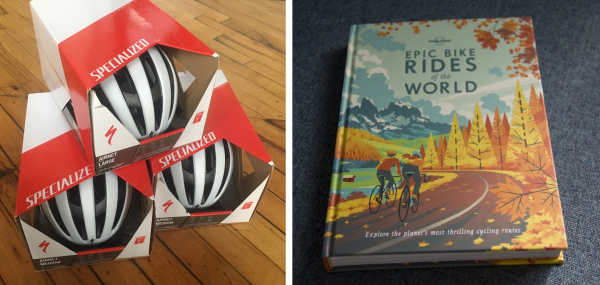 Stay tuned for further updates and get all your #200for200 details at www.200for200.bike.
See you out there!
L.