Cycling the Silk Route: Part 6 of our 9-Part YouTube Series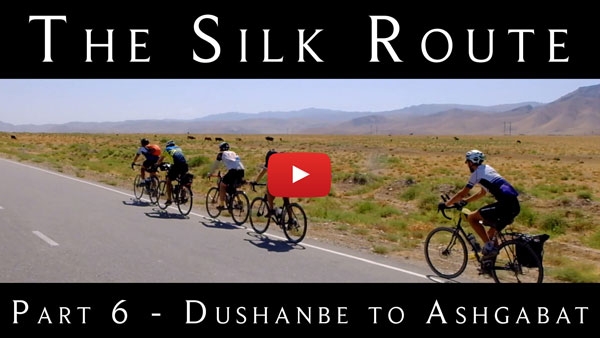 Last Friday in our monthly newsletter we announced the release of the sixth in our series Cycling the Silk Route – a 9-part YouTube series. During each of the coming months, we will be releasing one episode each month. The best way to make sure you don't miss it is to sign up to our monthly newsletter where the official release happens.
>>Sign up for our monthly newsletter
Part 6: Dushanbe to Ashgabat
Leaving Dushanbe the riders pedal alongside the Turkistan Range and the Zeravshan river, over passes, and through a vertical world of towering peaks to Penjikent and then onto our next country, Uzbekistan.
From the Uzbekistan border it's a day's ride through the Uzbek countryside to legendary Samarqand, where our eyes will feast on the minarets and domes of Uzbekistan's most glorious city, as written about by James Elroy Flecker in The Golden Journey to Samarqand. From one magical place we cycle towards another; Central Asia's holiest city of Bukhara. Here you will explore buildings with histories spanning thousands of years and sights seemingly drawn from the medieval tales of flying carpets and 1001 Nights.
Departing Bukhara, we ride south towards the ancient city of Merv, once one of the most important centres of the Islamic world and today a World Heritage site. In the nearby modern city of Mary, we will recuperate from the heat of the Turkmen desert and visit the restored mausoleum of Sultan Sanjar, ruler of the Seljuk Empire. Turning west we continue through this unusual and spiritual land, inhabited by people of proud traditions, magnificent Ahal Tekke horses and vast natural beauty. Before long, we will reach Ashgabat, the capital of Turkmenistan and a spectacle that must be seen to believed.
---