Blog
REGISTER NOW
LOGIN
SIGN UP FOR OUR NEWSLETTER
How the Great American Roadtrip Video Series was Made
We are now halfway through the release of our four part video series – Cycling the Great American Roadtrip. This is our first video series from the road in over two years and it's been so satisfying to share these again, after such a long hiatus. This is a perfect opportunity to watch and learn about the route before signing up to be part of the second edition of TDA's Great American Roadtrip scheduled to start March 2023.
You can watch Part 1 & 2 below. To be the first to see Parts 3 and 4, sign up to our monthly newsletter. Part 3 comes out at the end of this month and Part 4 at the end of April.
Videographer Coby Werlin on the Video Making Process During TDA's Great American Roadtrip
I sent Coby a few questions about his experiences on this project. This was his third assignment with TDA – his first was filming in Europe on the 2019 The Odyssey and his second was while tagging along on the 2019 North American Epic.
What did you think this would be like when you started filming in Santa Monica?
"Well, there was definitely one part of me that wasn't sure if the tour would run, let alone finish. The other part of me wanted this video series to be a real, in-depth look at riders as they re-engaged with the world after so much time spent in lockdown."
"Thankfully, we didn't have any Covid cases, and so not only did the ride finish, but it was a very positive experience to film overall, which is not to say that it was an easy experience. There was a large sense of gratitude throughout the entire crew about being back out on tour, and it was a rather palpable feeling that everyone shared, something that I hope comes through in the video series."
What were the biggest challenges and surprises?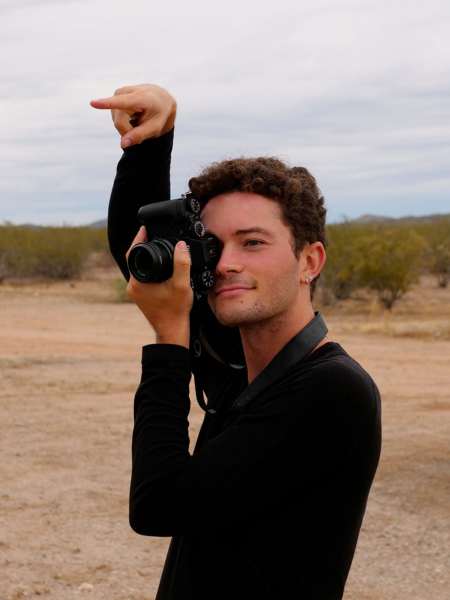 "One of my biggest challenges in documenting any TDA ride is how to pull out a story, rather than just creating a montage of bicycles riding through scenic landscapes. Some of those shots are nice, but with this project I tried to find other aspects of life on tour to focus on. With this tour in particular, the riders and staff all had a lot of great things to say, including what brought them to sign on to this tour, and what lessons or experiences they were taking away from it. Those kinds of responses are always the ones that give me the most inspiration and direction to make a compelling video series."
"I think when prospective riders watch a video series about a ride, they of course want to see it visually to know what they'd be in for, but to also understand some of the deeper reasons and satisfactions that bring people to TDA, and those explanations only surface when they are genuinely felt by the riders, so I was happily surprised to hear them on this ride."
"From a technical standpoint, the weather seemed to keep getting in the way for me — my gear would overheat from the high temperatures of eastern California, or the rainstorms in Texas and Florida would dissuade me from pulling out my camera, but primarily the intensity of the wind we experienced from about Arizona to Texas made it really difficult to get good sound during interviews, on top of the fact that it tired out most of the riders so much so that they had no energy left at the end of the day for an interview anyway. My camera even took a tumble to the pavement during New Mexico's powerful windstorms as I was shooting a time lapse of the mountains (I even caught the fall on camera), luckily it was minimal damage."
What is your favourite memory from the tour? What did you learn?
"Well, it's always the not-so-fun memories that feel the most poignant, and invoke the most growth, especially once you've moved past them and can reflect back. I'll remember the 4 a.m. wake up call to pack bikes and make it through Joshua Tree National Park to beat the 104°F heat, or the spectacularly terrifying early morning thunderstorm that hit us just outside of Austin, TX, or the penultimate day of the tour when I accidentally chopped off the top bit of my thumb while slicing some Georgia peaches before dinner, and all the riders and staff made me feel so well taken care of (it's healing very well). All of these instances stick out to me because they were moments of adversity that tested the entire group – riders and staff alike – to act as one, for the sake of the whole."
"On a lighter, more concrete note, I was really happy to explore Louisiana as it was a part of my own country that I hadn't yet explored, and was full of beauty and warmth and great seafood."
RELATED
TOUR