Blog
REGISTER NOW
LOGIN
SIGN UP FOR OUR NEWSLETTER
Sharing Laughs, Triumphs and Km's: The TDA Alumni Community
Whenever TDA Global Cycling does a new tour for the first time, it always generates a lot of interest – especially among the organization's enthusiastic alumni. The alumni thing never fails to amaze me – how 15 years of hosting cycling tours around the globe has created this well-connected community of serious cyclists and off-the-beaten-track adventure junkies alike who not only stay in touch long after the tours are over, but arrange to meet up again on other tours and share new experiences on new continents.
It first dawned on me towards the end of the Tour d'Afrique when some of the riders found out I was working on Magical Madagascar afterwards – "Oh, you're doing Madagascar? Say hi to Fiona for me! I think Rae and Ursula are doing that one too, give them my best."
Then once I got to Ifaty and met the new riders – "How did Tom go on the Tour d'Afrique? He's a tough one; he cycles rain, hail or shine." "Was Nelson there? We used to ride together on the South American Epic."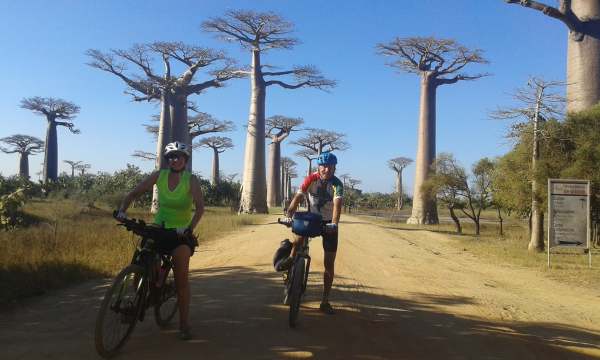 Sure enough, as we drove past the riders on Day 1 of Magical Madagascar and did the "thumbs up, thumbs down" routine, I noticed that almost everyone we passed was wearing a TDA jersey from a past tour, whether it was Bamboo Road, Tour d'Afrique, Silk Route or one of the others from the organization's ever-growing list of international expeditions.
I now know that I'll be seeing Bill, one of the four riders to achieve EFI for Madagascar, on Bamboo Road in September. In fact, the only reason Bill was here in the first place was because he'd attended a TDA alumni dinner in Toronto less than three weeks before the tour cycled out of Ifaty.
Tour Leader Emily was there, who Bill already knew from another tour (I want to say Trans-Oceania?) and once the two got chatting, Bill spontaneously decided to sign up for the full Madagascar tour.
As I write this, one of the sectional riders from the 2017 Tour d'Afrique posted on the wall of the Facebook group we all use to stay in touch. He said: "Anyone else going on Bamboo Road? Just registered for Hanoi-Phnom Penh." I guess I'll be seeing him in a few months as well!
For whatever reason, this inaugural Madagascar tour seemed to strike a chord with alumni, and in fact all four riders who achieved EFI had done at least one other TDA tour previously.
Canadian full tour rider Rae said to me at the final dinner that tours like this allowed him to explore countries and cultures that he would in all likelihood never get around to visiting otherwise – he'd never had any intention of cycling across Madagascar until all of a sudden this tour was announced and it piqued his and Ursula's interest.
With all of TDA's new tours being announced lately – the Carnival ride along the coast of Brazil, the Pub Ride (which was so popular they've created a second tour commencing three days after the first one leaves Dublin) West Africa and the Oh, Canada tour – the alumni community is abuzz at the moment… and with good reason!