Cycling the Silk Route: Part 8 of our 9-Part YouTube Series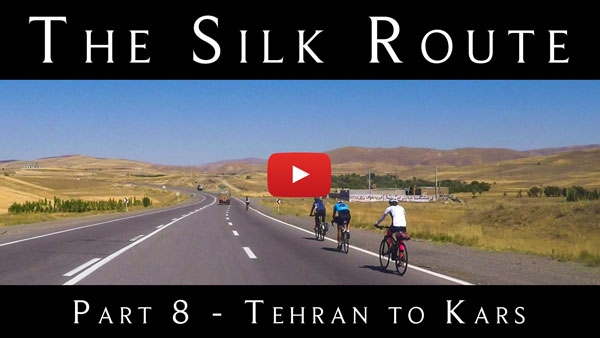 Last Friday in our monthly newsletter we announced the release of the eighth in our series Cycling the Silk Route – a 9-part YouTube series. During each of the coming months, we will be releasing one episode each month. The best way to make sure you don't miss it is to sign up to our monthly newsletter where the official release happens.
>>Sign up for our monthly newsletter
Part 8: Tehran to Kars
The eighth episode covers the Garden of Eden section of the Silk Route. It starts in Tehran but soon emerges into western Iran, an area that has been at the centre of many of civilization's earliest empires, with its fortunes shifting between trading glories and military decimation. Spinning past colourful fields of sunflowers, the route takes riders to Tabriz, once an oasis, now a sprawling city renowned for its Blue Mosque, whose early history is enshrouded in mystery as the possible site of the biblical Garden of Eden. From Tabriz the cyclists will quickly come to the Turkish border. The first day in Turkey will end in Dogubayazit, wonderful place to enjoy a cold beer after the "dryness" of Iran and close to the Ishak Pasha Palace, an 18th century Ottoman castle built into the side of a mountain. Afterwards green hills open up into plains where Kurdish shepherds tend their herds. As Mount Ararat, reputedly the resting place of Noah's Ark, sits high in the sky, life appears to have changed little since biblical times.
---