Blog
REGISTER NOW
LOGIN
SIGN UP FOR OUR NEWSLETTER
Coast to Coast: Crossing The Malay Peninsula By Bike
Everyone's idea of a perfect riding day differs. For some, it's all about the conditions. For others, it has to be remote and isolated from traffic, noise, and all those kinds of unpleasantries that can disturb a peaceful ride. And there are others still, who really don't care about the condition of the road, the weather, the elevation, head-winds etc. as long as the scenery is something worth writing home about. For me, today's ride was an excellent route through the mountains as we crossed from the east coast of Thailand over to the west, coming within a few kilometres of Myanmar at one point, before turning south again en route to Penang in Malaysia, which we reach next week.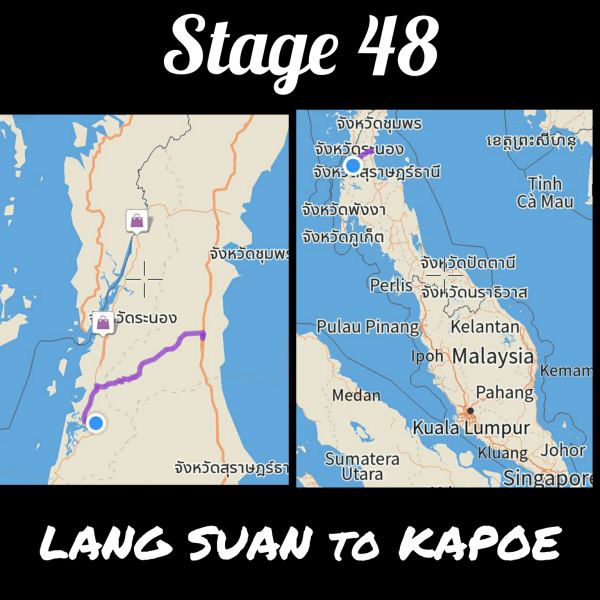 When I wrote today's directions down for the group yesterday afternoon, my heart sank a little – I knew I was sweeping the group for the full day's ride, and after missing out on a beautiful day's ride yesterday, I was disheartened to see we would be cycling along a highway literally all day, with only one turn in the entire 100km stage. Then when we woke up this morning, it was bucketing down with rain, which still hasn't let up.
Nevertheless, we sat down to breakfast, and one by one everyone jumped on the saddle and began their day. Within a few kilometres of leaving Lang Suan, I realized the "highway" we would be cycling on all day wasn't a typical highway – one lane in either direction, decent shoulder, and not much traffic. We also started climbing too, which is always noticeable on this tour as the route we take through southeast Asia is generally quite flat except for parts of China and Laos.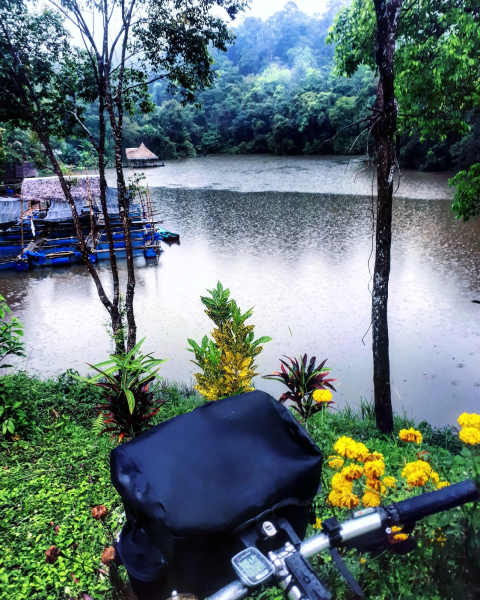 There were a few stretches early in the day where the tarmac disappeared, and because of the rain, the dirt had turned to mud. Now while others might disagree, personally I don't mind a bit of mud! I enjoy having to pay attention to the ground ahead of me and find a line that will get me from here to there without plunging into a pothole and coming off my bike into a puddle of mud – it keeps me on my toes and it's a refreshing change from cruising along on a smooth shoulder.
By this point we were climbing high into the mountain range that divides the east and west coasts of the Malay Peninsula, and the scenery was absolutely stunning. It was an overcast day and the clouds were low, so we were cycling through some pretty dense fog in some areas. In fact, the towns peppered along this road all had streetlights on, creating a real eerie atmosphere as we pedalled into lunch – a little roadside restaurant tucked away behind some trees and propped up on stilts off the side of a cliff, surrounded my dense rainforest. This – along with the heavy rain pounding on the tin roof, the warm chicken soup, and the cute dog curled up on a rug in the corner – made for a very cosy little lunch break that I found very hard to tear myself away from to continue the ride.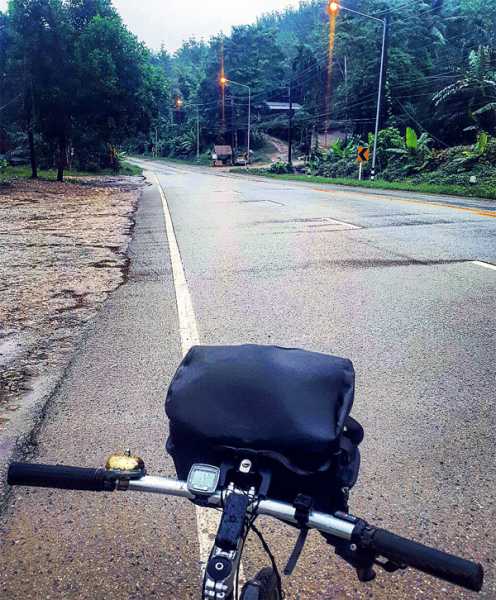 The second half of the ride proved to be as beautiful as the first half – winding road, rolling hills, nice bridges over twisting rivers, and dense jungle getting lost behind wisps of low-lying clouds. All in all, I found today to be an exceptional day's riding, matched only by some of the other stages we've cycled in the last week since we left Bangkok. It seems like, as is the case with many TDA Global Cycling tours, some of the best riding is saved for last!