Blog
REGISTER NOW
LOGIN
SIGN UP FOR OUR NEWSLETTER
Zip, Zip, Zip & Repeat
Zip, zipppp, zipppppppp, is a fairly common wake up call here at camp. They come at all hours of the night but are especially prevalent between 4:30am-5:15am. Soon after 4am, you might here the clanking of pots and the clicking of tent poles going down.
Once the tents are down and bags loaded into trucks, which is expedited by the strong smell of coffee coming from the outdoor kitchen, riders unlock their bikes and kit it up with the accessories they will need for the day. This includes filling water bottles, reattaching GPS computers, pumps, and ensuring tire pressure is appropriate for the day's ride ahead.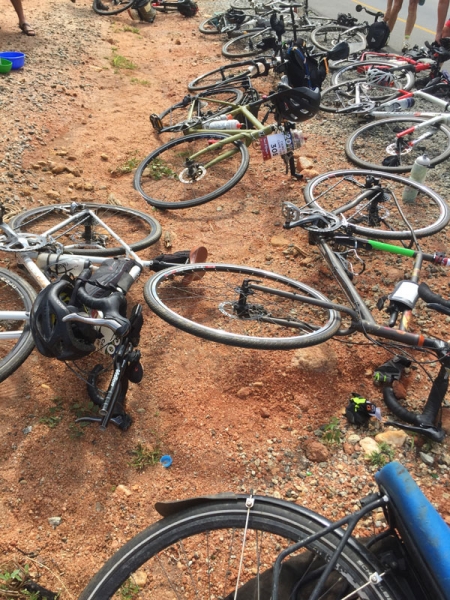 If all this is done before the chef yells "Breakfast is ready!!" Riders take a minute to enjoy a lovely cup of Joe from one of the various countries we have passed through. Soon everyone filters through the breakfast line, after having washed their hands and dishes. A pot of steaming oatmeal sits on one end, and bread along with an assortment of spreads ranging from local jams and honey holds down the other end interspersed with some delicious tropical fruits.
Breakfast lasts for most riders anywhere from 20-30mins, and the shuffle begins to rewash the dishes and deposit them back into their proper bins. The "facilities" are visited one last time and sunscreen is applied. Finally riders jump on their bikes as soon as the sun is high enough. The ride of 120-150kms begins. Cruising through local villages and perhaps stopping in one for a cold beverage or a snack is often part of the morning adventures. At about 60-70kms the white lunch truck can be spotted in the distance where a plethora of fresh foods awaits.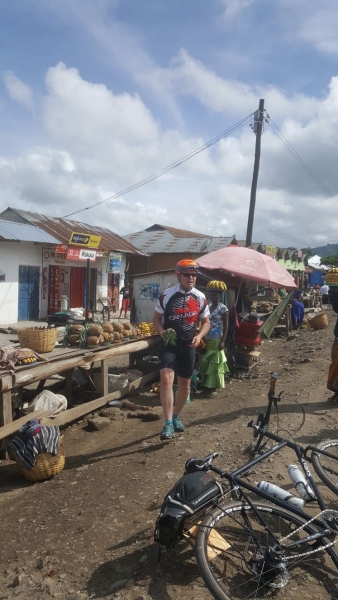 Here the riders will enjoy items like egg salad sandwiches, fresh tomatoes and cucumbers, fruits and perhaps even cookies on a special day. They will replenish their water bottles, and soon be on their way to conquer the rest of the day's ride.
Finally arriving at camp, soup will be available, and a fully stocked tea table will be ready for riders to refuel their essential salts lost during the days ride. After a bowl or two of the bottomless soup everyone grabs their bags to unpack their tents and set them up, so that after dinner they can roll right into bed.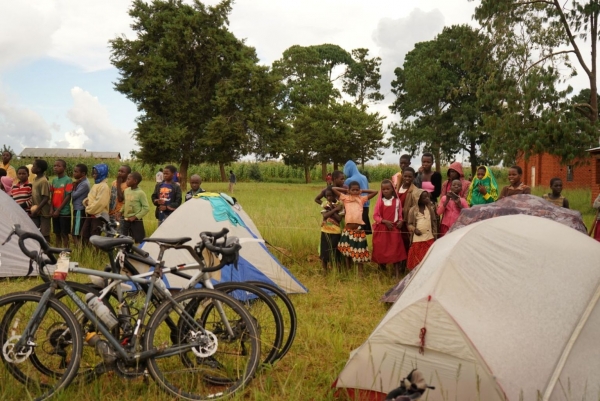 The rider meeting happens just before dinner, and directions are laid out for the next day, and any noteworthy sights are pointed out. The last point of the meeting is always "GO WASH YOUR HANDS! Grab your dishes," and everyone does just that.
Everyone shuffles through dinner where a delicious assortment of hot local foods are served up. After dinner dishes are rewashed and people soon make their way to their tents when it's dark.
Throughout the night "yips" of hyenas in the distance, brays of donkeys coming from local villages or the great snoring of the TDA riders can be heard. Soon sleep takes over, and just when we've closed our eyes, the zip, zipppppp, zipppppp of the tents can be heard again.
Repeat.
>>Read our semi-serious Tenting Etiquette advice