Blog
REGISTER NOW
LOGIN
SIGN UP FOR OUR NEWSLETTER
36 Hours in Warsaw: A Cyclist's Guide
This is the fourth in our ongoing series of blogs highlighting the cities along the route of our Trans-Europa cycling tour. Each year we have brought our cyclists to these cities and have learned a few new useful tips for those who might be considering heading there. So whether you are thinking to join our tour or plan on cycling there yourself, we hope this information will be helpful.
Warsaw
"The city is positioning itself as Eastern Europe's chic cultural capital with thriving art and club scenes and serious restaurants." – Charlie Wilder, New York Times
Infrastructure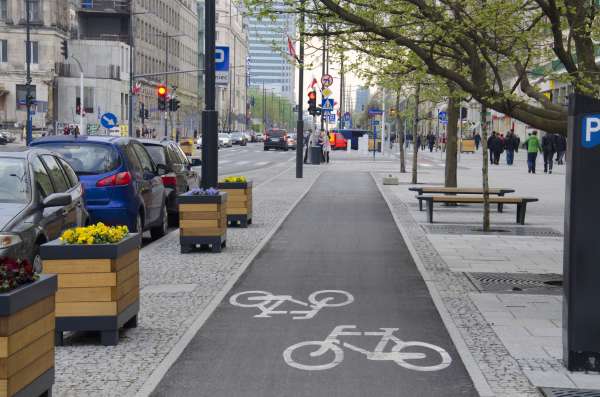 Warsaw is constantly developing its network of cycle paths – more than 500 km are available to cyclists. The most popular of them run along the banks of the Vistula. The path on the left bank of the river leads along the boulevards nearby such well-known attractions as the Multimedia Fountain Park, Warsaw University Library with its unique roof garden and the Copernicus Science Centre.
The city has created a handy map of the best cycling routes in Warsaw. You can see  it here.
In case your bike needs TLC or a day off, Warsaw, like many cities around the world has a bike share program – Veturilo – with bikes available at 200 locations, most in the city centre and near metro stations. The first 20 minutes are free. Of course, you will need to register before you get the bike.
Warsaw is also conveniently situated on 2 popular EuroVelo cycling routes – #2 Capitals Route & #11 East Europe Route.
Community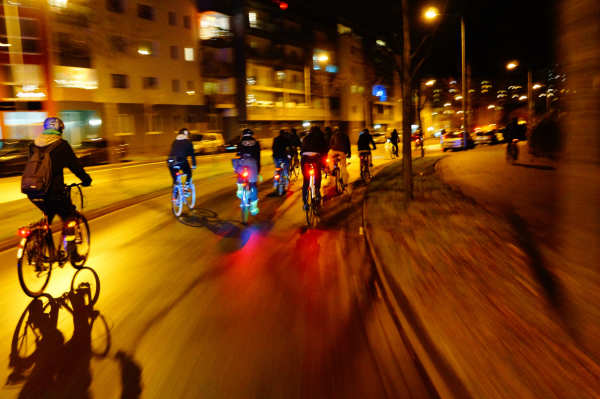 In Warsaw, the bicycle messenger community is vocal and alleycat rides are organized from time to time. Warsaw also has its legendary Critical Mass rides, attracting often more than one thousand cyclists, the largest event of this kind in Central Europe and probably one of the biggest in the world. A battle with the police was fought during one CM in 2002 and ended with several riders being arrested. Since then it has become much more civilized (and bigger). The Warsaw CM is each last Friday of the month, at 18:00 in Zamkowy square) in the Old Town.
Support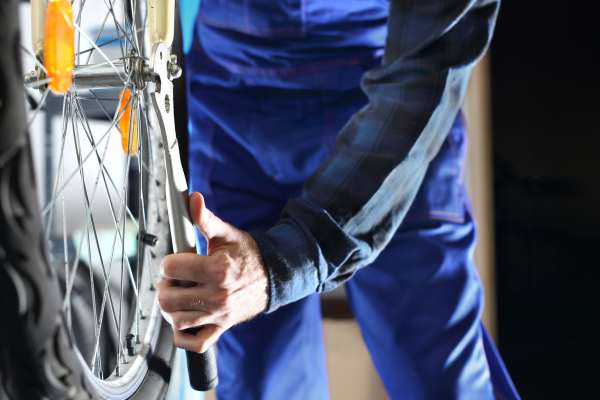 Is your bicycle sounding a little off? Warsaw has a number of quality bike repair shops. Here are some of the best.
>>Learn more about our Trans-Europa bicycle tour that includes a rest day in Warsaw
Sightseeing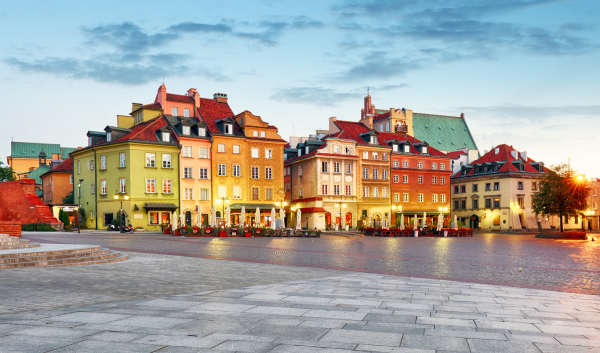 The best way to experience Warsaw, or anywhere else for that matter, is with a bicycle tour. Did you know that Warsaw was the biggest Jewish city in Europe? They made up 30% of the city's population. Jews lived here since the settlement of the city in the medieval period. For more than 600 years they co-created the city and its rich culture. You can explore this history on Station Warsaw Tour's Jewish Warsaw Bike Tour.  Or enjoy a trip into the countryside on a full day tour of the Masurian Lake District with Warsaw Bike Tours. Breathe in the fresh air of the Napiwodzko-Ramucka Forest, cycle to the Olsztynek Ethnographic Park and stop to visit the medieval Nidzica Castle.
Rest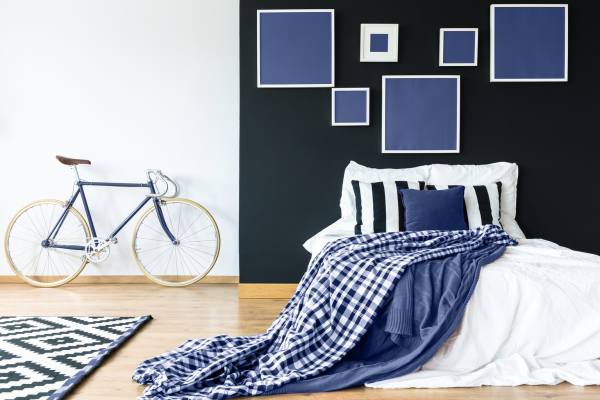 Warsaw has a number of unique hotels. While most are bicycle friendly, it is a good idea to check ahead to confirm bike storage. Try the Castle Inn. Lonely Planet describes it as a "nicely decorated 'art hotel', housed in a 17th-century town house. All rooms overlook either Castle Sq or St John's Cathedral, and come in a range of playful styles."
Campers can head to Camping Wok. Although it is a 75 minute bus ride into the city, the campsite has a bar, laundrette and, best of all in case of rain, comfortable motel rooms. For a more central stay, tenters can try Camping Majawa, just 5kms from the centre of town.
Eat, drink, relax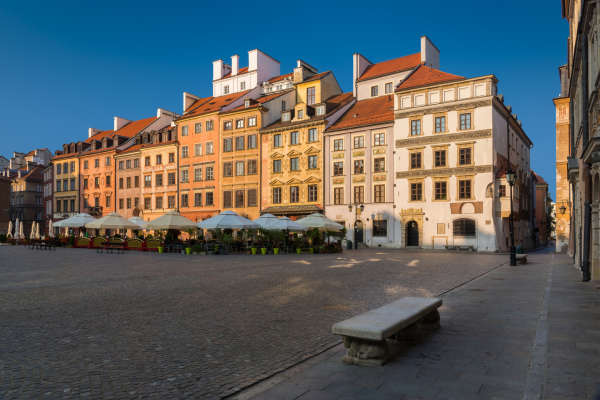 After a long day cycling around Warsaw's Old Town or spinning along the Vistula River, hungry riders can satisfy their appetites at Polka, a casual restaurant serving delicious traditional Polish food like dumplings, stew and latkes in what can only be described as kitschy surroundings.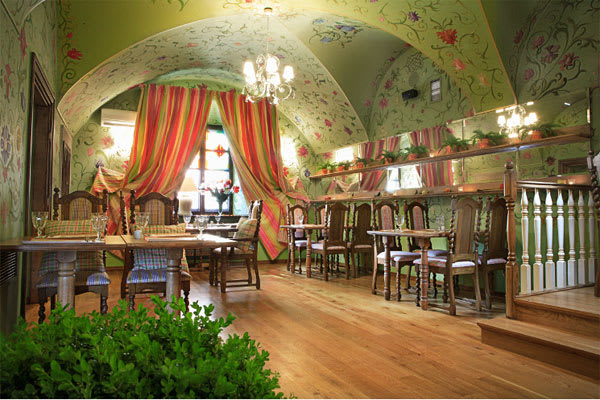 To end the night, try to find a mead bar. This honey wine was one of the first alcoholic beverages created by the locals and is traditionally kept hot by serving it in ceramic beakers on a tray warmed by a small candle. Head to the Pasieka Mead Tasting Room. There you can find a great selection including one, Półtorak Jadwiga, which matures for as long as six years.
The Trans-Europa in Warsaw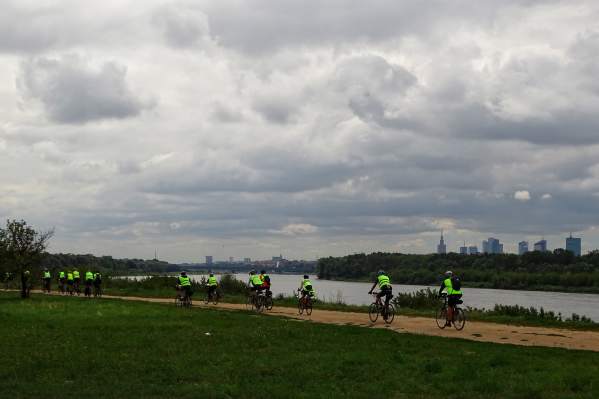 Our riders arrive by bicycle convoy alongside the quiet roads and paths next to the Żerański canal north of the city. We stay at the Ibis Warsaw and after our 36 hours, we continue south towards Slovakia and our next rest day in Kocise. Be sure to check out our Cyclist's Guide for Kosice coming next week.
For more information on Warsaw, please see 36 Hours in Warsaw, Poland (New York Times)
Experience Warsaw on the 2018 Trans-Europa Cycling Expedition.