Blog
REGISTER NOW
LOGIN
SIGN UP FOR OUR NEWSLETTER
UPDATED
June 2, 2018
3 comments
UPDATED
June 2, 2018
3 comments
Last Word On The 2018 Tour d'Afrique
Note: Everyone has a different path to joining the Tour d'Afrique. Here is how Don Holshuh's journey began…
On July 16th, 2017 I received this brief message – '68 yo retired physician interested in January 7-May 5, 2018 Tour d'Afrique. Is space still available?'
I responded that there was.
Don replied – 'Any idea of how much time I have to make up my mind? If I do put down a $150 deposit, is it at all refundable especially if my wife decides to shoot me?'
After some back and forth, he registered but was still wary – 'Have I said or questioned anything that would make me an unreasonable risk for the trip? So, before I take this major step, can you or anyone at TDA think of any conceivable reason why I could not or, more importantly, should not embark on this adventure? Your thoughts would be appreciated.'
I replied – 'Let me just say you are going to have a memorable experience. I guarantee it! I did the tour in 2006 as a client before coming to work here. When I did, I had never cycled more that 20kms in a day so before the tour, I biked 65kms…once. And I survived and loved it. It wasn't always fun and you will experience a wide range of emotions over the 4 months but there isn't a day go by when I don't remember something about my African ride. I have never regretted doing it. At the time my friends and my 2 sons thought I was crazy too.'
Don's response was priceless – 'Hi Michael, The farthest you had cycled in one day was 65kms…..once? And you thought it was OK to join this tour? And survived? And I thought I was nuts. Payment on Monday just got a lot easier. A huge THANKS!'
Here is Don's final look at his 2018 Tour d'Afrique experience.
Tour d'Afrique Postscript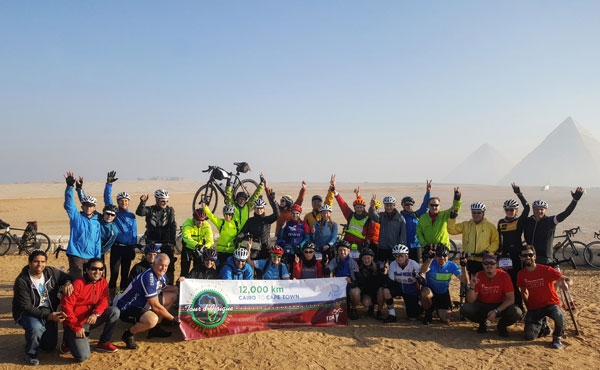 I have had a bit over two weeks to readjust to "normal" life and reflect on the last four months. Some have asked that I comment about Africa. I received a lot of emails purportedly from our State Department with warnings about this or that. Take yourself back to the race riots in the 60s. If you lived in Cleveland, were you frightened about what was happening in Detroit or Boston? Same was true for me in Africa. I was never threatened and I was never scared. Sure, I did not venture down any dark alleys just as I would not if I was in the States.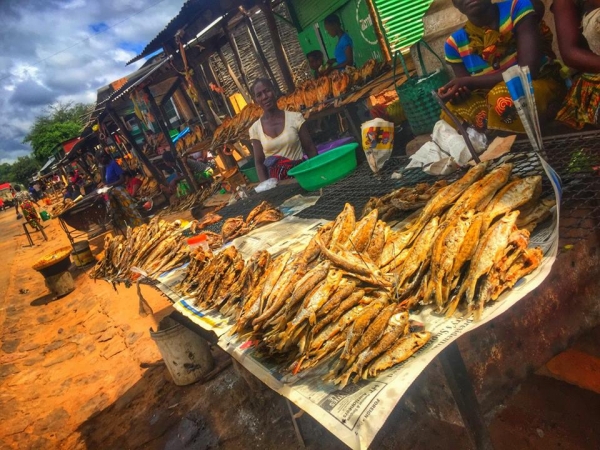 The peoples I saw throughout my journey were incredibly poor by any standards. No wonder they were interested in these individuals riding a bicycle worth more than their home, more than they would earn in a year. Yet, they appeared happy. We take it for granted that we will have electricity, fresh potable water and a place to defecate with a toilet that flushes. For the vast majority of the peoples I saw, they went out in the woods for their toilet, pumped water from a communal well perhaps many kilometres from their home and slept on the ground. Yet everyone I met treated me with kindness and respect. In turn, I treated them with respect. When they would refer to me as Mr. Don, I would respond that I am just Don, my Dad was a mister. My business cards were a huge success and my tunes were a great ice breaker.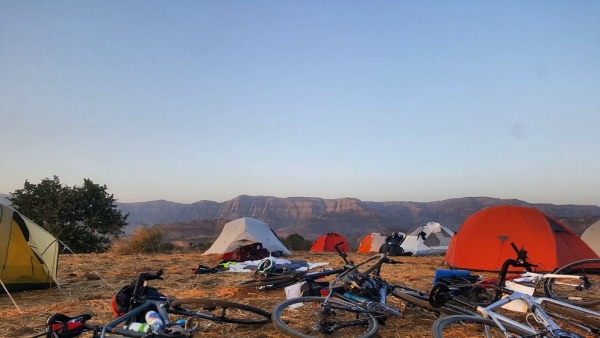 What did the Tour teach me? I learned how to defecate in the desert by squatting (sound easy?… Try it!) and never to drive in Africa at night because if the 6 foot deep pothole that goes across the entire roadway does not kill you, running into the ubiquitous wildlife or cattle in the road will. I also learned that even the slightest scratch gets infected in Africa. Mr. Dumb Dumb was constantly walking into thorn bushes and getting scratched/torn up. If I was not diligent about hygiene, these would become infected.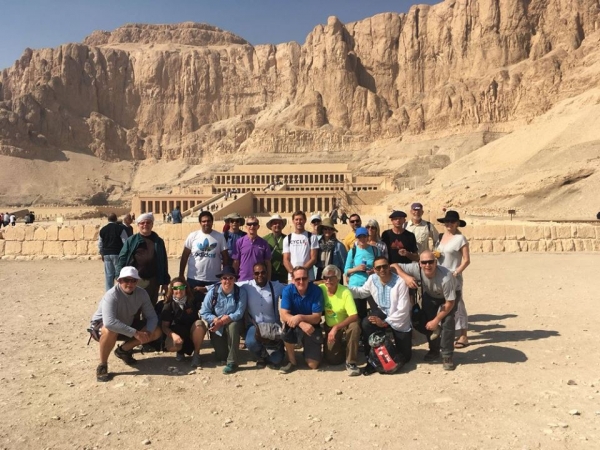 I also learned that the people I traveled with were fearless. I think if Tallis said we had to camp in a river, my group would have been prepared. To a person, they knew how to live, how to enjoy life. Most had incredible stories of life adventures. Like my friend Alexandra from Germany who trekked 12 days to Everest base camp, ran the Mt. Everest marathon then trekked 8 days out. Or, her brother, Dominik, who joined us for a few weeks and had summited Everest then went back and failed in his attempt to summit from another approach. Or, Mo, the vet from Canada, who boxed up her bicycle and panniers, flew to Indonesia, put her bike back together in the arrival lounge and proceeded to cycle unsupported around Indonesia for months. Or, my friend Richard from California who placed 9th in his age group at the Kona Ironman and was once ranked #1 in the world in his age group for the Ironman.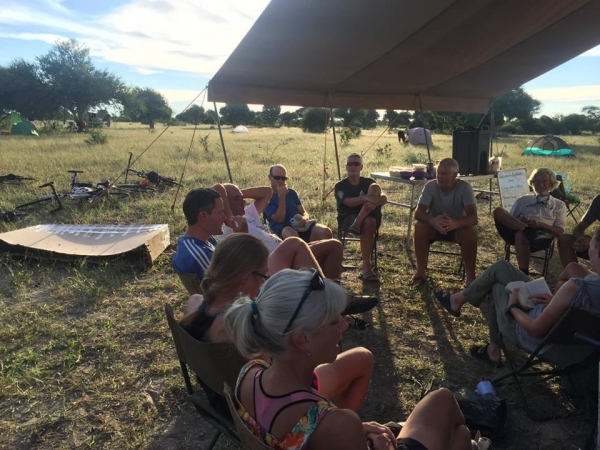 I kept waiting for one of my fellow riders to tell me about their trip to the dark side of the moon. The point is that these friends knew how to live. We all need to challenge ourselves both physically and mentally to stay alive and vibrant. I learned what " Present fears are less than horrible imaginings" really meant. Far too often we tend to worry about that which will never happen. I am reminded of a story about Winston Churchill visiting a dying man who told him that he had seen a lot of troubles in his life most of which never happened.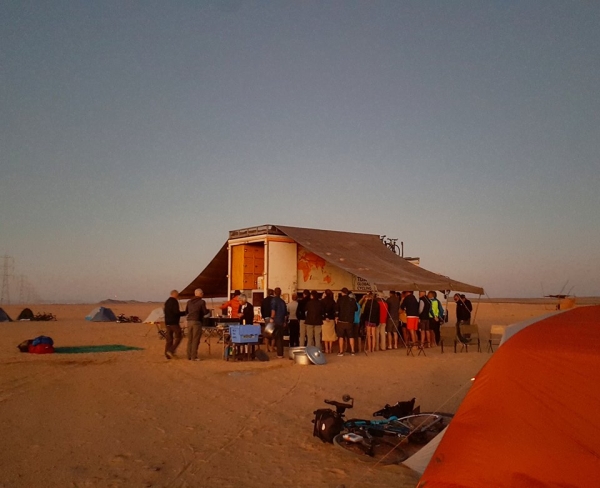 I was often well outside my comfort zone but my comfort zone expanded as the weeks progressed. I learned to live well outside my comfort zone for long periods of time. There is nothing comfortable about waking up at 4AM in your tent with rain pouring down especially knowing you are going to have to pack a wet tent in your day bag alongside your dry clothing (Guess what? Putting your tent in a trash bag does not really help). There is nothing comfortable about waking up at 2AM in your tent when the Ethiopian shits hit your bowels. I am not a tough guy yet I lived through all the discomforts.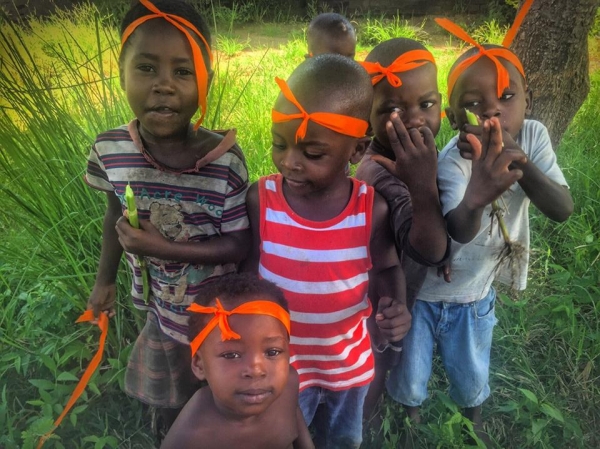 I also learned that a smile goes a long way in Africa. Smiles would get you through those TIA (This Is Africa) moments. I also learned that thumbs up is universal as I was often met by oncoming traffic like big rigs with a thumbs up out the window as they approached. My favorite country was Malawi. That was where I got closest to the people with my village tour that included dancing with the witch doctor, visiting the orphanage and seeing the clinic. Another favourite memory was cycling alone into villages as the first rider and being mobbed by enthusiastic children and adults. Want to feel like a rock star? Bicycle into any village in Sudan or Ethiopia.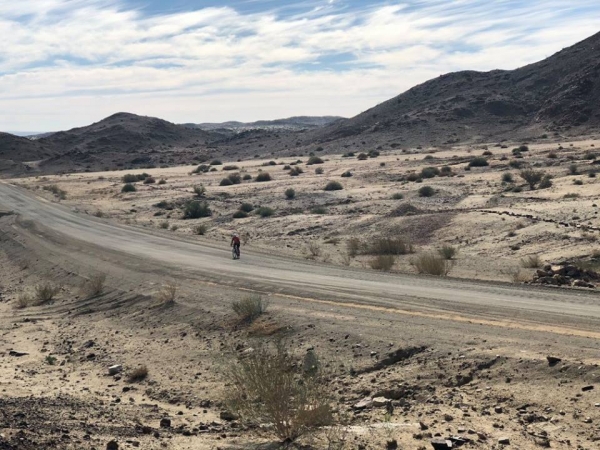 My few rides with people on Tour were with Jordan, the fantastically knowledgeable TDA bike mechanic/kid, who saved my Tour with his suggestions such as using wide platform pedals for my running shoes I was forced to use. Leaving Gondor, Ethiopia, sweep rider Jordan caught me. After watching me push my bike up a steep hill while he relaxed by the side of the road, he cycled up to me, gave me a Tour de France push to get going on the steep slope and then encouraged me to pedal to the top of the mountain (OK….big,steep hill). Once I reached the top with a whoop of joy that could be heard miles away, we raced down the other side with Jordan giving me the advance to start the descent then came screaming past me on the way down. I recorded the descent on my helmet camera and will look forward to seeing it in my old age.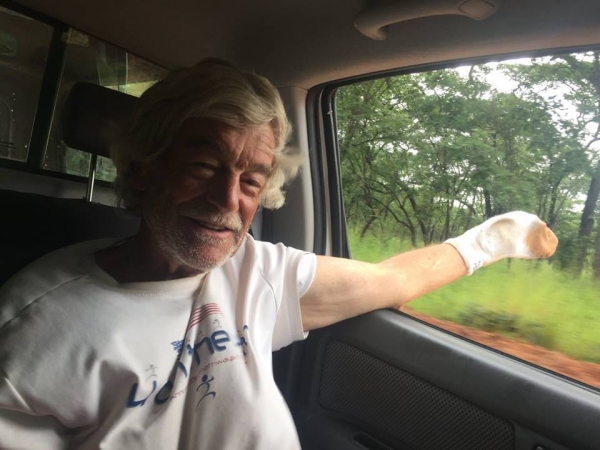 Another favourite ride was with Harriet, the extraordinaire TDA Tour physician . We ran into a major rainstorm with howling winds (TIA) and sought shelter in a hut crammed with locals who kindly made room for us to sit down. I will always remember the Masai man dressed in full red robe who helped me put on my expensive rain gear and then laughed as I put zip lock baggies over my shoes. I especially enjoyed chiding Harriet for telling me that the last 10K to the lunch truck were all downhill. After the fourth uphill, I told her thank goodness her medical skills were not on par with her map reading skills. I was so proud of her when the bus flipped spilling people onto the road as she tended to a wounded man by bandaging a bad gash.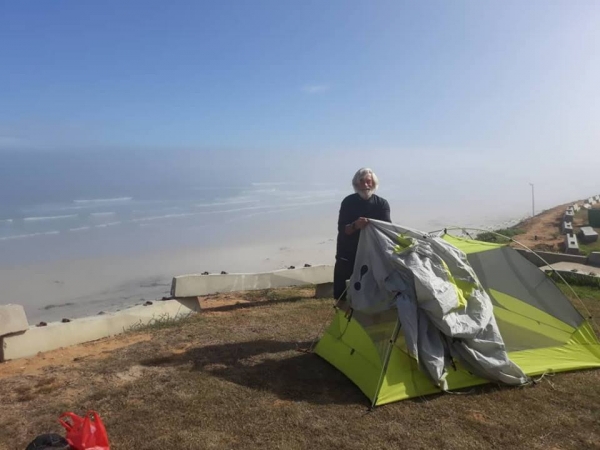 Even now I still have trouble trying to put it all in perspective. Unlike some of my fellow riders who had been planning this trip for up to 10 years, I came late having stumbled upon TDA Global Cycling when I googled "Bicycling from Cairo to Cape Town" expecting to see blogs of tough guys who pushed their bikes through sand and mud for 40 days and nights, ate desert rats for dinner and other tough guy stuff. Instead, I was greatly surprised and somewhat taken aback when I found there was actually a company offering a fully supported bicycle tour. I was even more surprised they would accept a 68 year old man as another company in England that offered camping only tours along the same route told me their insurance company would not let them accept anyone over the age of 65.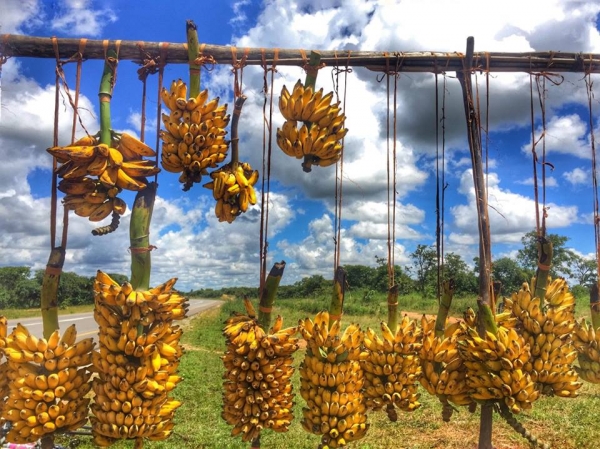 I still get tears in my eyes when I think of some of the memories. Nearly everyday on Tour, I would be cycling along (always alone for hours) and would become overwhelmed with the thought I what I was doing causing me eyes to swell with tears of joy. When Tallis would pass me in the Hi Lux, I would yell out, "Hey Tallis! Guess what I am doing? I am cycling in Botswana (or Egypt or wherever)". I began each day with Steven, the Tanzanian TDA driver of the big truck, who would ask me how I was doing. I would answer with "This is the best day of the rest of my life" . When the going got tough, I would ask myself "Where would you rather be?". The answer would be nowhere else but right here and right now. I would always ask Steven where he would rather be than with his brother (me) right here. He would respond nowhere but right here, right now. It became a mantra with Steven and me such that "Right here, Right now" became a daily ritual. We later learned there is a song with that title. The other staff members would chant the same refrain to tease us.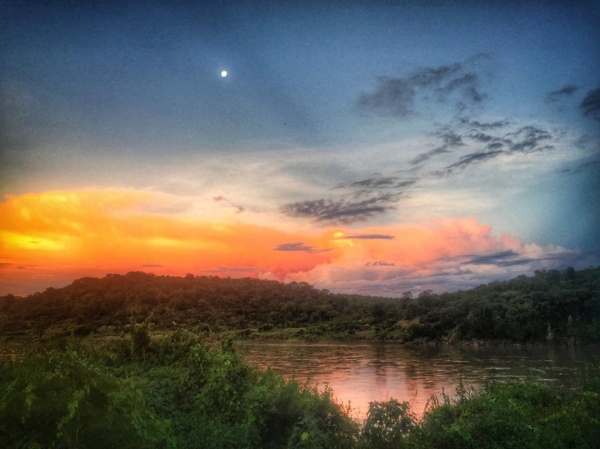 My favourite memory was cycling in the convoy on the last day. I had rehearsed my finish many times in my mind. As I approached the finish line, with my vision clouded with tears of joy, I shouted " CINDY, WE DID IT"" over and over. The WE referred to Cindy and me. Cindy may not have done any pedalling or camping but she was with me for the entire Tour. Her support was so important for me. She would get perturbed when I would call her at 4AM my time but well past her bed time back in the States. She wired crucial funds to me in Ethiopia and sent a DHL package with US cash to Livingstone, Zambia. Guess what? The package made it. She also took care of hundreds of items back on the home front including taking care of a debit card I stupidly compromised when I fell victim to an on line scam. She also had the Wimp Club T-shirts made and brought 18 to Cape Town. As Tallis said, too few riders acknowledge the support of those back home. I especially appreciated the day last August when I told her, "I am going to Africa". Cindy was always 100% behind me.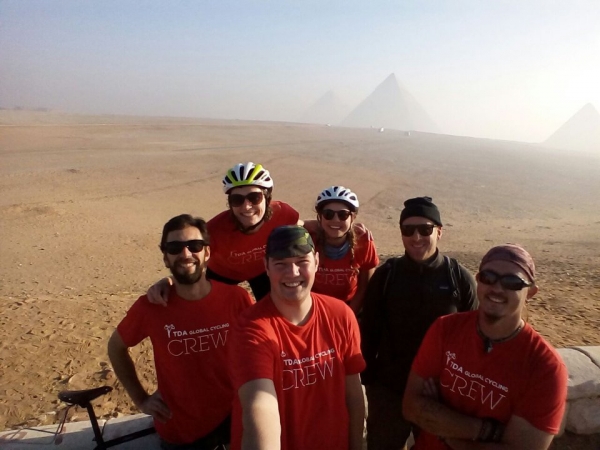 Lastly, I want to thank TDA Global Cycling and the magnificent staff on Tour for making this adventure possible. In addition to the staff I was fortunate to travel with, I also want to thank Michael in the Toronto office who encouraged my participation after sending me the most frightening email I have ever received which stated "Yes, there is plenty of room on this year's Tour and we would welcome your participation". I also want to thank the peoples of Africa for allowing me to safely bicycle through ten countries across their continent. At each border crossing, I thanked the border person for allowing me to cycle in their country. Some appeared confused by my comment. I would then hand them my business card about the Tour. I also want to thank all of my fellow riders who offered their support and encouragement. I learned quite a bit about camping, cycling and just plain how to live from them for which I am grateful. And my thanks to all of you that followed my adventure and offered words of encouragement.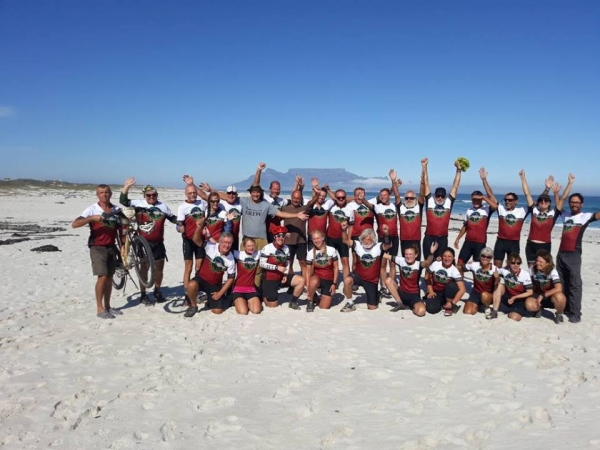 And so, I now say good-bye to Africa. Thanks for the adventure.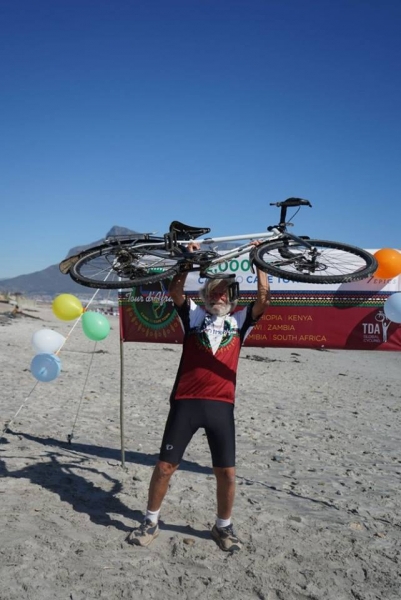 Don Holshuh, Tour d'Afrique 2018