Blog
REGISTER NOW
LOGIN
SIGN UP FOR OUR NEWSLETTER
There Are Strange Things Done In The Midnight Sun…
TDA staffer and 2019 North American Epic Tour Leader Cristiano Werneck recently returned from his trip to Canada's far north where he was scouting the new route from Tuktoyaktuk  to Whitehorse, including the brand new (opened November 2017) gravel road from Tuktoyaktuk to Inuvik.  He sent this report:
I looked around me in disbelief. I had just arrived in remote Northern Canada and all my equipment was giving up on me. The GoPro had just died, followed quickly by my GPS. On top of that, my laptop's charger was also not functional, which meant that I couldn't download all the videos and photos I had been taking from my phone. I was using my phone for navigation (not many turns up here but I did need distances and elevation data for the North American Epic Tour Manual) and voice notes. Now even its mount had broken.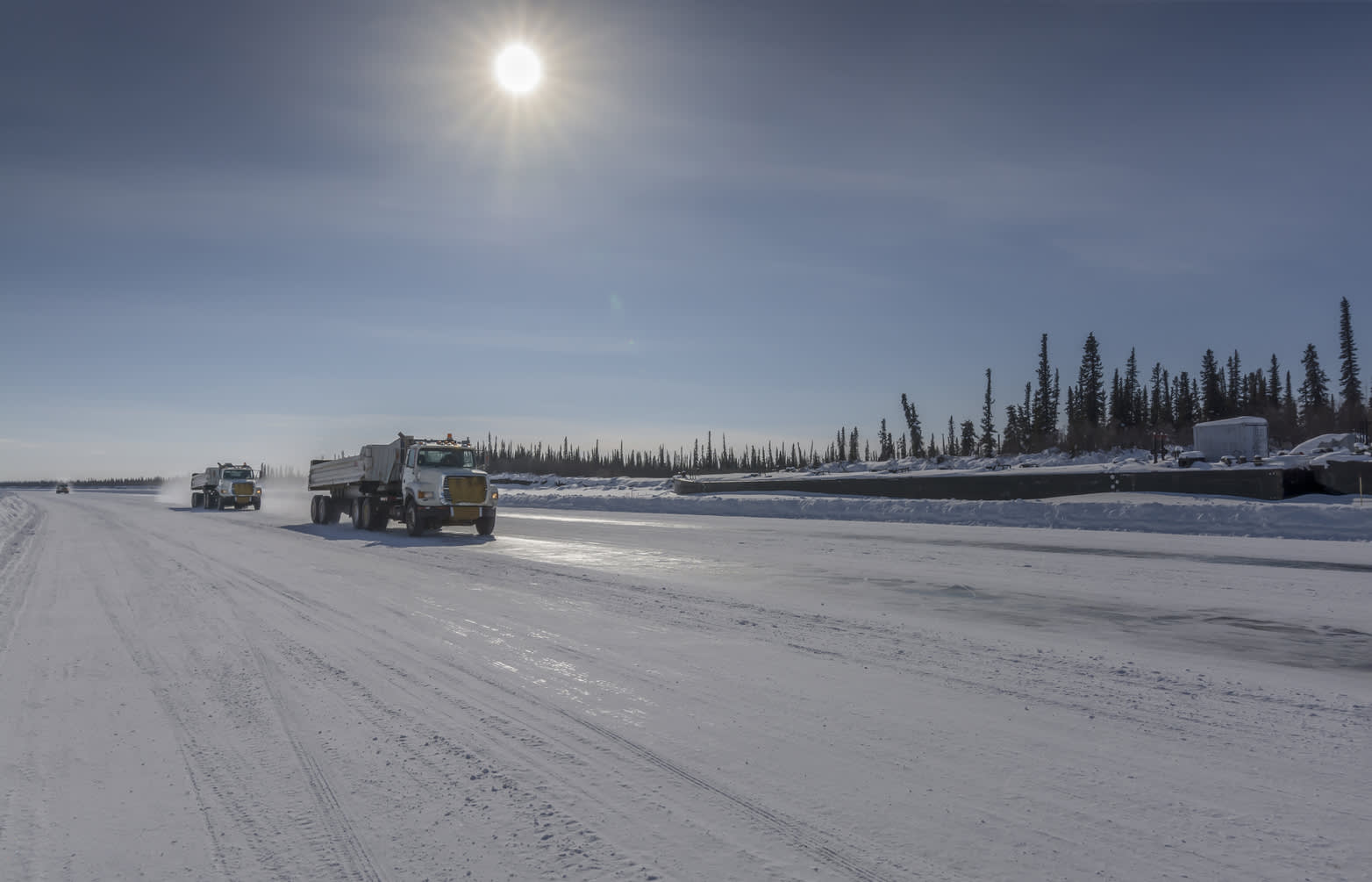 I looked around again and took a deep breath. After all, I was very lucky just to be where I was. The Canadian North is a special place that not many people have the privilege to visit. In fact, until a year ago the only way to drive a car where I was currently going was to wait for everything to freeze over in the winter.  All this had now changed with the completion of a brand new gravel road between Inuvik and Tuktoyaktuk. I decided I wasn't going to allow technology to ruin my experience. It was a long weekend in a very remote area of the country so I was going to have to make a plan. I kept reminding myself that I once met a drunk old man in a bar who told me that technology is great but "they haven't finished inventing it yet". With a shy smile on my face I kept going. I thought to myself, as long as I can keep my phone's cord working, I can get by.  That cord, however, had been giving me warnings for quite some time now. I had an old spare phone as a back-up but I needed internet access to set it up.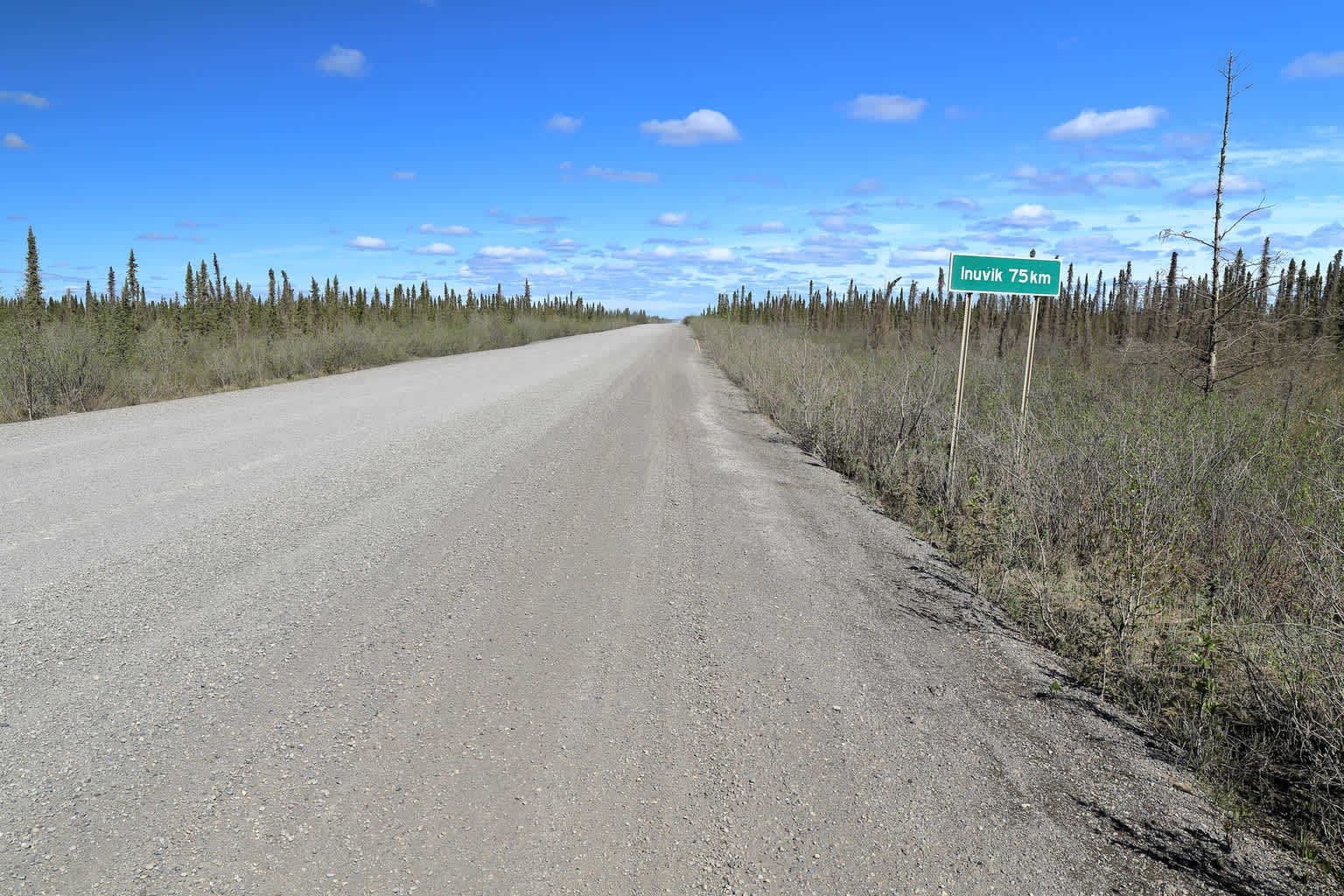 I decided to spend the night in Inuvik and see what I could come up with. After a couple of nights of sleeping in the car in the middle of nowhere it would be nice to take a shower and have Wi-Fi. After having seen and measured the route on my drive north from Whitehorse, I needed to connect with the office and make some changes to the tour's schedule. Having just landed in Canada a couple of days earlier after scouting another part of the same tour through Central America, I realized that I didn't have a SIM card either (remember it was a long weekend).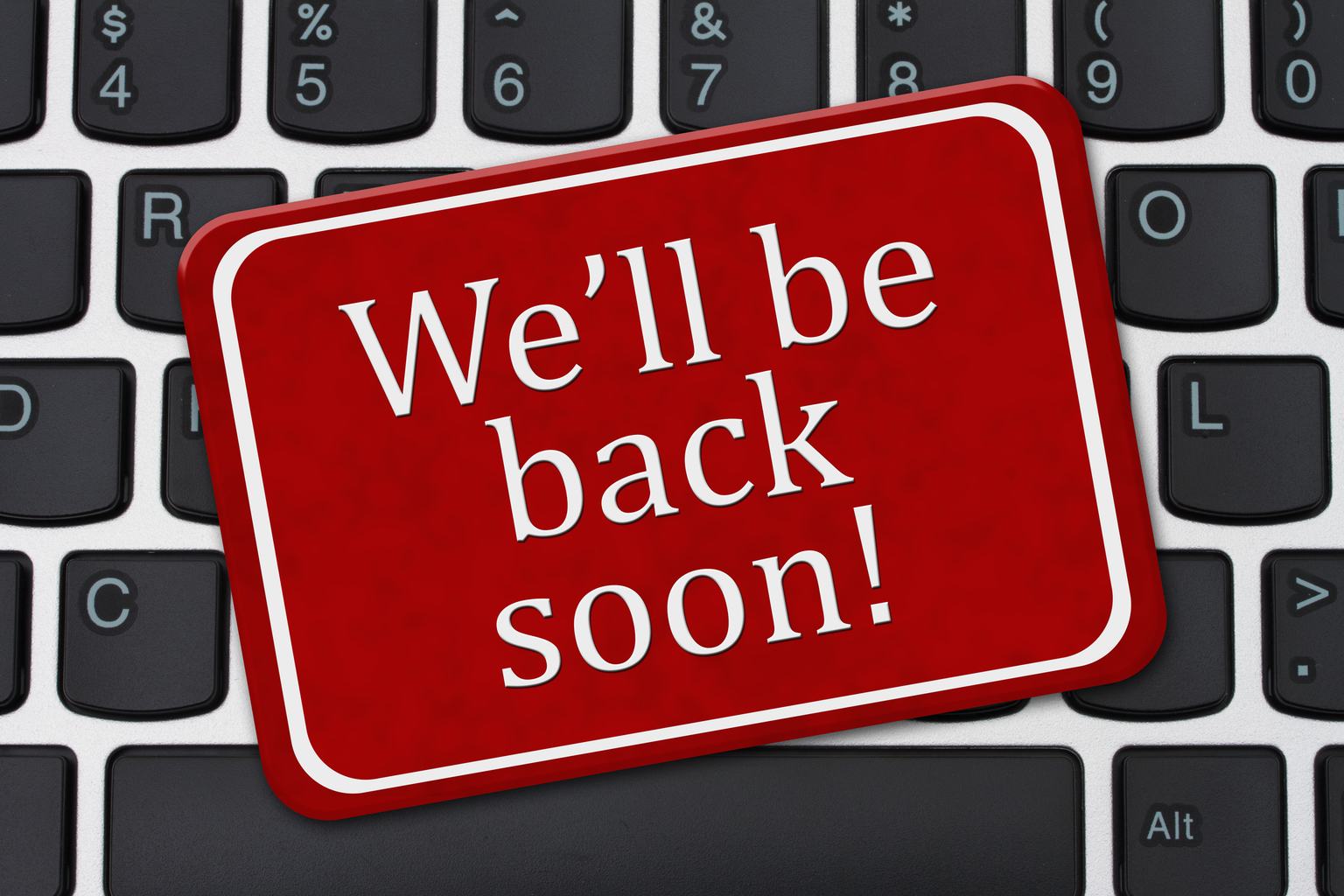 After checking in (and paying an arm and a leg for a room), I had a shower and sat down in front of my phone to try to connect to the rest of the world –  only to get a "no internet" message. It was almost midnight but because the sun never sets during the summer when you are that close to the North Pole, it seemed like it was 2 pm and I had a lot of energy to do some work. "Sorry, our internet has stopped working but we are doing everything we can so that you will have internet tomorrow morning. Just don't wake up very early" the nice manager from the Barbados advised me. All of a sudden, I simply didn't even have the energy to argue and I just went to bed to try resting a bit. That, at least, I knew I could do without the internet, cameras, GPS, a laptop and a phone mount.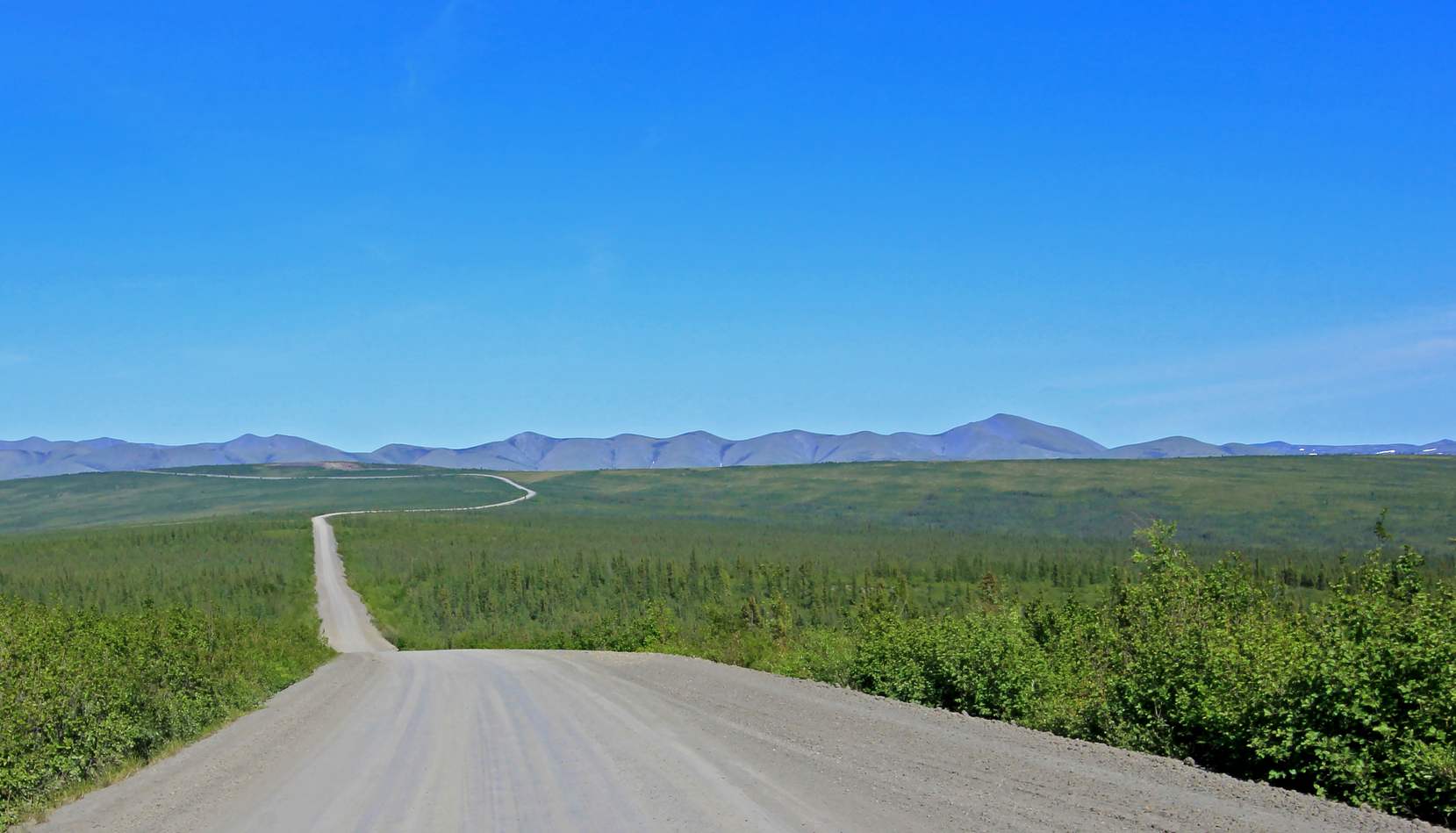 The following day I got up before the internet and since there was no breakfast at the hotel either, I headed directly to the Visitor Centre. I didn't want to talk to Google anymore. I had decided to try talking to real people like in the old days instead and see how that worked out for me. I was welcomed warmly by their lovely staff. They not only answered all my questions but also gave me a nice guide book with kilometre by kilometre information. I could not really ask for more.  Then I was introduced to something amazing called the "Dempster Highway Post Service". As there is not much in terms of shopping and supplies along the route, cyclists and hikers (and motorcyclists) can drop packages in one of 3 locations to be picked up in a few days in another of those 3 locations. So, the day before, a cyclist who was just starting his ride south had dropped a big box of supplies there to be picked up in Eagle Plains almost 400 km south and I was going to be his courier.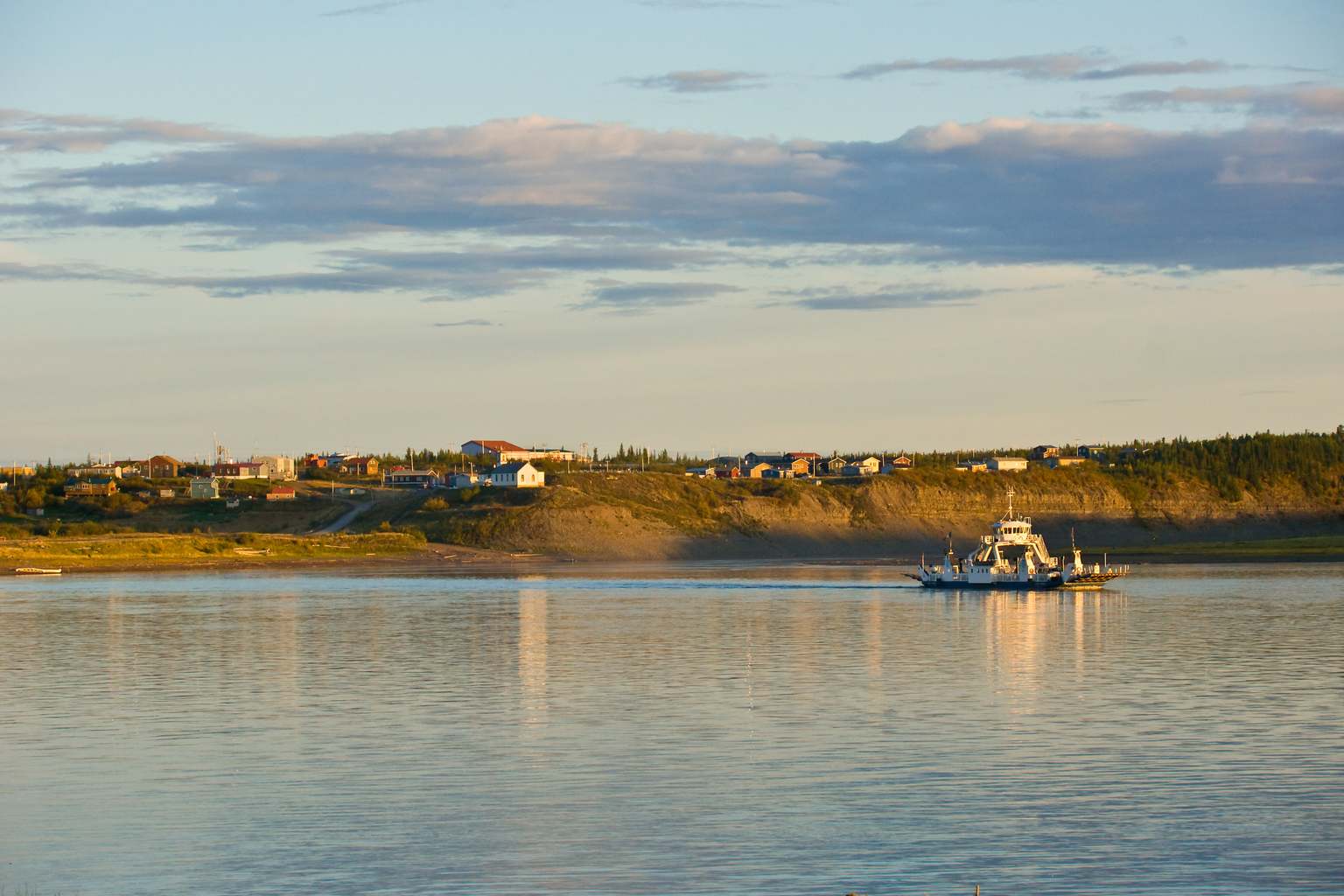 I sat in the car in their parking lot and browsed through my phone, deleting anything that wasn't 100% necessary to achieve my mission. I (still) had a 'lemon' and I was certainly thirsty for some 'lemonade'.  Not even 2 flat tires nor a compromised credit card (both waiting patiently for me in the middle of nowhere) were going to stop me now. So as I devoured the guide book during any break I took, I learned some very interesting facts:
1. Inuvik is currently Canada's largest city above the Arctic Circle
2. The Mackenzie River, whose Delta you will be paralleling as you ride south, is the longest river in Canada. It flows 4,200 km from northern BC all the way up to the Beaufort Sea, draining one fifth of Canada's land area.
3. As the flow of the Mackenzie River provides an appropriate soil and climate, Canada's boreal forest tree line stretches all the way up to the 69th northern latitude which comes to a surprise to many people.
4. The landscape north of the Richardson Mountain (in the NWT) is surrounded by the Laurantide Ice Sheet, with ice hundreds or thousands of metres thick.
5. The Yukon has many legends such as The Mad Trapper & The Tragic Lost Patrol
6. The Dempster Highway will take you through 10 of Canada's 217 eco-regions. It leads you across a portion of Eastern Beringia (the vast refuge that escaped continental glaciations during the last ice age) and introduces you to the winter habitat of the Porcupine Caribou herd.
7. Building roads over permafrost is not easy!
8. The alpine tundra environment has probably changed, aside from the construction of the Dempster Highway, very little over the last 100,000 years or more. According to the Bering Land Bridge Theory, what you see now is the view the first people would have had as they roamed eastward from Asia, across the Bering land bridge, and into what is now the interior of Alaska and northwestern Yukon.
9. The Dempster Highway will take you through the lands of Han, Gwich'in and Inuvialuit people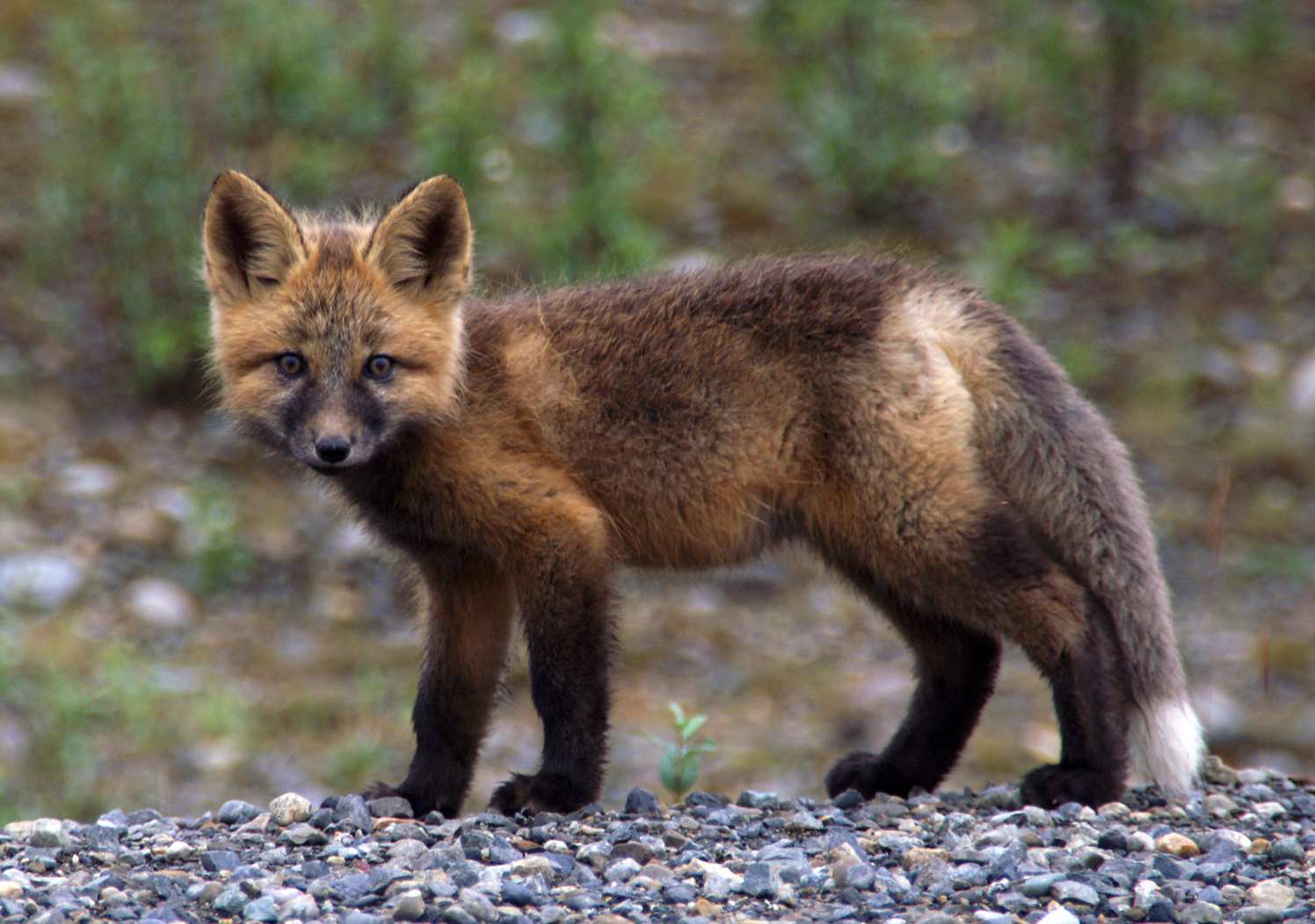 See you in the North!