Blog
REGISTER NOW
LOGIN
SIGN UP FOR OUR NEWSLETTER
UPDATED
August 27, 2019
no comments
UPDATED
August 27, 2019
no comments
OM MA NI PADME HUM ~ Buddhist Chants and Deep Play
I could see a bunch of little monks just running around like highly energized protons
Travelling here, up on the mountains, I ended up visiting a couple of monasteries. Apart from their stunning locations, surrounded by magnificent mountains, I could never admire their existence. As a non believer myself, I've been quite dismissive of any religious doctrines or believers, but I think that's starting to change this time.
Hold on, hold on.
I'm not turning into a believer suddenly. I am and will always be a follower of science, over religion but my perspective has started to change a little since my last visit to Lamayuru Monastery.
It's a beautiful monastery located atop a hill in the Ladakh region of Kashmir, India. A quick walk leads you up to the entrance that overlooks a lush green valley. Like any other monastery, there are a number of prayer wheels located from place to place inside the compound. Prayer wheels are basically cylindrical rotating wheels that have the Buddhist prayer chants ('Om Mani Padme Hum') written on them. Now I don't want to get into all the meanings and interpretations of the mantra, but you basically recite it as a means to obtain enlightenment and peace and this mantra is written in every nook and corner of a monastery. So after taking a couple of shots around the monastery, I decide to head back to the group's hotel. It was a lovely evening, with fresh golden light spread across the sky, and I was really hoping to get a couple of portrait shots of monks!
And ho, I was in luck! The Tibetan monks school had just dispersed, and I could see a bunch of little monks just running around like highly energized protons (so much for positivity ;))
I could contain my excitement no longer, and rushed towards them. A little shy at first they were probably wondering why was an Indian girl with a camera suddenly amongst them and smiling foolishly at any monk who she made contact with.  All it took was a few jokes and some funny comic sounds to break the ice! And boy, was it the best evening I'd spent yet. The half an hour I spent with the little monks, was by far the most refreshing time I've spent with any humans.
They were constantly playing pranks on each other, trying to run around tricking me, laughing at every other joke…it was just so easy to exist in that lively space. I was astonished to see their childlike curiosity at play, untouched and unhurt by what I thought of religion and its preachers.
RELATED
TOUR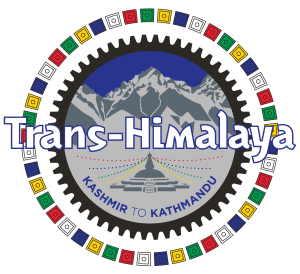 Trans-Himalaya
This 3,300km ride will take cyclists from Kashmir to Kathmandu. Along the way they will pedal over passes as high as 5,000m, spin past remote forts...
We were soon joined by some of the senior monks, and they had an even more amusing sense of humor. Without any barriers of age, gender or creed we laughed and talked about for what felt like an eternity, almost in a state of deep play.
In an instant I could completely understand the meaning of an excerpt from a blog that I had read ages ago, only to be able to relate now. You can read the wonderful piece of writing here.
"When one enters the realm of deep play, the sacred playground where only the present moment matters, one's history and future vanish. One doesn't remember one's past, needs, expectations, worries, real or imaginary sins. The deep-play world is fresh, wholly absorbing, and full of its own unique wisdom and demands. Being able to temporarily step outside of normal life—while keeping one's senses alert — is indeed like being reborn. To erase all memories and yearnings — to be vigorously alive without self-awareness — can provide a brief return to innocence." Read more from the blog here.
And with that new found wisdom, I hope to mold each of my days with a little more innocence and a little less judgment.
Until next time!
Nirmika Athalye is the Content Creator for the 2019 Trans-Himalaya tour. She will be documenting the tour in photos, blogs, videos, and social media posts. Follow along with the cyclists here on our blog or through Instagram where she is posting daily using the hashtag #tdatranshimalaya.