Blog
REGISTER NOW
LOGIN
SIGN UP FOR OUR NEWSLETTER
The Trans-Himalaya: A Baptism In Buddhism
Mats Fredrix was the Content Creator on the 2023 Trans-Himalaya Cycling Adventure. All the riders are now setting off for home after their dramatic 7 weeks in the Himalayas. Mats sends his final report from Kathmandu.
Landing in Leh in Ladakh, India, Buddhism to me was not much more than a fairly abstract notion of compassion, simplicity and peace. If anything, it mostly existed to me as an opposite idea, East opposed to West. And with the West's influence stretching far and wide today, I wondered how much of this age-old Eastern wisdom I could expect to garner. How hard would it be to catch just a sliver of it, when global tourism had inevitably been working its powerful effects on these areas since at least the turn of the century?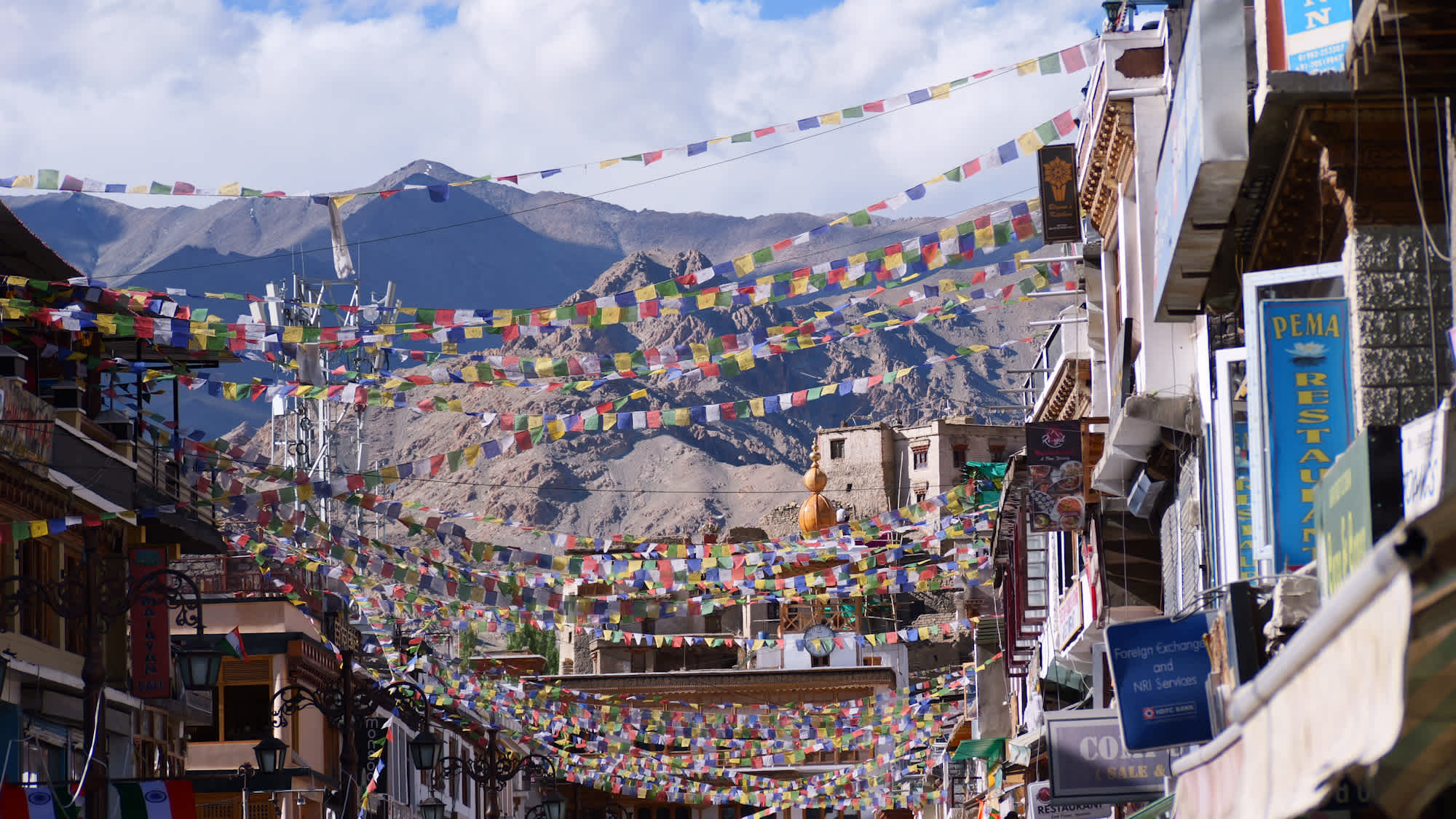 To lead a Buddhist life, is to lead a simple life.
Nevertheless, I was excited about Leh and Ladakh. I flew in considering myself pretty much a blank canvas, with maybe some minor brush strokes, created by a meditation app here or a YouTube video there. More than anything I thought myself eager, maybe even too eager, to find 'answers' that the West that I grew up in simply wasn't able to provide, or if it did, they had along the way been starting to feel stunted. During those first days my excitement grew with every minute I was there. There's something about the altitude and how it affects your body, which ties in seamlessly with Buddhism and its approach to life. On the subject one rider said, "I don't know if it has anything to do with the spirituality you feel up there, but the altitude definitely makes you feel a bit high and there's this calm that comes over you."
It also, especially in the beginning, causes headaches and an overall sense of discomfort. A shortness of breath at every step you climb, a throbbing heart rate when bending over to tie your shoes. It's quite unsettling  to realize you're just not capable of the same things as you are at sea level. It all adds up to one strong mantra – 'take it easy'. That might just be what it is all about up there among the clouds!
The strong Tibetan influence in Ladakh has a lot to do with its geographical proximity to Tibet. At many times in history Ladakh was a part of Tibet and that's pretty hard to miss. Yes, there's the Tibetan refugee markets in the cities and Tibetan prayer flags draped across any pole in sight, but Tibetan Buddhism's throbbing heart beats inside the many monasteries spread out across the land. Many are lodged into the side a hill or mountain. Inside, it appears that they are almost a part of the mountain. Tranquility is to be found up on their roofs, overlooking the majestic mountain ranges. Somehow, through some mysterious ways, they are safe from the biting power of the wind. However, the calm really starts to surround you inside the many cool, rocky caverns.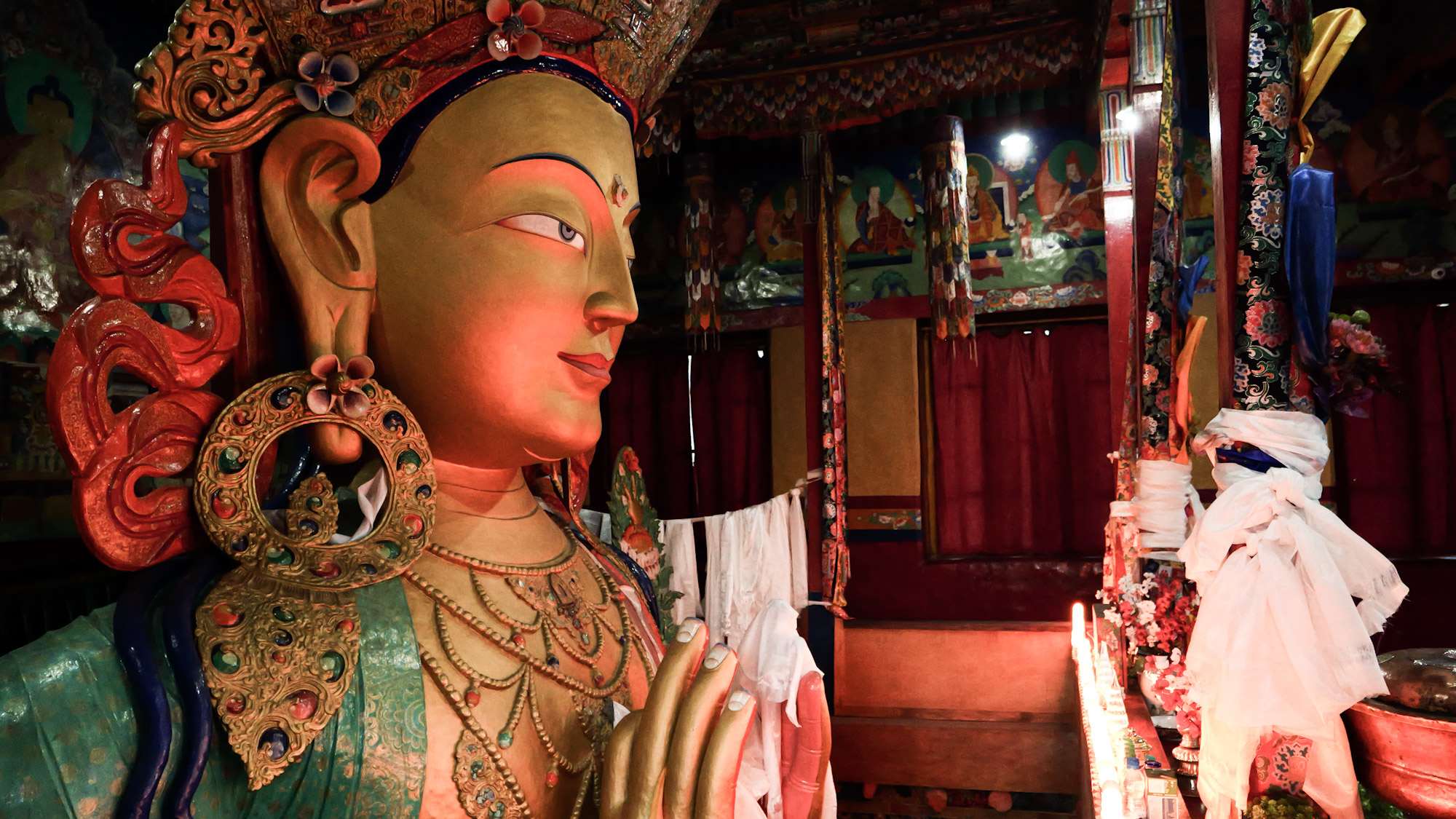 To lead a Buddhist life, is to lead a simple life. Shedding our 'reaching' ego and pointing our gaze inwards to the peace and calm of our own being. I in no way claim to be in a position to educate anyone on the inner workings of Buddhism itself but a book that might help anybody who's interested is 'The Tibetan Book of Living and Dying' by Sogyal Rinpoche. This is a spiritual classic from a writer who is one of the foremost interpreters of Tibetan Buddhism to the West. Yet there are many other ways to pick up some of these Buddhist gems of wisdom. One of our riders, An, recounted a conversation with a friend who had been to the Himalayas who explained to her the notion of the sky-like nature of the mind, which is so prevalent in Buddhism – "Our mind, with everything it entails, is like the sky, bright, vast, forever expanding and always there. Yet often problems, possibilities, joys and sorrows come over the mind, like clouds they may obscure it, yet clouds are always moving, and the sky will always be there unaffected."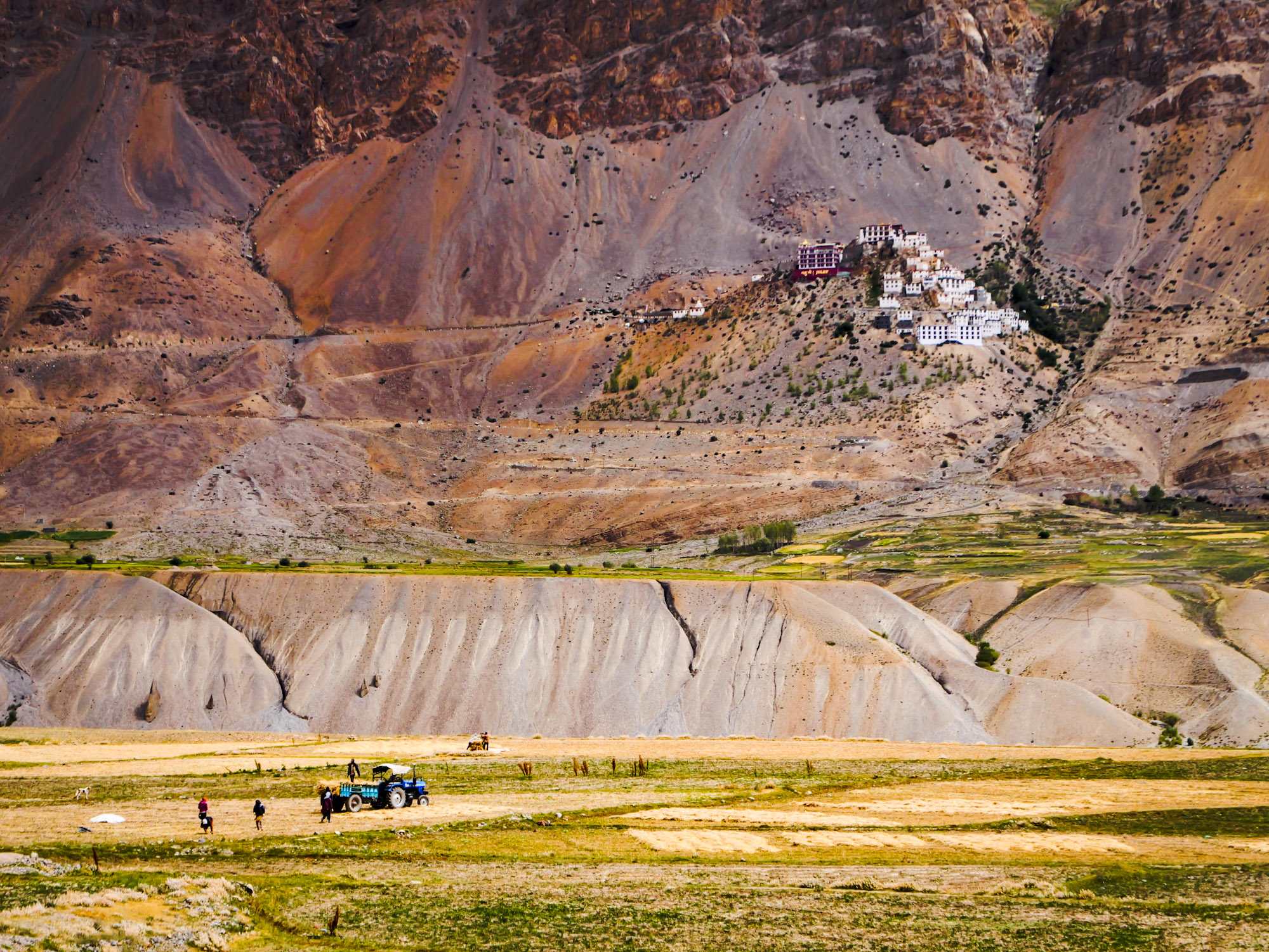 The TDA Trans-Himalaya Cycling Adventure explores just about everything there is to offer when it comes to Buddhism in Ladakh and Himachal Pradesh. From the bustling city of Leh, where Buddhism and trekking tourism clash, or should I say coexist, to the breathtaking Spiti Valley. In between these mountain passes, or deep in the high altitude valleys, Buddhism is everywhere you go. Yet interestingly enough, never exclusively. You come across plenty of Muslim and Hindu communities, all living in what really feels like harmonious existence together. Though difficulties and conflicts, as you can read in – 'Forsaking Paradise' – a collection of Ladakhi short stories by Abdhul Ghani Sheikh, between the many different groups, are also a part of the region's history.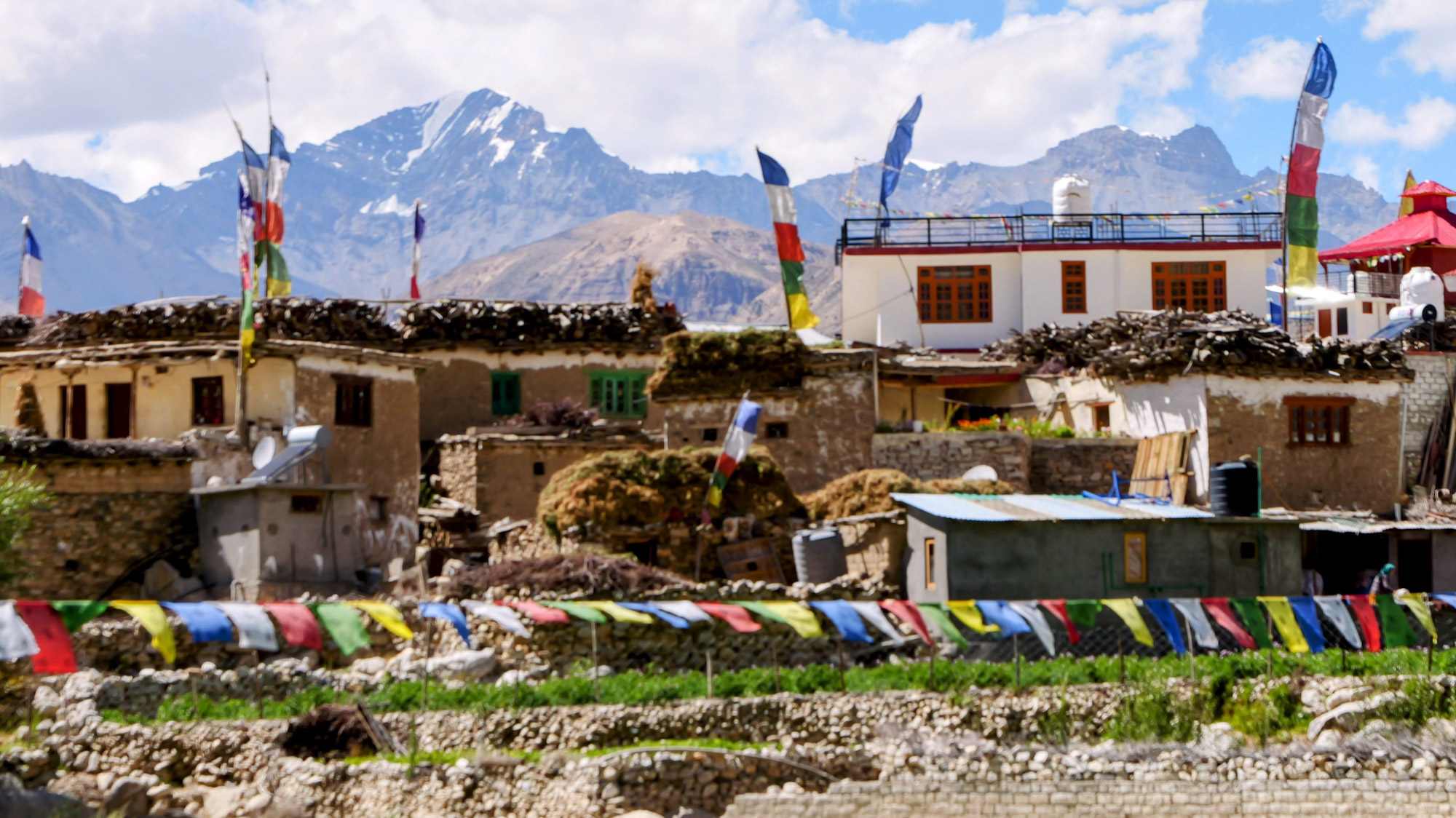 TDA tours are, maybe more than anything else, a way to see landscapes and cultures gradually transform from one to another. And this tour is no different. Barren, brown and grey rocks turn into a vivid, green jungle, calm turns into chaos, and Buddha turns into Shiva. A major landslide in Himachal Pradesh, near Kalpa, derailed our beautiful gradual transition on this tour though. Just as we were descending out of the high altitudes, ready to enter the green hill stations around Shimla, we were forced to turn back. And an arduous three day bus transfer, looping back around, made the change quite a shocking one.
While Shimla still felt on the edge of Buddhism's reach, the tour quickly pedalled deeper into Hindu spiritual grounds, with Rishikesh and the holy Ganges river providing a vivid example of the Hindu religious experience. Yet there would be one final resurgence of Buddhism on the tour, and not an unimportant one, in Lumbini, Nepal.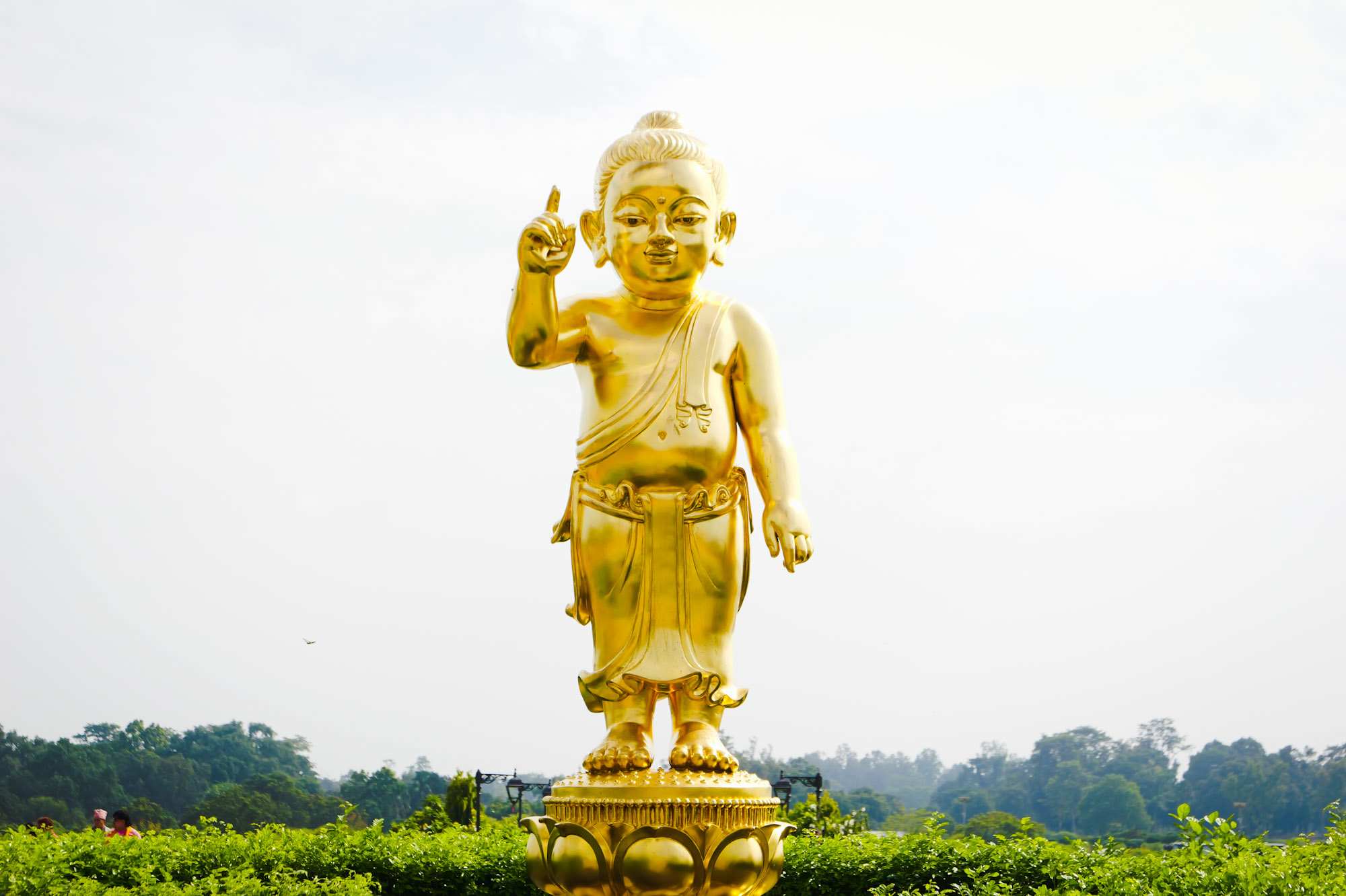 At this point, the TDA Trans-Himalaya Cycling Adventure had descended to its lowest point of the tour, just 80m above sea level. And with that, comes a completely different way of life. Long flat days on bustling highways, through some of the hottest places in Nepal, among fleets of local cyclists eventually brought the riders into Lumbini, the famous birth place of the Lord Buddha.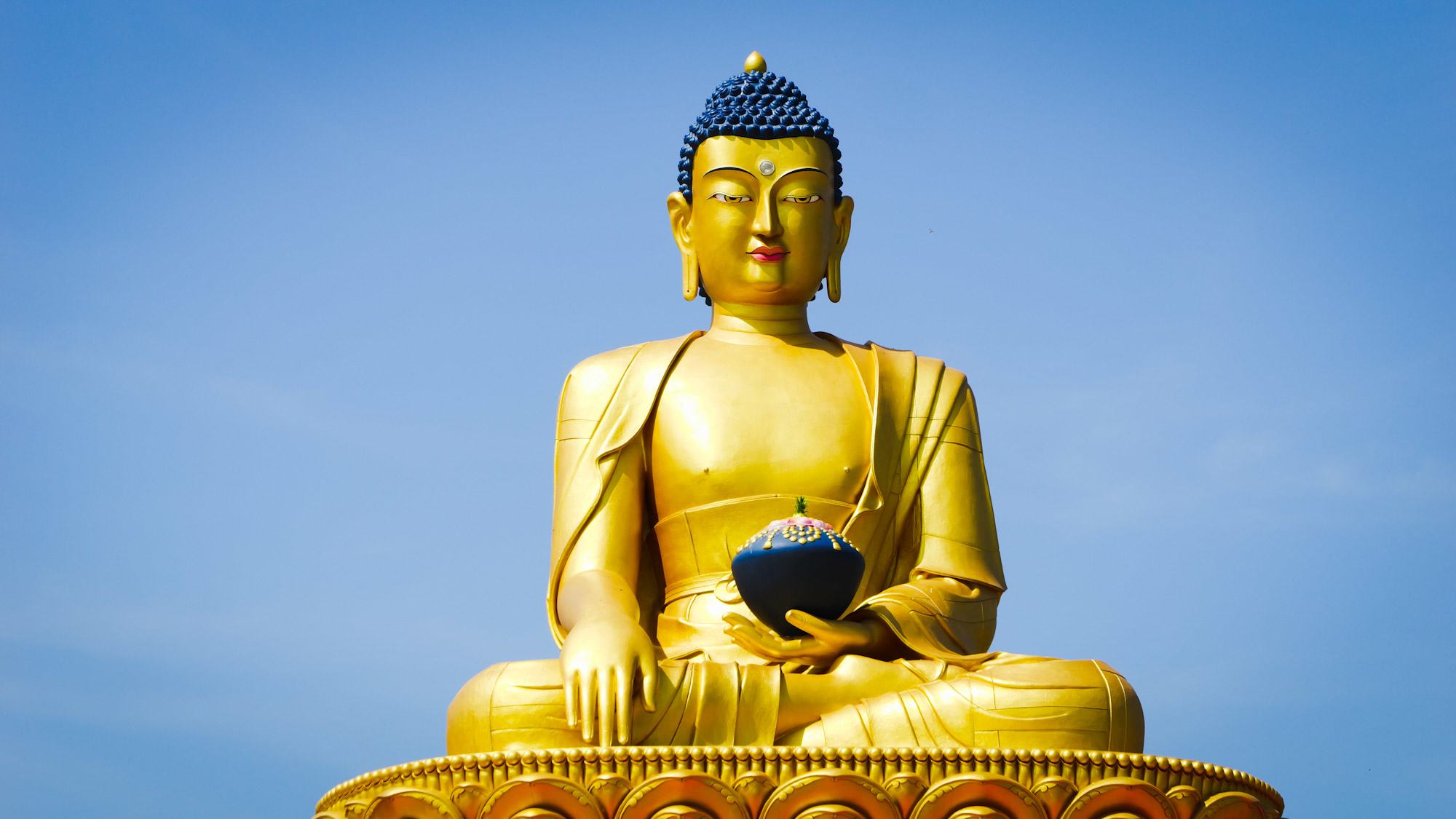 Lumbini is one of the holiest places in Buddhism and a place of religious pilgrimage from as early as the 3rd century BC. At the centre of it all sits the Maya Devi Temple inside the Sacred Garden, which holds the remains of Buddha's exact place of birth. The temple is very simplistic, everything inside the 'Sacred Garden' is of archeological importance and as such holds so much deep value to the religion that there's simply no need for any bling.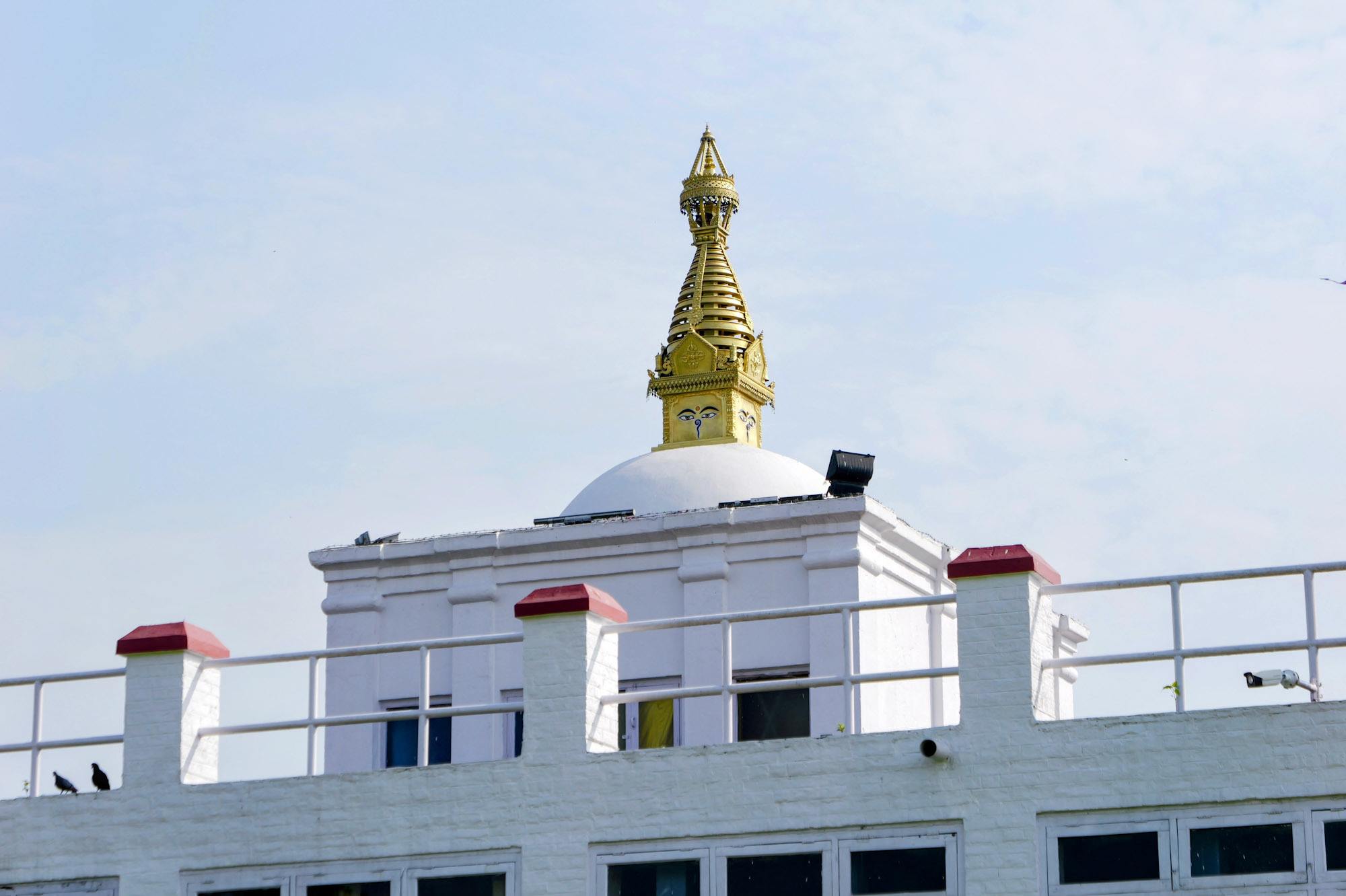 It is situated in the middle of a planned park built in honour of Buddha and Buddhism across the world, which is certainly of a less religious nature. Some of the people on tour who had been there, called it, a bit of tongue in cheek, 'Buddhist Disneyland'. It might be hard to imagine when you have not been there, but difficult not to see their point when you have. A large number of countries with a strong Buddhist culture were given the chance to build temples, called Viharas and Mahayana monasteries, in this park to honour the Buddha as well as represent Buddhist culture in their country. The result is an extravagant hodgepodge of styles and colour.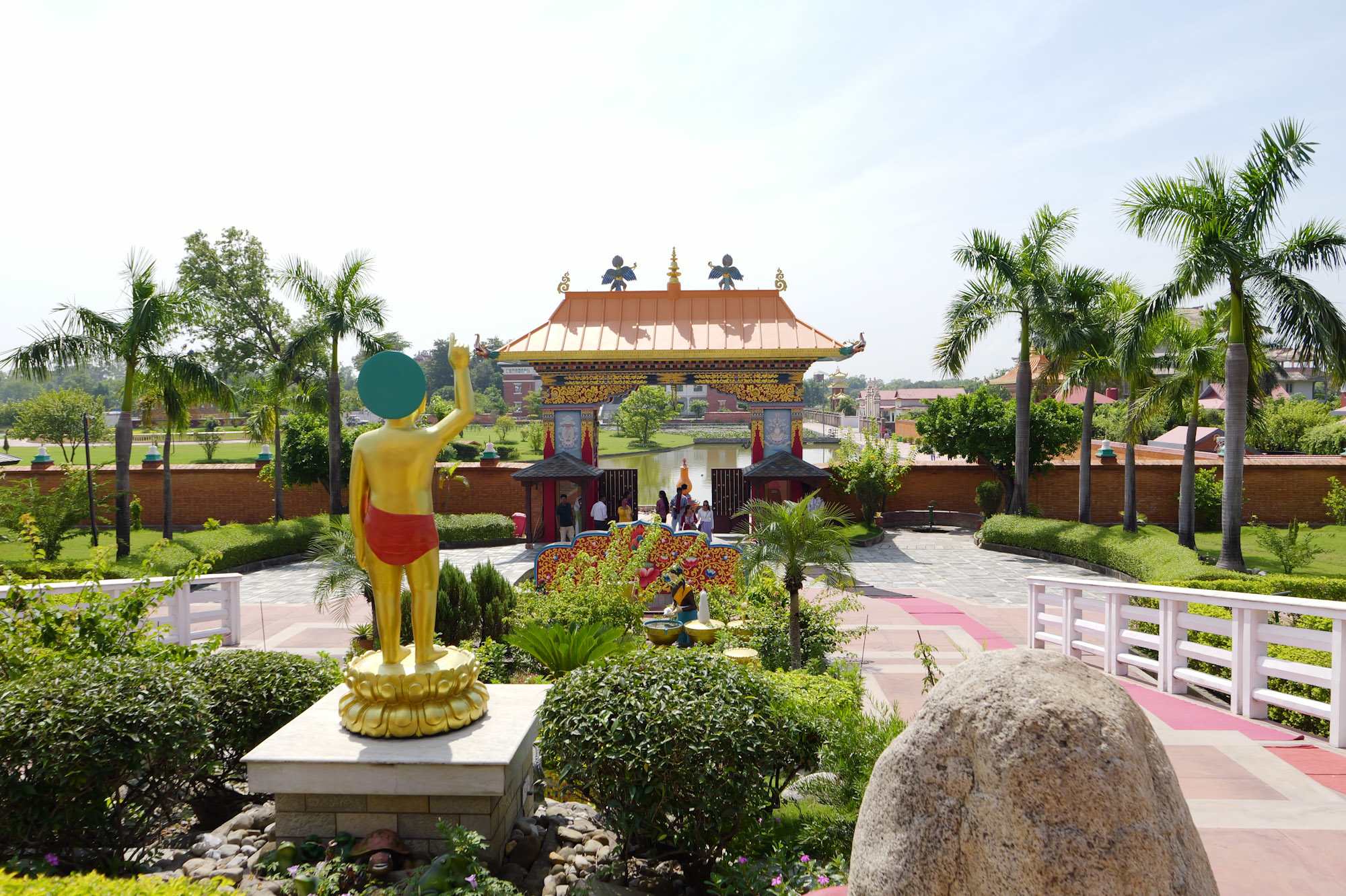 This is not to say that in and of themselves, the temples don't have any aesthetic value and seeing them together certainly gives you a scope of Buddhist influence across the world. The amusement park feeling when walking around is just impossible to shake. Add the fact that some of it feels either under construction or already falling into disrepair, and it all adds up to a rather confusing picture, which doesn't really seem to align with Buddhist thought at all.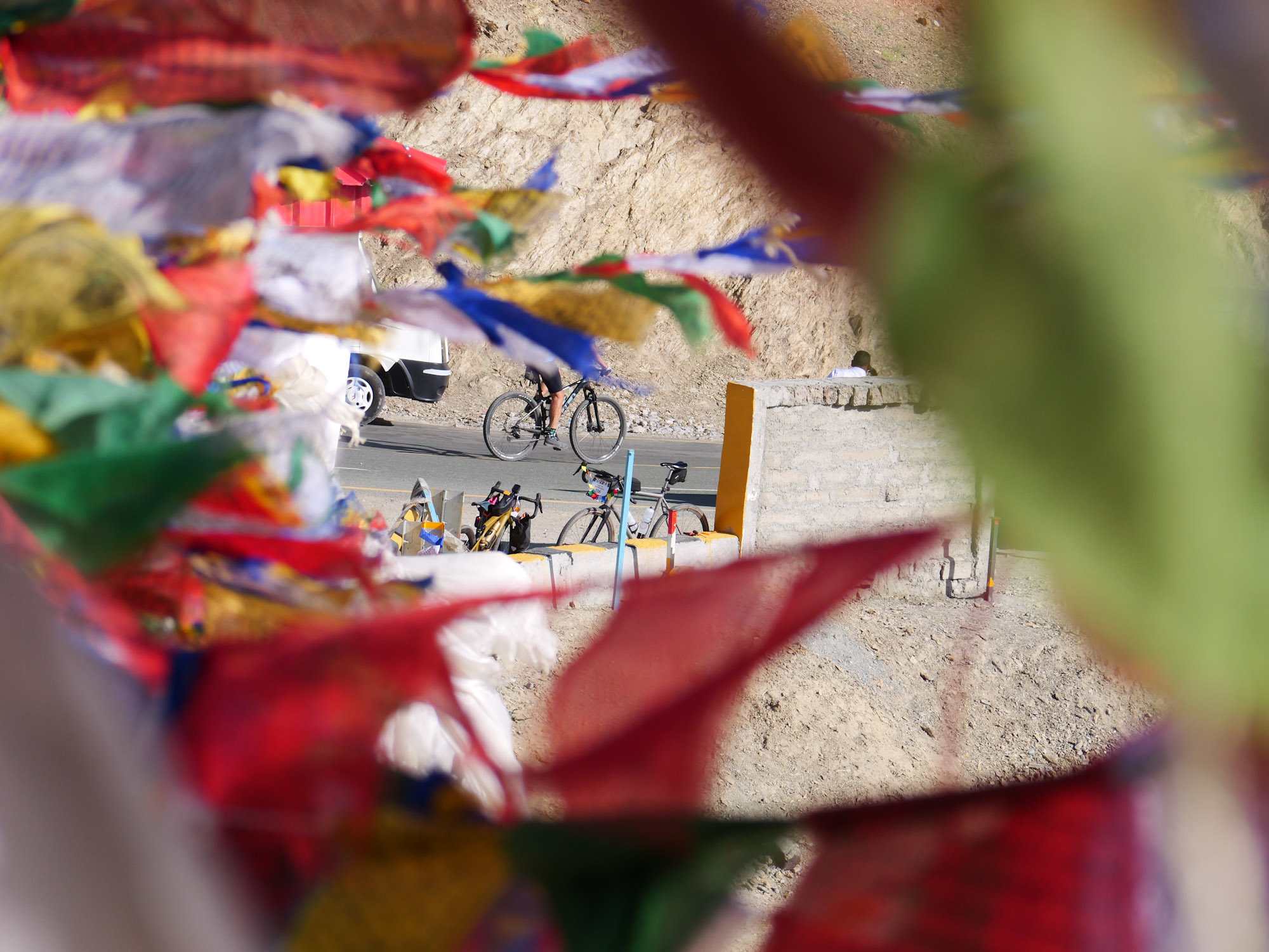 Soon we were back up in the barren mountains of Nepal however, exposed and simple, the perfect fit for Buddhism. Up there it all just makes a little bit more sense, but take the mountains out of Buddhism, like in Lumbini, and Buddhism suddenly starts to feel just a little bit out of place.
RELATED
TOUR
Trans-Himalaya
This ride will take cyclists from Kashmir to Kathmandu. Along the way they will pedal over passes as high as 5,000m, spin past remote forts and Gompas...