Blog
REGISTER NOW
LOGIN
SIGN UP FOR OUR NEWSLETTER
Parts 3 & 4 of our 8-Part Video Series – 'Cycling Cairo to Cape Town'
"You don't think about the distance or the day. You just, you know, there is only the next 10 meters ahead of us"
The nerves and anxiety of the Tour d'Afrique riders on display in parts 1 & 2 of our 8 part video series now give way to the ebb and flow, struggles and the triumphs of their daily experience as the weeks and months flow by.
Part 3 – Addis Ababa, Ethiopia to Nairobi, Kenya
"When we crossed over into Kenya we left the mountains of Ethiopia behind and all of the sudden it was just this vast savannah like territory." 
After leaving the mountain challenges in northern Ethiopia, the riders pedal out of the booming capital city of Addis Ababa and head south. Their legs are strong and they now have the confidence and conditioning to tackle Kenya. As one rider puts it, "we got into our stride a little bit." They spin through the dry northern deserts of Kenya, passing through the tribal lands of the Borana, Samburu and Masai people. Riders then celebrate crossing  the equator in the shadow of Mt Kenya.
Part 4 – Nairobi, Kenya to Mbeya, Tanzania
"Riding into Tanzania everybody was looking for Kilimanjaro"
Riding out of Nairobi, the cyclists head south towards the border with Tanzania, keeping an eye out for their first view of legendary Mount Kilimanjaro. In Arusha, Tanzania, the riders trade in their bicycles for safari vehicles for 3 days and experience the incredible East African wildlife living in the Ngorongoro Crater and out on the Serengeti Plain. The next week takes them over some challenging roads in the vast interior of Western Tanzania. Sand, dirt, gravel and some tough climbs make this a very intense section. One rider commented – "There were a few days where I felt like throwing my bike into the bush."
RELATED
TOUR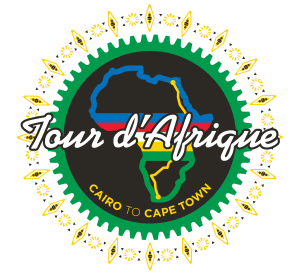 Tour d'Afrique
Our original trans-continental journey and flagship expedition crosses Africa from north to south, covering 10 countries in all. Beginning at the...
Parts five and six of this 8 part series will be released in our November newsletter. You can read our summary of parts 1 & 2 here. Make sure you sign up! Simply enter your email address here.
Hats off to filmmaker Laundon Peacock for putting this series together. Through broken lenses, illness, limited internet/electricity, and bad weather he was able to produce something that we feel gives everyone a great insight into what it's like to cycle the Tour d'Afrique.