Blog
REGISTER NOW
LOGIN
SIGN UP FOR OUR NEWSLETTER
I Want to Share Your Stories #tdacommunitynews
Hi Everyone! We hope you are all well.
During these extraordinary times, when many of our bicycle tours are on hold or have been rescheduled, we are switching gears and looking for your help in producing some inspiring blog posts, video interviews and social media discussions. I am putting out a call for submissions for a brand new initiative – TDA Community News.
We want to strengthen our global cycling community and use your talents and knowledge to entertain, inform, uplift and educate each other. We have established a diverse following with over 17,000 newsletter subscribers and and well over 20,000 followers on one or more of our social media platforms.
This is an appeal for your best stories, your most stunning photos, your most entertaining video commentary and your weirdest cycling or travel memories. The content doesn't even have to be exclusively about cycling. Would you like to help out and use this unique situation to our advantage?
How to Contribute
1. Post photos or videos to Instagram
You can post to your account using the hashtag #tdacommunitynews. Share the back story of your favourite photo or video and tell us why it was so significant to you. We will be sharing as many of these as we can on our Stories feed.
You can also send us the content. Each week we will choose a selection to post to @tdacycling. For example, here is my post last week where I recalled my first experience being a Tour Leader for our cycle trips across Europe in 2005…
View this post on Instagram
2. Send us your videos and blogs
We'd love to share your thoughts and feelings with our audience. Send us your ideas and commentary with a selfie video or blog post. Show us what life is like for you during the current crisis. You can upload them here (recommended for video), or simply email them to us. We will review all the content you send and plan to post as many as we can, either on our website or on social media.
Here is a great example that TDA alumni Jessica shared with us from New York City. It is an example of how some residents are trying to uplift each other during this difficult time. TDA Founder Henry Gold also reflected on the current situation and tried to put it in perspective, recalling the much harsher struggles of his parents during World War Two. And Operations Manager Miles MacDonald shared his memories of leading tours over the previous years.
3. Set up a time for a Skype video interview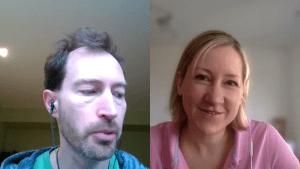 We have so many interesting people who follow us, both past riders and aspiring participants. They would love to hear stories and insights from other cyclists and travellers – especially these days. Why not share some of your experiences with our audience? I would love to do an interview with you.
We will send you a few short questions in advance and give you time to consider your answers. The Skype interview shouldn't take more than 15-20 minutes of your time. We'll ask a little about you and how you are adjusting to the current situation. We might also have you recall a favourite memory from a past trip – be it cycling or otherwise.
Thanks for contributing to #tdacommunitynews! We are looking forward to your submissions.