Blog
REGISTER NOW
LOGIN
SIGN UP FOR OUR NEWSLETTER
Traveling with Your Bicycle – Everything you Need to Know
HOW TO PREPARE: An 8 part series to get you ready for your first TDA tour. Click here to read more.
Traveling with your bicycle to join a tour in another country may feel daunting at first. We want to spend some time reassuring you that this journey typically goes very smoothly– especially if you plan ahead and follow the advice below.
People often wonder if their bicycle will get lost or damaged in transit or how they'll move two bags and a bike box through the airport. In this blog, we demystify the process and help you feel assured that it is very doable– with the one day of transiting rewarded by weeks or months of cycling adventures on the bicycle you love and know best.
First, Pack it Up Right
The first step is to pack your bike properly so that when it's being moved around by those gentle and considerate baggage handlers ( 🙄 ) you don't have to worry knowing your bike is ready for a rough ride, if necessary (all joking aside, the vast majority of the bike boxes are treated with care and arrive in excellent condition). If you haven't already, start by reading our blog on packing your bike which includes a very thorough how-to video.
Travelling with a Bike in 3 Steps
Once that is done, then we break the rest of the journey down into 3 parts:
1. Booking a Flight and Getting to the Airport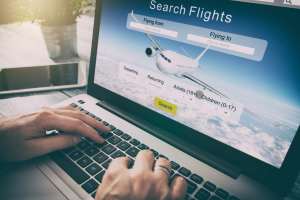 There are a lot of things to consider when booking a flight when you are taking a bike along. Different airlines have different fees for bringing your bike with you. In most cases it is considered 'oversized checked baggage.' You might have to pay because its over-sized, overweight or both. On some airlines the bike box is the same fee as any other piece of luggage. Depending on how many pieces you have, you might be paying for an extra bag anyways (an experienced cyclist for one of our tours can fit everything in one duffel bag and one bike box but those with a bit more bulk might need two duffel bags plus the bike box).
Consider the overall cost of your ticket including the charge to bring the bike. This will mean reviewing each airline's baggage rules and fees. One airline might be a few hundred dollars cheaper, but with the fees for your bike, it ends up to be more in the end.
Another important consideration at anytime, and especially when flying with your bicycle, is how many connections do you need to make on your way to the final destination. Typically the fewer connecting flights, the better. This reduces the chances of damaged or lost baggage.
Also – does your ticket include more than one airline? You might have a ticket that pieces together a route using two different carriers (eg Toronto to London Heathrow on British Airways then London to Nairobi on Kenyan Airways). If that's the case you need to check if you will need to pay twice for the bike box – once to each airline.
Getting to the Airport
Once you have your flight ticket, we suggest booking an airport taxi in advance. Make sure to tell them you have a bicycle in a box plus other luggage so they send an appropriated sized taxi.
Schedule the taxi considering traffic, and extra time needed to deal with your oversize baggage and any potential delays that might cause. Airlines normally ask you to arrive three hours in advance for an international flight, so I would stick with that or even consider arriving earlier. Once you are finished checking in, it gives you more time to have a drink or some food and relax before the flight.
2. Checking In and While In Transit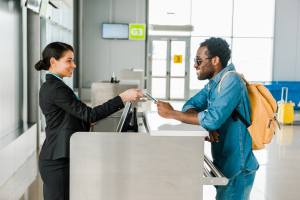 You should be able to check in online 24 hours before your flight. At the same time you should be able to pay your baggage charges, including your bike charges. Many airlines offer a discount if paid in advance and, if nothing else, it will save you the extra headaches at the airport.
Check Your Bags to the Final Destination
Confirm with the airline whether the bike will be checked all the way through to your final destination. This might seem obvious but sometimes if you have to go through customs before transferring to a domestic flight, they will make you recheck your luggage, or in some cases for security reasons they require luggage to be offloaded, re-scanned, and rechecked before boarding your connecting flight.
Oversize Baggage Area
At many airports, once you are checked in, you are asked to take your packed bicycle to an over-sized luggage area for security check and for it to be sent through for loading onto the aircraft. There is a chance that instead of putting your bike box through an x-ray, the security officials will want to open it up and look through it. They might even ask you to remove it from the box (a good reason to have it packed properly with as few loose items as possible). At some airports, this step is necessary as the oversize security scanners are not large enough to scan your bike box.
This is another reason to give yourself extra time and be sure to bring packing tape with you so you can reseal the box afterward.
Save Yourself the Hassle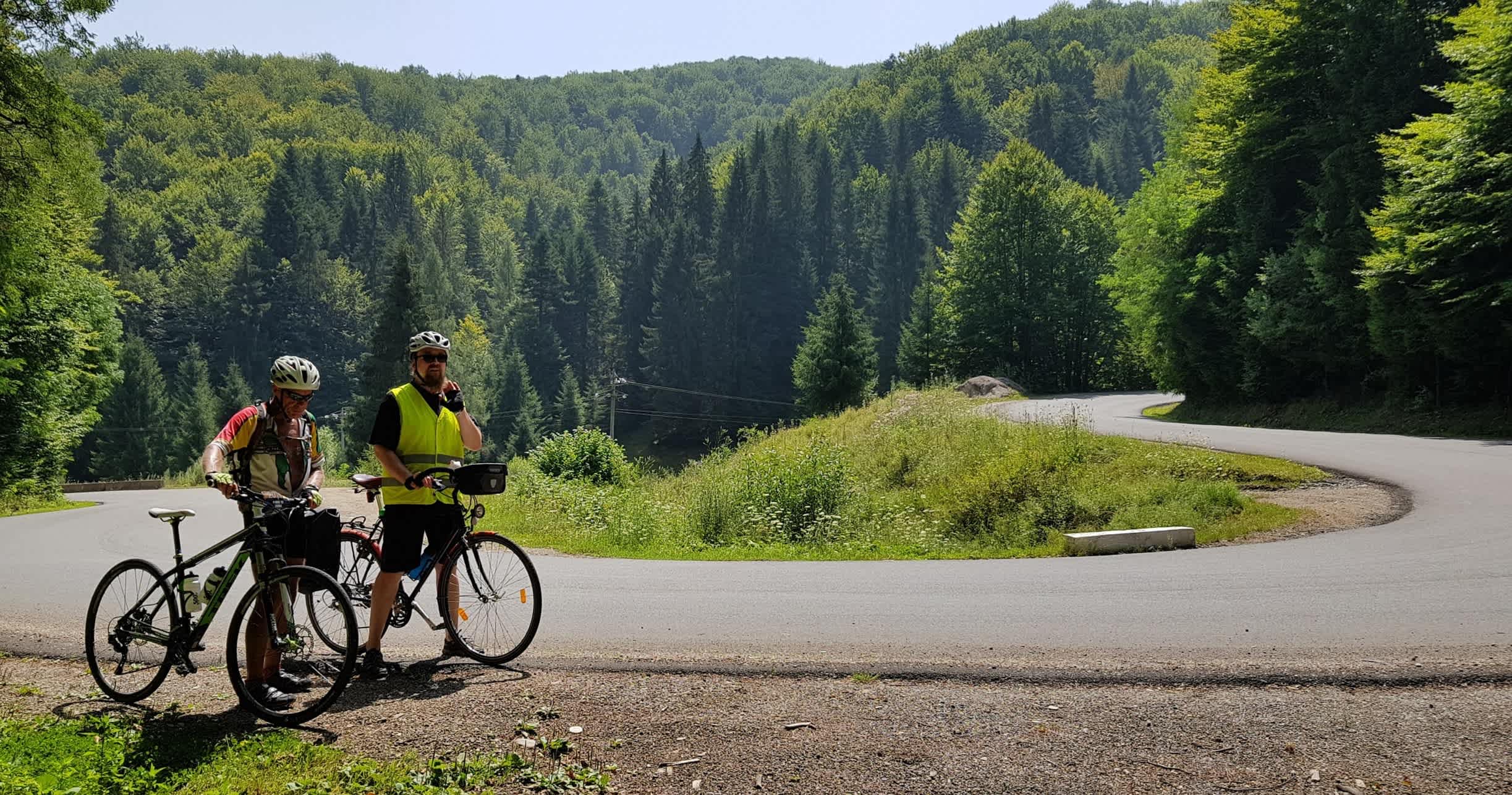 Plan ahead so that between the front door of your house, and the start of your cycling adventure on the other side of the ocean there is as little lugging of the bags as possible. You will pick them up to put them in the taxi at your house, then onto a baggage cart, then onto the baggage belt and that's really it. On the other end, you should arrange it again so it immediately goes on a baggage cart and straight into the taxi.
Porters, the taxi driver and hotel staff will fill in the other gaps (and they should be tipped accordingly) but essentially you want to make this as seamless and stress free as possible by planning ahead and having change or a credit card ready for luggage carts, and small bills for tipping those who assist with your bags and bike.
3. When You Land and Finding a Taxi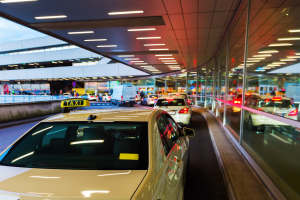 Once you arrive, find your way to the baggage claim area. Your bike might come on a separate belt or at an over-sized luggage area. Ask around if you are unsure.
As soon as you get the bike box, check it carefully for damage. Are the bottom corners crushed? Are the hand holds ripped out? Is the top open? If you see any significant damage, take a picture from a few angles, then open the box and do a quick inspection of the bike. If you notice anything broken or damaged report it at the baggage desk. But if you only notice something later on when you are re-assembling the bike, it's also not too late to report the damage and seek compensation from the airline. Make sure to keep all your boarding passes, baggage tags and take photos of the damage.
Lost in Transit
You wait and wait and your bike doesn't show up. Oh no! But don't panic. This does happen from time to time. If the airline says your bike is delayed, give them the address of where you are staying, and they will need to deliver it to you when it arrives. Almost always the bike was loaded on the next available flight and it'll be delivered before you have time to panic too much. Sometimes later the same day, but more often the next day. This is a good reason to plan your schedule so that you have a day or two (we recommend two days on our tours) in the city of your arrival before you set out on the cycling adventure.
Get the phone number of the baggage desk and/or the airline so you can call them directly to check when the bike will arrive. They will usually ask you to complete a lost baggage form. If the airline says it's delayed, but later on says that it is lost, contact your travel insurance (if you have baggage coverage) though this is extremely rare. In fact, in almost 20 years at TDA, it has only happened on a couple of occasions.
Pre-Arranged Shuttle
After a long flight we are all a little groggy and not as sharp as we normally are. This is a great reason to arrange in advance for a shuttle or taxi to be waiting for you. There is nothing like the joy and relief of seeing a friendly person holding up a sign with your name on it in a new place where nothing at first seems familiar.
Most cities all over the world have shuttle or taxi services that can be booked in advance – usually using online reservation platforms. In some cases, the hotel you are staying at might have a free shuttle or can arrange it for you at a fee or at the very least can recommend the best options available from the airport.
Remember that anything you arrange in advance will be more expensive than simply flagging down a taxi when you arrive – you are paying extra for the convenience and for a worry-free arrival. But remember to ask for an oversized van or taxi and carry a booking confirmation or receipt with you.
Re-assembling your Bike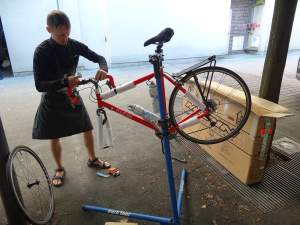 On a TDA tour our tour mechanic will help you re-assemble your bike and readjust the gears as necessary. We also ensure that you will have a bike box at the end of your ride and our mechanic will again be there to help get it ready for the flight back home.
If traveling alone, most hotels will allow you to take the box into your room and you can assemble it there. Otherwise ask them if its possible to use the parking garage or any unused conference rooms and service areas where you could assemble your bike and store it safely.
How to Prepare
An 8 part series to get you ready for your first TDA tour. Click here to read more.