Blog
REGISTER NOW
LOGIN
SIGN UP FOR OUR NEWSLETTER
Getting Visas for your Cycling Tour – Everything You Need to Know
HOW TO PREPARE: An 8 part series to get you ready for your first TDA tour. Click here to read more.
In the past, as a TDA Global Cycling tour leader, I was fortunate enough to have travelled all over the world. I experienced a variety of visa application processes in many different countries. I also had passports lost at courier sorting facilities, managed to leave one at a shop in rural Georgia in the Caucasus region and saw some of our cyclists' trips interrupted (or ended) due to bureaucratic hiccups. As a result, I have learned a few tips and tricks that I thought I would share with you.
If you are thinking about a big solo cycle touring adventure overseas or planning to register for a tour with TDA, you are likely going to be spending some time researching visas and entry requirements for certain countries. Here is a list of things to keep in mind when you start that research.
I have broken this down into three main categories. Click the topic below to jump to it directly.
Definitions and Basics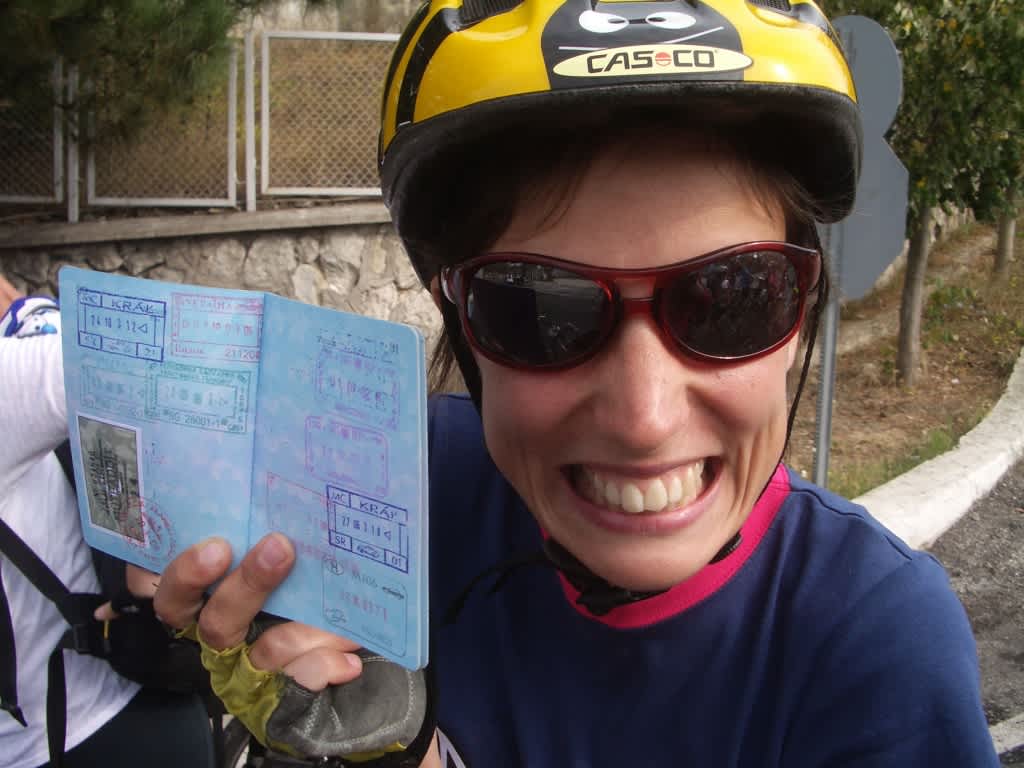 Passports
If you are traveling to another country to start your bicycle adventure, you almost definitely need to have a passport. Check the expiry date. If you need a new one, remember that the application process can take weeks or months in some cases so don't wait until the last minute. Keep your passport secure and undamaged. In Canada, our passports are technically the property of the Government of Canada. I have heard of cases where someone has returned to Canada and been threatened with a fine for a passport that was stained or water damaged.
Pages and Expiry
Do you have only a few pages left in your passport and you have a multi-country tour planned? Is your passport due to expire the day you return from your travels? Either of these might be a reason to consider replacing your passport before you travel (and before you apply for any required visas). Most countries have a rule requiring your passport to be valid for an additional 6 months beyond your scheduled date of departure from the country. Others might require a minimum number of blank pages, or you might have underestimated how many pages you will fill on your trip (our Silk Route cycle tour requires a minimum of 8 blank pages and many countries have a stamp or visa that covers a full passport page).
Travel Visa Basics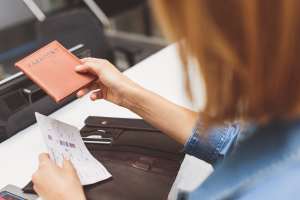 No, we are not talking about the credit card in your wallet. A travel visa is an official permission (sometimes it gets physically stamped or affixed in your passport) given by foreign government for you (as a foreign traveler) to enter their country. Not all countries require a visa. Each country has strict rules on when and how to apply, where to apply, what the fees are and any supporting documents that are required. The countries that do require visas usually require them to be applied for in one of the following three ways:
In advance – you complete an application form, then mail your passport, application form, visa fee (usually a money order / bank draft, though sometimes paid online) and any supporting documents to your nearest embassy or consulate for the given country (or – in some cases – to a private visa processing company that they work with).
On arrival – for some countries, you can get your visa when you arrive at the airport or land border. Sometimes you can get it on arrival at the airport but not at a land border, so check this carefully.
E-visa – a growing number of countries allow you to complete a form and pay online. E-visas are sometimes automatically approved, whereas others require a period of time for them to be approved and then a notice is sent to you (typically by email). For e-visas, there is no need to physically mail your passport or forms away but you need to carry with you a print out of the e-visa confirmation.
Different Types of Visas
In most cases, you will be applying for a tourist visa (as opposed to a business or transit visa). This visa might have options for length of stay (30 days, 90 days) or this might be decided by the authorities based on the dates you indicate. You are likely to chose between a single or multiple-entry visa. Multi-entry (or double entry) visas are required if you intend to exit the country and then re-enter within the validity dates of your visa. These will cost you more, but give you a bit more travel flexibility and usually have a longer validity period.
What is an LOI ?
A letter of invitation (or LOI) is a supporting document that you are sometimes required to submit with your visa application. LOIs are a catch-all term for a variety of letters that can be requested. Sometimes it is simply a letter we provide you (free of charge, of course) stating why you are traveling to the country with our group, what the dates are and the basic details of the tour (sometimes they also require a daily itinerary, though this is rare).
For some countries, you are required to obtain an official letter of invitation from the government or through one of its approved travel agents within their country. For our tours, part of the service we provide is obtaining those letters for you, or connecting you with our local partners in the countries who provide the letters. These more official letters typically come with a service fee from the provider that you would be required to pay. In other cases you might be asked to obtain an LOI from your hotel or from any local tourism provider. Again, in these circumstances, we help you through this to make sure you have all the appropriate paperwork included when you submit your application.
Application Process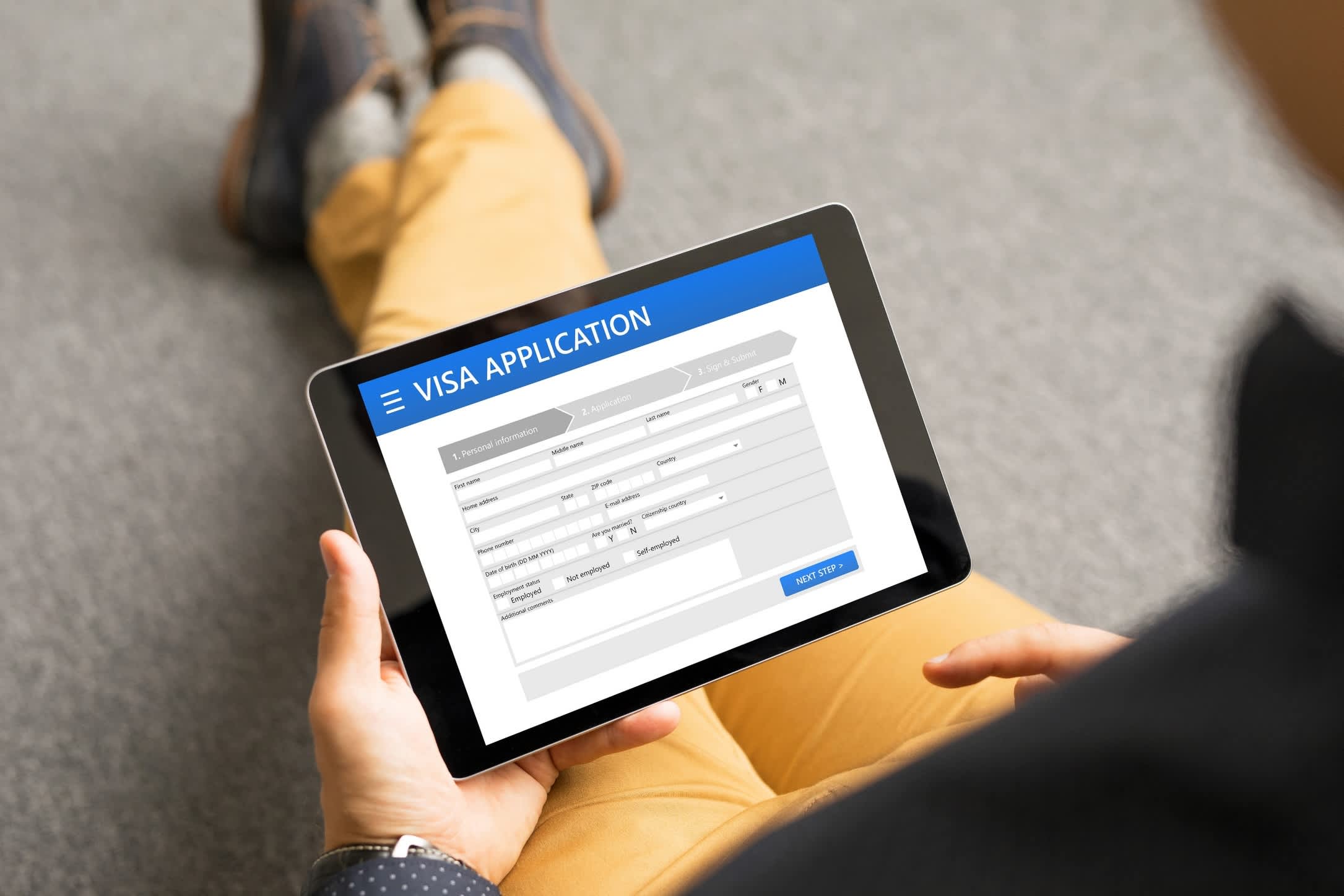 When to Apply
Our TDA customer service staff are a huge part of helping you through the application process. For some countries, the timing and the details are crucial. Take for example, Sudan and Ethiopia. Up until recently, they both required you to apply for visas in advance. But if you applied too early your visa would have already expired by the time you arrived to the country. Sudan gives you a certain number of days that your visa is valid and it starts from the day you enter the country. Conversely, Ethiopia gives you a validity period that starts on the day the visa is placed in your passport. An important, but subtle difference to watch out for.
Save Time with Forwarding Envelopes
TDA pro tip – if you are applying for multiple visas through several embassies in one city (eg. in Washington, Ottawa or The Hague) you may be able to have your applications forwarded between embassies without having to send it all back to you each time. Always confirm with the embassy first, but it is sometimes an accepted practice. You enclose an explanatory note and include pre-paid and pre-addressed envelopes within the first application so the embassy can then pop it in the mail to the next embassy. This saves crucial time when you have multiple applications to be approved.
This used to be more crucial step for our tours, but over the years as more e-visa options became available, this is required in only a few cases now. Always check with our office before applying.
Check the Information Carefully
Your visa was approved. Great! It arrives back to you, but something isn't quite right. I have seen validity periods that expire before we even enter the country, dates the don't exist (February 30th?), and badly misspelled names. Never assume the embassy/consulate got the details right. Their administrative slip up could mean you get turned away at a border. Check the following:
Does the spelling of your name on the visa match the spelling on your passport ID page?
Are the dates of entry/exit and the duration of your stay (your validity dates) correct?
Does it indicate a point of entry and is it correct? (not all visas indicate this)
Completing the Forms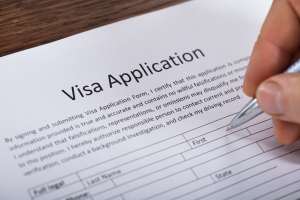 Complete the form in full (putting 'n/a' in fields that don't apply) but don't put in any more detail than they ask for. It invites more scrutiny and review and inevitably slows down your application.
For those registered on our tours, we encourage you to check in with us and we can help you fill in the details you are unsure of. The form might ask for a local contact or host. In most cases you would simply put 'n/a' or not applicable but at other times we can provide that person or organization's name.
For your 'local address' simply putting the name, address and phone number of the hotel or campsite in the capital city will suffice. We will often have that information readily available to share with you.
In some cases, the application will ask you to include a copy of your itinerary, flight details and hotel booking confirmations. These can be a bit harder to pull together since we often don't have departing flight tickets (when we plan to exit at land borders) and no hotel bookings if we are camping, or when these are not booked online. We can share advice as each situation might have its own set of solutions. Often making a temporary flight or hotel reservation is enough to meet their requirements – even if you might eventually change your plans and no longer require that booking. Just make sure its a fully refundable or a no-deposit booking so you don't incur cancellation fees.
As a general rule, do everything you can to fulfill all their bureaucratic requests. All they want to do is process it and move on to the next person, so don't make your application stand out from the others.
Entry/Exit Dates
It's often a good idea to give yourself a few extra days when indicating the entry and exit dates on your application form. Normally they will approve you for a certain number of days you are allowed to be in the country, but they may also indicate a date when that validity starts (or ends) so by entering a few extra days before and after, it gives you flexibility on when you can arrive/depart and also decreases the chance that they make any errors that limit your time in their country.
Using Visa Services
TDA is your visa service in a sense and that service is included in your entry fee. We will help you through the process but you will be responsible to fill in the forms and mail passports to embassies (where required) with our guidance and advice.
One of the great advantages to joining a TDA tour is we take a lot of the stress out of applying for visas. We know the system. We know the tricks and techniques. We have developed the local partners in various countries, and generally, we just smooth over what can be a daunting task if you have never had to do it before.
In some circumstances, using a visa service such as VisaHQ or iVisa could be helpful but sometimes it's simply an added step and added expense. So check with us first, and hopefully we can save you some money and help you apply directly.
When You Arrive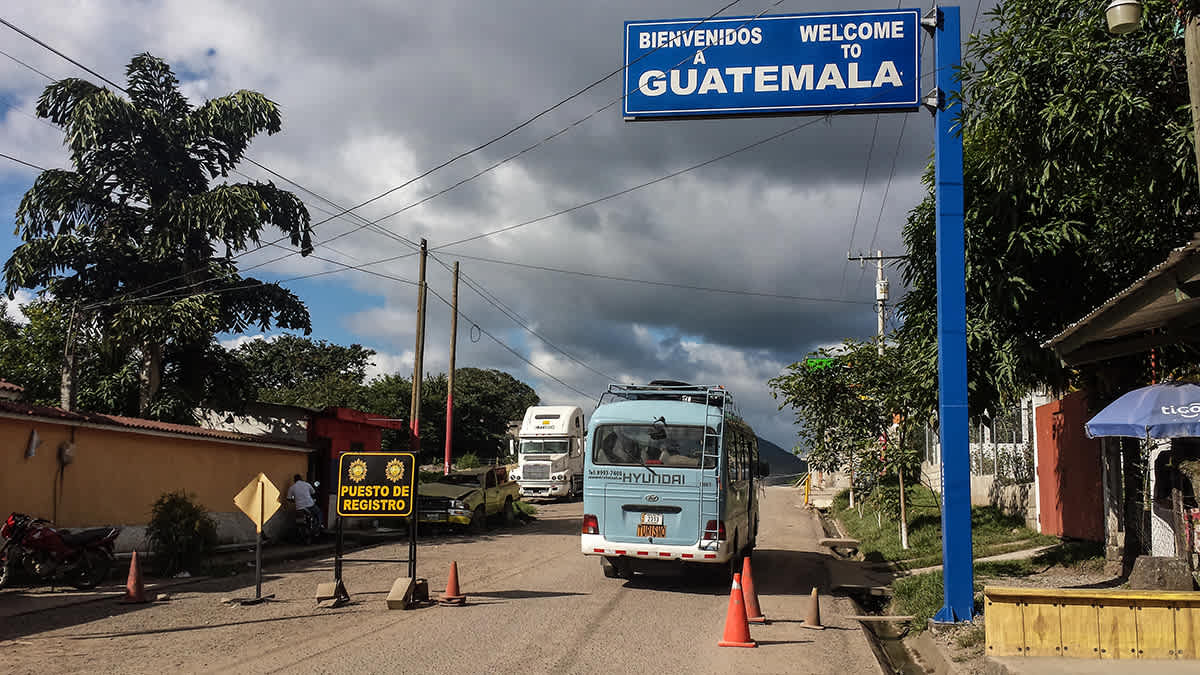 Crossing Land Borders
It's important to note that some embassy websites that state that visas are available "on arrival" are only referring to airport arrivals and not to land border entries. Check the wording carefully and make sure you have the necessary requirements before arriving at any land border.
Also remember that you are exiting one country and entering another. This normally means it's at least a two step process: get an exit stamp from country A then proceed to country B (sometimes across a no-man's land between the two official border posts) to get your entry stamp.
Entry stamps are some sort of official stamp/seal with the date and sometimes with the passport control officers signature or initials. The stamp is usually placed on top of, or next to the visa. The stamp validates your visa and (in some cases) starts the validity period you are allowed to remain in the country.
(Note – be careful with photography and video at border areas. Follow all signs and instructions and don't do anything that might reduce your chances of being allowed into the country.)
>>Related blog: Border Crossings in Central America
Other Permits Required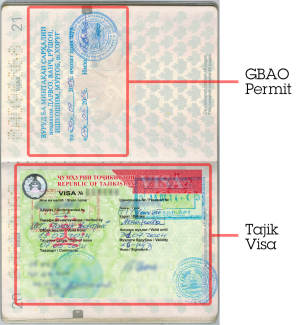 Let's say you are planning a cycling trip in the Pamir Mountains of Tajikistan. You jumped through all the hoops and you got your visa. Great! You are loving your cycling experience and you reach the Pamir region only to get to another regional checkpoint where you are asked for your GBAO permit. You have no idea what that is, and they won't let you continue without it. These sort of surprises can quickly ruin a cycling holiday.
Always double check on the embassy's website to ensure there are no regional permits, vaccination certificates, activity permits or other further permissions or payments required in advance.
Health Checks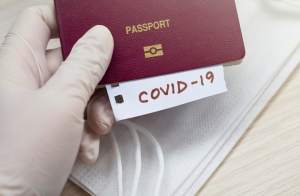 Vaccination certificates (like those for Yellow Fever) are sometimes required in order to enter a country. Even with a valid visa, you may be denied entry if you don't have a certificate showing that you have been vaccinated or showing that you are not arriving from a country known to have high cases of Yellow Fever (for example).
TDA suggests that you check the entry requirements for any country you are travelling to.. or better yet, ask your family doctor or local travel medical clinic so that they can recommend vaccines and medications.
Traveling internationally during the Covid-19 pandemic may require proof of a recent negative Covid-19 test. Eventually you might be required to show some sort of immunity passport and/or proof of vaccination ?.
Once you arrive, every border crossing or airport is a little different. In the post-Covid-19 world, there are likely going to be temperature checks, health questionnaires, contact tracing apps you will be required to download, and/or requirements for further in-country testing.
How to Prepare
An 8 part series to get you ready for your first TDA tour. Click here to read more.