Blog
REGISTER NOW
LOGIN
SIGN UP FOR OUR NEWSLETTER
The Pub Ride: A Literary Journey
At the end of a beautiful day on the Pub Ride Cycling Tour, the cyclists can head to one of our recommended pubs in the United Kingdom, Ireland or Europe for a pint of the local brew. While most of the time the riders will enjoy talking to the bar's regulars and their fellow cyclists, there will be times when they may just want to spend some time on their own with a pint of stout and a good book.
Here are ten book suggestions to add to your packing list…
1 & 2 – Notes from a Small Island & The Road to Little Dribbling: More Notes from a Small Island – Bill Bryson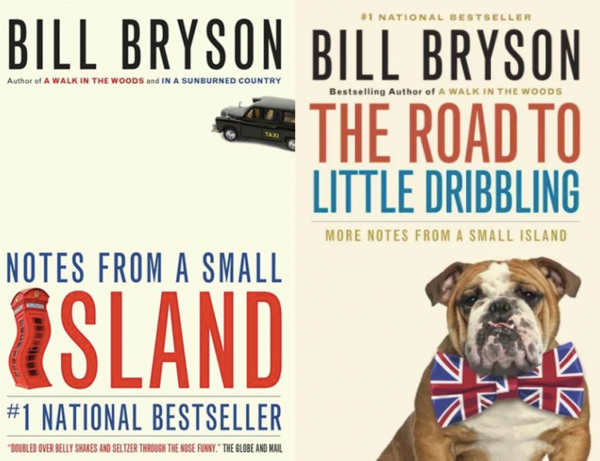 In 1972 Bryson dropped out of Duke University and backpacked through Europe, resulting in his book – Neither Here nor There: Travels in Europe. During that time he visited Britain and decided to stay after landing a job working in a psychiatric hospital where he met a nurse, Cynthia Billen, whom he married in 1975. He wrote Notes from a Small Island when he decided to move back to his native United States in 1995, but wanted to take one final trip around Great Britain. In 2015 Bryson made another journey around Great Britain to see what had changed. He noted that the straight line distance from Bognor Regis on the south coast to Cape Wrath in Scotland is the longest straight line one can travel in the UK without crossing any part of the sea. Calling it the Bryson Line, it served as a rough basis for the route he traveled in the book, The Road to Little Dribbling, and concentrated mainly on places that he didn't visit in Notes from a Small Island.
"If you're planning a first trip to the U.K., Notes From A Small Island is an amusing guide to that country's foibles, as well as a tribute to its enchantments, by an unabashed Anglophile." – NY Times
3 – A Pint of Plain: Tradition, Change, and the Fate of the Irish Pub – Bill Barich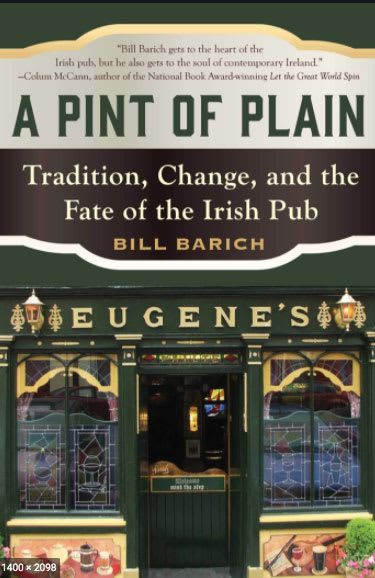 After meeting an Irishwoman in London and moving to Dublin, Bill Barich—a "blow-in," or stranger, in Irish parlance—found himself looking for a traditional Irish pub to be his local. Despite a vast selection (there are over 10,000 pubs in the country), he had a hard time finding something traditional, a place with good drink and great talk. In his book, he takes a critical look at the idea of the Irish Pub. "Barich travels throughout Ireland and is routinely disappointed. The pubs he finds are either lifeless "museum pieces," corporate sports bars with TV screens or shameless fakes hawking manufactured nostalgia." (NY Times, 2009)
"From the famed watering holes of Dublin to tiny village pubs, Barich introduces a colorful array of characters, and, ever pursuing craic, the ineffable Irish word for a good time, engages in an unvarnished yet affectionate discussion about what it means to be Irish today." – Good Reads
4 – Have Ye No Homes To Go To?: The History of the Irish Pub – Kevin Martin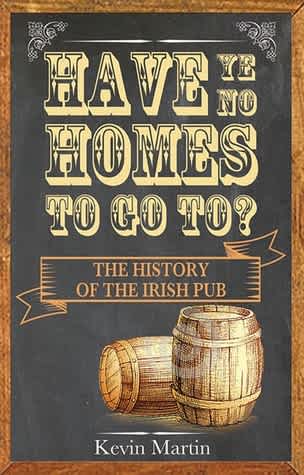 The pub has been at the centre of Irish life for centuries. It has played many roles: funeral home, restaurant, grocery shop, music venue, job centre and meeting place for everyone from poets to revolutionaries. In fact, the story of the Irish pub is the story of the country itself. Martin's book's title refers to the catch cry usually shouted by bar staff in Ireland when they are trying to clear the pub at the end of the night. He takes us from the feasts of high kings, through the heady gang-ruled pubs of nineteenth-century New York, right up to the gay bars and super pubs of today, this is an entertaining journey through the evolution of the Irish pub.
"An enjoyable romp through the ephemera and facts surrounding that most Irish of institutions." – Irish Examiner.
5 – The Local: A History of the English Pub – Paul Jennings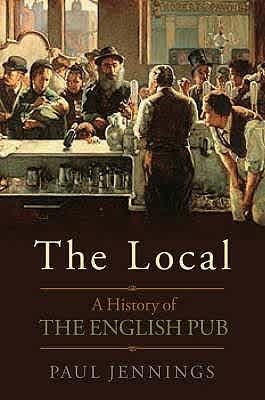 Australian writer Paul Jennings traces the history of the British pub, and looks at how it evolved from the eighteenth century's coaching inns and humble alehouses, back-street beer houses and 'fine, flaring' gin palaces to the drinking establishments of the twenty-first century. It identifies trends and discusses architectural and internal design, the brewing and distilling industries and the cultural significance of drink in society. He claims that the British pub is a unique social centre, very often the focus of community life in villages, towns and cities throughout the length and breadth of the country. Yet it appears that the great British pub actually started life as a great Italian wine bar, and dates back almost 2,000 years!
"This very readable account is the result of twenty years of diligent research and benefits from the sense of quiet humour of the author." – Historical Association, 2011
6 – Black & Blue – Ian Rankin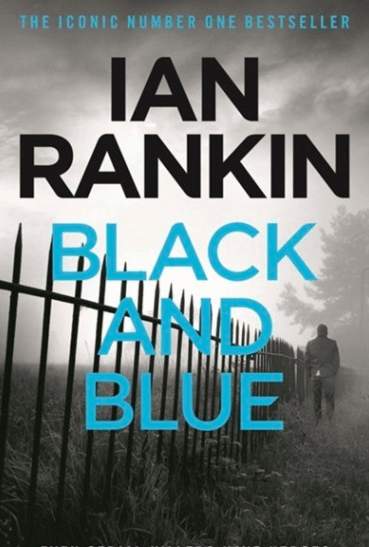 In John Rebus, Ian Rankin created one of the most memorable detectives in the literary world – something of an outlaw cop, a hard-drinking, rock-and-roll-loving loner who tends to make his superiors see red. Rankin's books feature distinctive characters and locations and span a broad spectrum of Scotland, including council estates, tenements, business districts, nightclubs, prisons, dying mining towns, secluded villages and desolate hillsides, as well as the better-known pubs and streets of Edinburgh. That includes the Oxford Bar, a classic old-fashioned drinking den, where Rankin himself has been known to enjoy a pint of Rebus's favourite brew, Deuchars IPA.
"Rankin's dexterity in juggling plots and threats and motives lights up the darkness with a poet's grace. Reading him is like watching somebody juggle a dozen bottles of single malt without spilling a drop." – Kirkus Reviews, 1997
7 – Round Ireland with a Fridge – Tony Hawks
British writer, performer and musician Tony Hawks makes a drunken bet for 100 Pounds that he can hitchhike round the circumference of Ireland, with a fridge, in one calendar month. Quite the challenge but once a radio-show host convinces Hawks to phone in daily to share updates about his travels with the fridge, Hawks becomes a regional legend – The Fridge Man – with all sorts of people willing to help him achieve his goal, however silly it may be. In their month of madness, Tony and his fridge met a real prince, a bogus king, and the fridge got christened. They surfed together, entered a bachelor festival, and one of them had sex without the other knowing.
"Hawks's book becomes a lively celebration of contemporary Irish society and the goodwill of its people that neither revels in irony nor descends into mawkishness." – Publisher's Weekly
8 – McCarthy's Bar – Tony McCarthy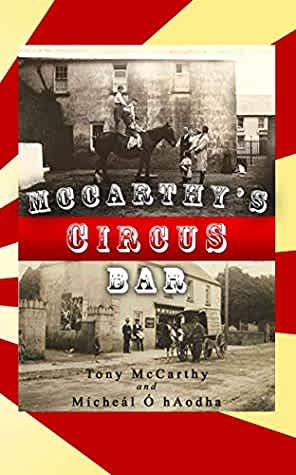 Author Tony McCarthy has a number of rules for travel. His eighth rule of travel states: Never pass a bar that has your name on it. On a visit to Cork in Ireland, he stops in at his namesake bar, the owner buys him a Guinness, invites him to her raucous all-night birthday party and then insists he move to Ireland because, well, obviously he belongs. While McCarthy's second rule of travel is: The more bright primary colours and ancient Celtic symbols outside the pub, the more phoney the interior, he still finds plenty of pubs where you can buy a bicycle and which still exist primarily as venues for conversation and Irish music sessions.
"Written by someone who is at once an insider and an outsider, McCarthy's Bar is a wonderfully funny and affectionate portrait of a rapidly changing country." – Kobo, 2000
9 – Porterhouse Blue – Tom Sharpe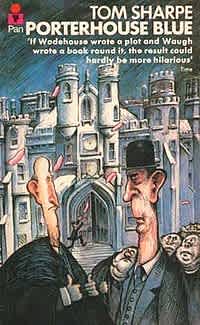 Porterhouse Blue (9174) is a novel written by Tom Sharpe, one of the UK's greatest satirists and a brilliant writer: witty, often outrageous, always acutely funny about the absurdities of life. It is a hilarious look at Cambridge life and the struggle between tradition and reform and tells the story of Skullion, the Head Porter of Porterhouse, a fictional college of Cambridge University, that upholds a long tradition of granting degrees to a certain number of muttonheaded young gentlemen of enviable pedigree and adequate family contribution to the school's treasury. The book is is memorable for an uproarious scene in which a student, Lionel Zipser, tries to burn hundreds of condoms and then decides to send them up the chimney, thus littering the college quadrangle with prophylactics.
"Tom Sharpe masters a staggering range of effect, from the bawdy to the sublime." – Sonja Bolle, Los Angeles Times Book Review
10 – Craze: Gin and Debauchery in an Age of Reason – Jessica Warner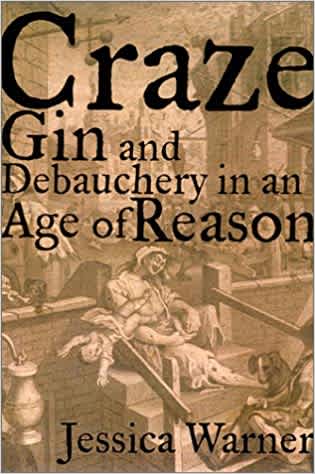 There is more than just beer to enjoy on the Pub Ride. Gin, which took London by storm in the first half of the 18th century "was the original urban drug," says Warner in this intriguing slice of social history. "Cheap, potent, and readily available," it aided London's poor in escaping the wretchedness of their lives." The Guardian remarked that "Craze is about the breakdown of reason in the age of reason, a breakdown that took place not in the sozzled brains of the boozing proletariat, but in the militaristic minds of the rich who tried to regulate them."
"A smart, gripping analysis of the gin debate." – The Guardian, 2003
RELATED
TOUR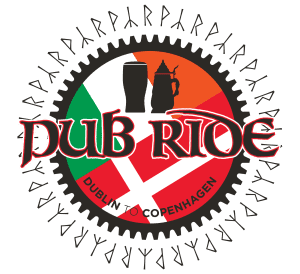 Pub Ride
Over 5 weeks we'll cycle from storied Dublin to the waterfront of Copenhagen. Through Ireland, Scotland, England, France, Belgium, The Netherlands...