Blog
REGISTER NOW
LOGIN
SIGN UP FOR OUR NEWSLETTER
Introduction To Bikepacking With TDA this Summer
For nearly 20 years TDA has been creating trans-continental bicycle tours. Some of these tours are by far the most complex bicycle journeys organized on the planet. Over the last few years we found ourselves discussing a back-to-basics type of tour, that would still be at the forefront of bicycle adventures, but in one smaller region of the world, reaching further into natural settings, and less dependent on vehicle support. And so we are introducing our first ever bikepacking adventure, from Ottawa to Quebec City.
Bikepacking is in essence a new sub-genre of cycle touring, but focusing on areas further from vehicular access: using forestry roads, double-track, or even single-track trails through all matter of terrain, including portions where pushing your bicycle instead of riding may be the best option. The rapidly growing interest in bikepacking in recent years has led to the development of new products for carrying your gear on your bike. So instead of the classic cycle touring panniers, bikepackers use a wide variety of smaller bags. These are most often strapped directly to the frame of the bicycle, maintaining a lower profile, and increasing durability and maneuverability for off-road riding. Bikepackers also draw on the ultralight sleeping and cooking equipment often used by hikers. This ingenuity has allowed people to travel farther into nature by bicycle, opening new realms for exploration, adventure and enjoyment.
Bikepacking in remote natural areas, where resources can be scarce, requires planning, preparation and specific equipment. While there are many bikepackers who joyfully head out on their own, there are also many cyclists who would like to try a bikepacking adventure but would like to do it with guidance and support, as well as help with pre-tour planning and equipment preparation.
And so we see bikepacking as a perfect opportunity to connect with nature by exploring the more remote, rugged, and lesser-traveled routes of the world.
Bikepacking Quebec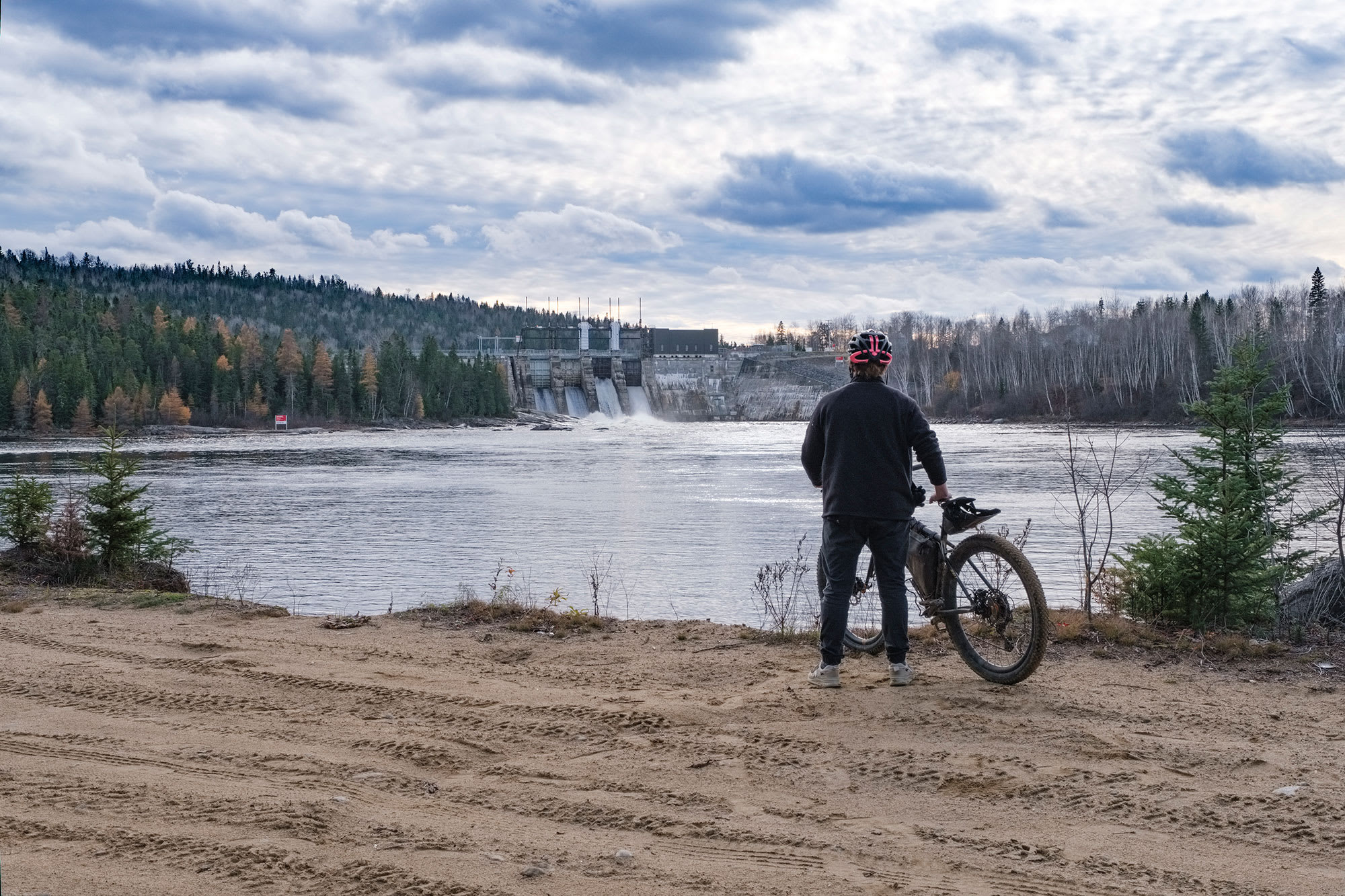 TDA's goal by creating our first ever guided bikepacking tour is twofold. First, we want to create an amazing experience journeying through the backwoods of Quebec, and second, we want to introduce a new audience to bikepacking, by providing in-depth instruction, both pre-tour and during the tour, as well as logistical and emergency support. We also believe experienced bikepackers will love the route, the group experience and the extra support provided compared to solo rides.
Why did we choose Quebec for our first guided bikepacking trip? The ability to start in Ottawa, the nation's Capital, and finish in Quebec City, the Capital of Quebec provided city highlights to start and finish the tour, and easy access for arriving and departing. The space in-between is an incredible and rugged wilderness that few people get to experience. We will ride through wildlife reserves, national parks, and endless forest, creeks and rivers. The route also provides a glimpse into the remote small towns of Quebec and its proud peoples and culture.
Part of TDA's mission has been to encourage and enable more people to get out and explore the world by bike. In the future we plan to add more bikepacking trips to our existing calendar, in many destinations around the world, opening ourselves up to an even wider range of cyclists. We look forward to experiencing this new adventure with you in August of this year.
So click here for all the details of this exciting new tour, or visit this page to learn more about the guided bikepacking experience.
RELATED
TOUR